The place where our customers send their friends!
Welcome to the Only American Video Tape Store for rare German Movies and Old ZDF volksmusik shows.
Please note: All video tapes are in the American NTSC VHS video format
and will play on all VCR's in North America. We are closing out all of our VHS inventory. This will be your last chance to obtain these beautiful ZDF music videos and hundreds of classic German movies and heimatfilme. Due to the limited demand in the USA, most of these movies will unfortunately never be available on DVD in America.
Once our videos are gone, they're gone!!!
We have drastically reduced the prices on over 2000 video titles closeout. Make sure to buy these classics while supply lasts.
On all VHS clouseout prices we will send you a new or previously viewed tape.
CLOSEOUT!!!!!
BUY NOW!!!
Any 10 videos for only $49.95
plus $19 s/h
while supplies last
German Music Video Descriptions
Please note: all of our music VHS video titles from the German ZDF Fernsehen starting with
Order # MU... and PK... have been discontinued; and will be no longer
be available for sale in the U.S. once our limited inventory is depleted.
Order now while they are still available.
W
Reise in die wunderschoene Wachau PK 875
color, ca. 50 min. - die Wachau, die Donaulandschaft von Melk stromabwaerts bis Krems, liegt nicht weit von Wien entfernt. Wer an die Wachau denkt, denkt vor allem an dichtbewaldeten Berghaenge, an Wein und an die vielfaeltige Geschichte dieser Landschaft. Kunstfreunde bewundern die Stifte Melk und Goettweig, Romaniker sehen Duernstein und erinnern sich an Richard Loewenherz und seinen singenden Diener Blondel. Die Liebhaber alter Heimatfilme denken an das beruehmte Wachauer Madel "Mariandl", hier gesungen von dem "original" Mariandl, Waltraud Haas.
Wagner EM 1339
England, Hungary, Austria (1983), English dialogue, ca. 300 minutes on two tapes, color - Directed by Tony Palmer with Richard Burton and Vanessa Redgrave. Richard Wagner was loved yet hated, admired yet despised, a villain yet a hero, a man whose fame and exploits were the gossip of Europe. Above all, he was an incurable romantic who had a scandalous love affair with Liszt's illegitimate daughter. A dangerous political revolutionary, Wager's influence penetrated German society. He was a scoundrel, joker, philosopher, con-man, poet, refugee, virulent political orator, and one of the greatest composers who has ever lived. He was Richard Wagner. A legend in his own time.
Wagner KU 1243
1988, ca. 90 min. - Performed in the Leipzig Gewandhaus. Internationally acclaimed conductor Kurt Masur leads the Gewandhausorchester in a thrilling and varied program which exhibits a wide range of Wagner's creative works. The renowned bass Theo Adam gives a memorable performance of excerpts from "Die Meistersinger von Nuernberg". Also featured is the Soprano Karan Armstrong who interprets the beautiful "Wesendonck Lieder in their entirety. Wagner composed these five pieces of music to the poetry of Mathilde Wesendonck in late 1857 abd early 1858. Karan Armstrong also performs the ever-favorite Liebestod from "Tristan und Isolde". This concert, given in Wagner's city of birth , is a video tribute to the composer which will be enjoyed again and again by lovers of both his music and operas.
Im Weissen Roessl New!!! VLM 14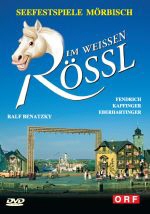 ca. 139 min., color - Singspiel in 3 Akten (frei nach dem Lustpiel von Blumenthal und Kadelburg) A brilliant outdoor production from the Seefestspiele Moerbisch in Austria. Mit Harold Serafin, Rainhard Fendrich, und Zabine Kapfinger u.v.m.
Region Code - 0, Subtitles: English, French, Italian, Spanish
Wenn die Musi spielt AU 53
Austria, ca. 59 min. - Austria. Kaerntner Doppelsextett: Was kuemmern mi die Sterndl an; Alpentrio Tirol: Tirol is lei oans; Friedbert Kerschbaumer: Der Blues des Schaefers; Gurktaler Musikanten: Schick Dein Herz auf die Reise; Die Jauntaler mit Karin: Fort von Zuhause; Kurt Elsasser: Romantisches Maedchen gesucht; Orig. Fidele Moelltaler: Kristall der Heimat; Alpenoberkrainer: Wo meine Wiege stand; Soakogler Trio: Am Berg bei dem Marterl; Blumi & die Turracher: Turracher Lied; u.v.m.
**No Longer Available**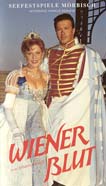 Wiener Blut VLM 2
ca. 130 min. color - Operette von Victor Leon and Leo Stein. Musik von Johann Strauss.. A brilliant outdoor production from the Seefestspiele Moerbisch in Austria. Sit back and enjoy. Mit Peter Matic, Herbert Lippert, Martina Serafin, Ulrike Steinsky, Teddy Podgorski u.v.m.

Wiener Blut (2007) VLM 14


ca. 130 min. color - Operette in 3 Akten von Victor Leon und Leo Stein fuer die Buehnen eingerichtet von Adolf Mueller jun. Musik von Johann Strauss. Mit Harald Serafin und Rainer Trost
Wiener Schrammelmusik VR 210
ca. 50 min. - Viennese chamber music. Everywhere the old Vienna still exists and where people try to bring back it's wonders if only for a few hours, the "Schrammeln" are playing. The Schrammel musicians, a musical trade mark of Vienna, became a world-wide concept.
Willkommen auf Ruegen - Music Show MU 836
ca 50 min. - Explore the biggest and most wonderful island' Ruegen on the Ostsee with the enjoyable melodies from Freddy Breck, Mary Roos, Peter Petrel, Blaue Jungs, Nicole, Medium Terzett, Godewind and more.
Wir lassen uns das singen nicht verbieten MU 925
German hit parade. ca. 92 min. - Many famous German and international recording artists appear including Tony Marshall, Nina und Mike, Engelbert Humperdink, Renate and Werner Leisman, Andrea Juergens and many more as they present such songs as "La Paloma Blanca", "Komm gib mir deine Hand", "Schoene Maid" and other German and American hits. Plan a party with your friends and enjoy this outstanding music video.
**No Longer Available**
Wismar - Volksmusikalische Gruesse aus dem wunderschoenen Wismar an der Ostsee PK 871
Ca. 45 min. - Welch ein herrlicher Anblick! Die gepflegten, bunten Haeuserfassaden und der malerische Hafen des Heimatstaedtchens Wismar bilden den wunderschoenen Hintergrund fuer eine kraeftige Prise norddeutscher Folklore. So bunt und farbenpraechtig wie die Stadt sind auch die vielen musikalischen Darbietungen, die hier vom grossen Marktplatz unter strahlend blauem Himmel mit Schwung und Humor zu Ihnen ins Haus kommen: Blasorchester, Spielmannzuege und Trachtengruppen spulen gekonnt ein wunderschoenes, heimatverbundenes Musik- und Unterhaltungsprogramm ab.
Wunderbare Winterwelt MU 10450
color, ca. 45 min. - Carolin Reiber invites you to the snowy fairy tale world of Bavaria. See romantic Garmisch Partenkirchen and the Zugspitze. Ivan Rebroff, the Toelzer Knabenchor, Angela Wiedl entertain with winter and snow melodies, there is yodeling and brass bands, sleigh rides through the snowy landscape. A wonderful show you'll enjoy all year long. MU 10450
**No Longer Available**
Die Walkuere FA 49
color, ca. 244 min. - German with English subtitles, (Richard Wagner). Hildegard Behrens, Jessye Norman, Christa Ludwig, Gary Lakes, James Morris, Kurt Moll, The Metropolitan Opera Orchestra, James Levine.
Wunderschoener Norden...
Wunderschoener Norden 1 - Aus dem schoenen gruenen Oldenburger Muensterland PK 191
ca. 45 min. - Die beliebte Fernsehmoderatorin Dagmar Berghoff besucht das Oldenburger Muensterland mit den Staedten Vechta, Cloppenburg und Quakenbrueck. Sie macht ein en Abstecher ins Saterland, ist zum Kaffeetrinken beim Grafen von Merveldt eingeladen und macht eine Kutschfahrt durch die wunderschoene Natur. Mit dabei Paul Schockemoehle, Ingrid Peters, Jan Willem, Bariton Ludwig Baumann, Beate Gabriel, u.v.a.
Wunderschoener Norden 2 - Aus der Hansestadt LuebeckPK 192
ca. 50 min. - Dagmar Berghoff fuehrt uns durchs weihnachtliche Luebeck zur Marienkirche, durch die Altstadt, zum Holstentor, Schabbelhaus, Museumshafen und Weihnachtsmarkt umrahmt von grossartigen Kuenstlern wie Ivan Rebroff, Christopher Barker, Godewind, Rondo Serenata, Zanzelgret, u.v.a.
Wunderschoener Norden 3 - Aus dem Ferienparadies Nordseeinsel Sylt.PK 193
ca. 45 min. - Sylt im Winter. Viele Norddeutsche besuchen ihre Lieblingsinsel zu dieser Zeit. Man get im "Friesennerz" am Strand spazieren, schaut den Moewen nach und geniesst die einsame Natur. Besuchen Sie mit uns den Lister Ellenbogen, Kampen, das Rote Kliff, die Uwe-Duene und viele weitere Sehenswuerdigkeiten. Mit Mary Roos, Dagmar Koller, Marieke, Johny Hill, Sylter Shantychor, u.v.a.
Wunderschoener Norden 4 - BodenwerderPK 194
ca. 45 min. - Bodenwerder/Weserbergland. Cindy & Bert, Veronika Fischer, Erich Storz Trio, Susanne Back u.v.a. Himmelspforte... riefen frueher die Weserschiffer wenn Bodenwerder in Sicht kam. Besuchen Sie mit uns dieses wunderschoene Staedtchen, das mit seinen malerischen Fachwerkhaeusern und einer sehr romantischen Uferpromenade in einem besonders schoenen Abschnitt des Weserberglandes liegt. Eine 800-jaehrige Stadtgeschichte mit reizvollen alten Wehrtuermen und Stadtmauerresten, einem lustigen Baron von Muenchhausen und begleitet von volkstuemlicher Musik wuenschen wir Ihnen beste Unterhaltung.
Wunderschoener Norden 5 - Steinhuder MeerPK 195
ca. 45 min. - Mit dem Medium Terzett, Vivian Lindt, Bernd Cluever und Carin, Wunstdorfer Shantychor, Jochen Wiegandt, Musical Team Wunstdorf, Regina Thoss, Christa Schneider u.v.a. Von der Insel Wilhelmstein aus geht es rund um die einmalige Naturlandschaft Steinhuder Meer. Bekannte und beliebte Kuenstler verwoehnen Sie mit wunderschoener Musik.
Wunderschoener Norden 6 - SachsenwaldPK 196
ca. 45 min. - Mit Hein (Heintje) Simon, Olivia Winter, Ludwig Baumann, u.v.a. Der Sachsenwald ist das groesste zusammenhaengende Waldgebiet Schleswig-Holsteins und liegt direkt vor den Toren Hamburgs.
Wunderschoener Norden 7 - SchwerinPK 197
ca. 45 min.- Mit Gast Star Rex Gildo. Schwerin ist die Landeshauptstadt von Mecklenburg-Vorpommern. Die 1160 von Heinrich dem Loewen gegruendete Stadt hat heute ca. 100,000 Einwohner. Hier eine kleine Auswahl: Das Rathaus, das Saeulengebaeude, der Alte Garten, das Palais.
Wunderschoener Norden 8 - MellePK 198
ca. 45 min Mit: Medium Terzett, Andreas Ellermann, Ibo, Lore & Peter, Anke Lautenbach u.v.a. Das reizende Staedtchen Melle liegt im suedlichsten Zipfel Niedersachsens zwischen Teutoburger Wald und dem Wiehengebirge in einer wunderschoenen Landschaft. Viel Spass und gute Unterhaltung bei diesem schoenen Heimatvideo mit viel Musik & Sehenswertem.
Wunderschoener Norden 9 - Insel FehmarnPK 199
ca. 45 min. - Aus diesem bekannten Ostseeheilbad gibt es eine Menge zu sehen und erleben. Mit Volker Bengl, Truck Stop, Susi, Mona und die falschen 50er u.v.a. Tolle Unterhaltung und Musik fuer alle.
Wunderschoener Norden 10 - Uslarer LandPK 2200
ca. 45 min. - Unser Video kommt zu Ihnen vom Naturpark und Staatsforst Solling-Vogler im Uslarer Land, eingebettet zwischen Weser und Harz. Hier ist eines der groessten geschlossenen Waldgebiete in Europa. Schon Hermann Loens und Wilhelm Busch sind hier gewandert. Und die Gebrueder Grimm mit ihren Maerchen haben dieser Gegend ihren Namen gegeben. Wir befinden uns an der Deutschen Maerchenstrasse, die von Hanau nach Bremen fuehrt.
Wunderschoener Norden 11 - OsnabrueckPK 2203
ca. 45 min. - Weihnachtsgruesse aus der Stadt des Westfaelischen Friedens. Wann ist eine Stadt am schoensten? Natuerlich zur Weihnachtszeit - wenn es einen gemuetlichen grossen Weihnachtsmarkt gibt ueber den wir zur schoensten Zeit des Jahres bummeln. Begleitet werden wir von St. Nikolaus und einer grossen Schar von Spitzenkuenstlern.
X
Y
Z
Der Zarewitsch - Seefestspiele Moerbisch VLM 17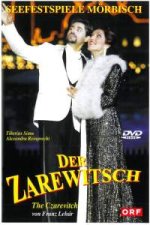 ca. 150 minutes, Optional Subtites in English, French, Italian
Operette in 3 Akten (frei nach dem gleichnamigen Stueck von Zapolska-Scharlitt)
von Bela Jenbach und Heinz Reichert
Musik: Franz Lehar
Einrichtung fuer die Seefestspiele Moerbisch von Peter Lund
Mit Harald Serafin, Tiberius Simu und Alexandra Reinprecht
Zauberhafte Heimat - Luebben im SpreewaldPK 1500
ca. 45 min. - Gastgeber Gunther Emmerlich entfuehrt uns in den Spreewald. Er trifft dort auf eine Menge netter Spreewaelder und wird von vielen beliebten Kuenstlern musikalisch unterstuetzt. Stefan Mross, Original Oberkrainer Sextett, Vreni & Rudi, Jankowski Singers, Spreewald Duo u.v.a.
Zauberhafte Heimat, Naumburg PK 1501
ca. 45 min. - Unser charmanter Gastgeber Gunther Emmerlich geleitet uns durch die Domstadt Naumburg an der Saale und die naehere Umgebung. Wie immer vermittelt Gunther Emmerlich heimatliches Lokalkolorit pur, wobei er von einer Anzahl grossartiger Kuenstler vollmusikalisch unterstuetzt wird.
Please note, all videos on this page are in color, in German language
(unless noted otherwise), all are already transferred
to the USA-NTSC-Television Standards and in VHS only.
For Rush-Order call 1-800-252-1957. Fax 317-457-1263.
Zauberhafte Heimat, Rudolstaedter Land PK 1502
ZDF, ca. 45 min. - Thueringen, das gruene Herz Deutschlands, ist voller Schaetze. Die liebliche Mittelgebirgslandschaft wird von sagenumwobenen Burgen und Schloessern geschmueckt. Mit Stefanie Hertel, Stefan Mross, Duo Reichert, Frauenchor Rudolfstadt, Andrea & Manuela, Benny aus Thueringen, u.v.a.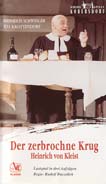 Der Zerbrochene Krug VLK 3
German language, ca. 90 min. - Lustspiel in drei Aufzuegen von Heinrich von Kleist. Performed in the Schloss spiele of Kobersdorf, Austria. Mit Karl Menrad, Heinrich Schweiger, Rudolf Melichar, Ida Krottendorf, Katharina Pichler u.v.a.
Zillertaler Gold AU 41
1994, ca. 47 min. - The popular folk musicians tell about their private lives and entertain you with their old and new hits. Four true sons of Zillertal sing and yodel their way into your heart. Order today. In diesem Video geben die Musiker zum ersten Mal Einblick in ihr Privatleben, ihre Hobbies und ihre Traeume. Es waeren aber nicht die Zillertaler, wenn dabei der Humor und die Musik zu kurz kommen wuerden. Und es gibt noch etwas Neues bei den Zillertalern zu melden: Erwin Schiestl, ebenfalls ein echter Zillertaler und seit Juli 1994 der vierte Mann in der Gruppe. Aufgrund des grossen Publikums-Erfolgs beschloss man zusammenzubleiben. Geniessen sie die folgenden Titel: Hab' Angst, dass i Di verlier; Herzerltanz; I hab a Engerl g'sehn; Du bist so a lieber Kerl; Der liebe Gott muss a Tiroler sein; Starkes Land, das Heimat heisst; Die Leut' in die Berg; Mitt'n auf'm Tanzoden; a Handvoll Ttirol.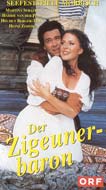 Der Zigeunerbaron VLM 6
ca. 130 min., color - A Johann Strauss operetta with wonderful melodies. Von I. Schnitzer nach einer Erzaehlung von M. Jokai, Textfassung von Michaela Ronzoni. A brilliant outdoor production from the Seefestspiele Moerbisch in Austria. Sit back and enjoy! With Peter Edelmann, Heinz Zednik, Martina Serafin, Harrie van der Plas and many more.
Available in VHS or DVD format
Zuenftige Volksmusik aus dem Bayerischen Wald MU 701
color, ca. 45 m0in. - Folk music festival. Filmed in Passau. Over one-hundred folk musicians, well-known folklore groups and entertainers dance, sing and play to their heart's delight. Between the presentations we learn interesting facts about folk art, history and traditions. Breath-taking scenery of the beautiful Bavarian Forest forms the backdrop.
**No Longer Available**

Zauberwelt der Oper MU 811
color, ca. 100 min. - Anneliese Rothenberger introduces young and internationally known artists at a gala concert. Works by Tschaikowski, Berdi, Beethoven, Mozart and others. In the second part all artists present a potpourri of the most beautiful German folk songs. Of these we only mention a few, "Aennchen von Tharau".
Die Zauberfloete, Munich, Bavarian State Opera JB 26
German dialogue, English subtitles, 160 minutes. Francisco Araiza, Lucia Popp, Wolfgang Brendel, Edita Gruderova, Kurt Moll, Wolfgang Sawallisch.
ok 8/13
For RUSH PURCHASE ORDERS, save time and
postage by using your credit card.
Just call 1-800-252-1957 9:00 a.m. to 5:00 p.m.
(Extended hours during the Christmas holidays).
For ORDER INQUIRIES, CUSTOMER SERVICE, or RENTAL DEPARTMENT, please call 1-317-547-1257.
Alle oben aufgefuehrten Videos sind in deutscher Sprache, in Farbe,
im amerikanischen Videosystem NTSC in VHS-Kassette.
For hundreds more of the most popular Folkmusic, Schlager Paraden with Old and New Songs, Operas and Lots of Oompah! click on:
Fuer hunderte weitere tolle Musik-/Schlager-/Volksmusik- und Klassikvideos einfach unten mit dem Maeuschen klicken. Viel Spass beim schnuppern.
30 Day Rental Rates
Rental charges for a 30 day period. Shipping time is included in this period.

1 Tape

$10.50

5 Tapes

$34.50

2 Tapes

$17.00

6 Tapes

$41.00

3 Tapes

$23.00

7 Tapes

$47.25

4 Tapes

$28.50

8 Tapes

$52.80
The shipping charges to you are included in our low, low rental fees above. You are responsible for paying the return shipping. We ship via UPS and most orders are processed and leave our store the same day they are received. We also include an order form on which to place your next order if you so desire. There is absolutely no obligation to rent more videos. The shipping container is usually suitable for use to return your tapes to us. We even enclose a mailing label with our address and your return address which may be placed on the container when you return your tapes. What could be easier?
Alle unsere Videotapes, nicht nur 'Rental only' konnen Sie fuer 30 Tage leihen.
Anruf genuegt: 1-800-252-1957 EST.
How else may I place an order?
Click on the envelope below to send e-mail
to the German Language Video Center!

Not responsible for typographical errors.
Video run times are approximate.
Prices and availability subject to change without notice.
Send comments regarding contents of this page to
glvc@indy.net





Member VSDA since 1985.

Last modified: Wednesday, July 20, 2022 5:24 PM
German Language Video Center© 1997/2016
Entire Website copyrighted 1997, 1998, 1999, 2000, 2001, 2002, 2003, 2004, 2005. 2006, 2007, 2008, 2009, 2010, 2011, 2012, 2013, 2014, 2015, 2016
No reproduction or download allowed for commercial purposes without written permission.

GLVC 2016©.