The place where our customers send their friends!
Welcome to the Only American Video Tape Store for rare German Movies and Old ZDF volksmusik shows.
Please note: All video tapes are in the American NTSC VHS video format
and will play on all VCR's in North America. We are closing out all of our VHS inventory. This will be your last chance to obtain these beautiful ZDF music videos and hundreds of classic German movies and heimatfilme. Due to the limited demand in the USA, most of these movies will unfortunately never be available on DVD in America.
Once our videos are gone, they're gone!!!
We have drastically reduced the prices on over 2000 video titles closeout. Make sure to buy these classics while supply lasts.
On all VHS clouseout prices we will send you a new or previously viewed tape.
CLOSEOUT!!!!!
BUY NOW!!!
Any 10 videos for only $49.95
plus $19 s/h
while supplies last
German Music Video Descriptions
Please note: all of our music VHS video titles from the German ZDF Fernsehen starting with
Order # MU... and PK... have been discontinued; and will be no longer
be available for sale in the U.S. once our limited inventory is depleted.
Order now while they are still available.
I
84er Infanterie-Regimentskapelle MCP 3
ca. 31 min. - Melodien von Johann Strauss und Karl Komzak aufgenommen in Historischen Plaetzen. Muenchen - Wien, ein Sinn; 84er Regimentsmarsch; Vindobona-Marsch; Einzugsmarsch a.d. Zigeunerbaron; Tritsch-Tratsch-Polka; Kaiser-Marsch; Radetzky-Marsch; Interview mit Herrn Dr. Erwin Proell; Hoch- und Deutschmeister-Marsch.
Ich lade Sie ein, Fraeulein MU 703
color, ca. 90 min. - A host of internationally known and beloved artists take you on a trip to the magic land of operetta and popular music. Changing the pace, Peter Kraus sings non-stop hits from the fifties including "Tschau, Tschau Bambina", "Sieben mal in der Woche", "Mona Lisa", and "Tutti Frutti".
**No Longer Available**
Im Harzer Land erklingen frohe Lieder MU 838
ca. 50 min. - "Alle Staedte den Harz hinauf, den Harz hinab haben ihre Schaetze und Kostbarkeiten, keine aber ist so bunt wie Wernigerrode", so schwaermte schon Hermann Loens. Die "Bunte Stadt am Harz" fasziniert auch heute wieder durch die Farbenpracht der alten Fachwerkhaeuser, den wunderschoenen restaurierten Marktplatz, die groesstenteils erhaltene Altstadt und das Schloss mit seiner Aussicht auf den Brocken, auf dem in der Walpurgisnacht Hexen und Teufel ihr Wesen treiben. Die Harzer Musiker werden unterstuetzt von Musikanten aus der Partnerstadt Neustadt an der Weinstrasse. Die Musik spielt; Lied der Steinhauer; Harzer Kaese mit Gaenseschmalz; Harzer Jungs; Es blies ein Jaeger wohl in sein Horn; Auf, auf zum froehlichen Jagen; Im Wald und auf der Heide; Im Harzer Land klingt froh das alte Lied; Neues von der Brockenhexe; Koehlerliesel; Ja so en gude Palzwein - u.v.a.. MU 838
**No Longer Available**
Im Land der Lieder - Kinderchor MU 927
ca. 60 min. - A children's and youth choir competition show. Enjoy young people from all over Germany singing favorite and familiar folk songs like "Am Brunnen vor dem Tore", "Wenn alle Bruennlein fliessen", "Muss i denn zum Staedtele hinaus", "Ich weiss nicht was soll es bedeuten", and many others.
In Bremen wird gefeiert MU 847
color, ca. 50 min. - The most beautiful and famous songs of the great city of Bremen are presented by colorful folk groups. With the Finkwader Speeldeel, Shanty Chor Hart Backbord, Trompeten Quartett Rostock, Marine-Musik-Korps Nordsee, Marinechor Blaue Jungs, Bremer Kinderchor.
In Dulci Jubilo VA 69091
54 min., Germany - Beautifully filmed in the historic Cologne Cathedral. In Dulci Jubilo evokes the joy of Christmas in song. The Cologne Cathedral Boys Choir, young soprano star Ingrid Schmithuesen and members of the "Concerto Koeln" playing on original instruments join in a program of favorite Christmas works. The music of Bach, Telemann, and Praetorius, as well as the traditional Christmas favorites featured in this video.
In Niedersachsen geht's hoch her MU 842
color, ca. 50 min. - Enjoy the time with Bockbier, folk music and a real good atmosphere. This is a wonderful entertainment with folk music, choirs and colorful folk dance groups. With meine Heimat ist ein kleiner blauer Stern, Champagner-Galopp, Mailieder-Potpourri and much, much more.
In Potsdam wird gefeiert MU 849
color, ca. 50 min. - Enjoy the 1,000th birthday of the city of Potsdam and listen to the Fanfarenzug Potsdam, Potsdamer Turmblaeser and more Polka and Marschmusik.
Im Weissen Roessl New!!! VLM 14 DVD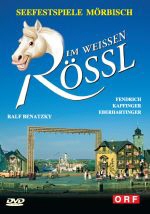 ca. 139 min., color - Singspiel in 3 Akten (frei nach dem Lustpiel von Blumenthal und Kadelburg) A brilliant outdoor production from the Seefestspiele Moerbisch in Austria. Mit Harold Serafin, Rainhard Fendrich, und Zabine Kapfinger u.v.m.
Region Code - 0, Subtitles: English, French, Italian, Spanish
J
Johann Strauss Walzer VL 620
color, ca. 52 min. - The Budapest Strauss Orchestra plays Wein, Weib und Gesang, Der Zigeunerbaron, Romanze, Vergnuegungszug, Fruehlingsstimmenwalzer, Kaiserwalzer, Ritter Pazman, Tarantella Venezia, Am der Schoenen Blauen Donau, Radetzkymarsch. Dirigent: Istvan Bogar, Ballett Sopiane, Choreographie: Sandor Toth.
Jose Carreras in Salzburg KU 1380
color, ca. 111 min. - Beautiful opera recital!
Jubel, Trubel, Heiterkeit - German Karneval Tapes!!
Jubel, Trubel, Heiterkeit #1MU 816
color, ca. 114 min. - Almost two full hours of super "Karneval" fun, the way we do it in Mainz, Koeln, Muenchen and Hamburg. This exceptionally nice video shows how "Fools" celebrate in all parts of Germany, even in the former DDR. A rip-roaring fun show!
**No Longer Available**


Jubel, Trubel, Heiterkeit #2 MU 805
ca. 109 min. - Karneval in Germany! Tony Marshall and Lotti Krekel join the best Fasching artists from all over Germany singing, dancing, funny and witty speeches guarantee fabulous entertainment.
**No Longer Available**

Jubel, Trubel, Heiterkeit #3 MU 888
color, ca. 120 min. - Karneval von Nord bis Sued, Praesentiert von Margin Sponheimer. Es spielt das Orchester Ambros Seelos - Aufzeichungen einer oeffenlichen veranstellung in der Rhein-Main-Halle in Wiesbaden.
Jux in Mur und Doll with Tony Marshall PK 890
ca. 65 min. - With Tony Marshall, Trude Herr, Roberto Blanco u.v.m. Stimmung, Klamauk, Bloedsinn und sehr viel mehr Jubel-Trubel machen eine Stunde lang den Alltag vergessen. Lustig und voellig unbeschwert geht's hier auf dieser Stimmungspartie rund. Und Sie sind herzlich eingeladen.
Julius Caesar VW 1407
ca. 124 min. - A remarkable performance by the great Theo Adams is the highlight of this production of the story of Julius Caesar and Cleopatra by the Berlin State Opera. This opera centers around Cleopatra's manipulation of Caesar and Ptolemy, and how this changed the course of Egypt's history. We see Caesar (sung by the unforgettable Theo Adam), not as an ideal ruler, but as a man with his faults and weaknesses. Julius Caesar might well have been called "Cleopatra," for her character is so richly and fascinatingly drawn in the music. The development and sequence of arias (she has 8 in all) represents one of Handel's greatest achivements in terms of insight into human character. Few other musical scores contain so many numbers that have become so well known to the public.
Julius CaesarR 301
ca. 123 min. - Georg Friedrich Haendel. Oper in drei Akten von Nicola Haym. Eine Auffuehrung der Deutschen Staatsoper Berlin. Leitung: Peter Schreier.
K
Karel Gott "In mir klingt ein Lied" MU 107
ca. 68 min. - Karel has an enormous repertoire including top songs from the Rock n Roll era to well known operetta tunes to folk music and polkas. Also appearing as special guest is Rene Kollo. Invite your friends over for a performance just for you!
**No Longer Available**
Kaernten, Land der Lieder AU 58
color, ca. 65 min. - To know the soul of Austria's southern most region, listen to their music. The best choirs of Kaernten, known as the land of song, show you the beauty of their land and music. Dort wo lauer Wind Berghaenge umschmeichelt und wuerzigen Duft in liebliche Taeler traegt, wo schier unzaehlige Seen, wie Opale, in gruenen Matten eingebettet liegen, dort ist die Wiege des "Kaernterliedes". Spitzenchoere aus Kaernten singen ihre schoensten Lieder.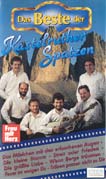 Das Beste der Kasteruther Spatzen #1 AU 7
ca. 52 min. - Drei Zinnen, die groesste Liebe, wenn Berge traeumen, das Maedchen mit den erloschenen Augen, Streit oder Frieden, die kleine Bianca, Feuer im ewigen Eis, Traenen passen nicht zu Dir. Buy, one copy left, for $29.95.
**No Longer Available**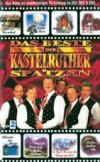 Das Beste der Kastelruther Spatzen #2 AU 62
ca. 45 min. - Um die Botschaft ihrer Lieder zu vertiefen, produzierten die Kastelruther Spatzen 1991 das erste volkstuemliche Video ueberhaupt, mit dem ihnen auf Anhieb ein durchschlagender Erfolg gelang: Die Produktion wurde in Oesterreich mit Platin und in Deutschland mit Gold ausgezeichnet. Regisseur Wolfgang Moik fuehrt den Zuschauer in der zweiten Folge in die imponierende Bergwelt Suedtirols. Der Sohn des "Musikantenstadl" - Erfinders Karl Moik drehte die Titel an den Originalschauplaetzen ihrer besungenen Handlung. So wird noch einmal das versunkenen Drof Graun mit "Atlantis der Berge" lebendig, man begegnet den Bergbauern des "Rosenhofs" und erlebt die Sage von "Maria Tristezza" - all dies in beeindruckenden Bildern. Reizend auch, wie Norbert Rier, Chef und Saenger der "Spatzen", mit seiner huebschen 12jaehringen Tochter Marion im Titel "Che Bella La Vita" die Schoenheit des Lebens besingt. Ein unterhaltsames Seh- und Hoervergnuegen.
**No Longer Available**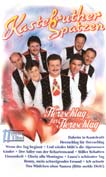 Kastelruther Spatzen AU 86
ca. 60 min. - Herzschlag fuer Herzschlag. Nach ihren goldpraemierten Videos "Das Beste" Folge 1 und 2 haben die Kastelruther Spatzen mit "Herzschlag fuer Herzschlag" erstmals ein ganzes Album auf Video gebannt. 11 neue Titel: Daheim in Kastelruth, Herzschlag fuer Herzschlag, Wenn der Tag beginnt, Und wieder blueh'n die Alpenrosen, Kinder, Der Adler von der Schartenwand, Stiller Schatten, Einsamkeit, Gloria alla Montagna, Laura's schoenster Tag, Benny, mein schweigender Freund, Ich schwoer, Das Maedchen ohne Namen (Bitte melde Dich!). Discontinued. Out of print.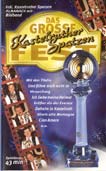 Das grosse Kastelruther Spatzen Fest AU 101
ca. 43 min. Das Video beinhaltet neben beeindruckenden Bildern der Suedtiroler Heimat der Spatzen, Interviews mit Fans, Eindruecke der einzelnen Spatzenmusiker und - als Highlight - Videoclip-Klassiker wie "Daheim in Kastelruth", "Gloria alla Montagna" sowie den aktuellen Single-Hit "Und fuehre mich nicht in Versuchung". Discontinued. Out of print.
Kein Schoener Land
German ARD Television series - Hosted by Guenter Wewel
Over 80 episodes of beautiful music, landscapes, stories and history of all regions of Germany
Click here to access this wonderful series
Kelheim und Lueneburger Heide mit Maria Hellwig MU 20042
color, ca. 45 min. - Maria Hellwig is your guide to the old city of Kelheim. Enjoy a fireworks display illuminating the age-old Danube. Also included is a tour of Germany's largest national park, the Lueneburger Heide. Lots of Music!!!
Maria Hellwig, deren Name allein schon fuer ein volkstuemliches Musikerlebnis der Spitzenklasse buergt, fuehrt uns mit dieser Folge in die altehrwuerdige Wittelsbacher- und Herzogsstadt Kelheim. Dort, wo die Altmuehl durch ihr schoenstes Tal fliesst, wo sich die Donau in Jahrtausenden ihren Durchbruch durch das Juragestein geschaffen hat, geben sich beliebte Musikanten und Freunde bayrischen Brauchtums mit viel Gesang und Blasmusik ihr Stelldichein.
**No Longer Available**

Klassix-13 German Composers
color, English language, 55 minutes each. New series. A fascinating journey into the lives and times of four incomparable composers, Mozart, Beethoven, Schubert and Brahms. Each episode employs costume drama, music video, gripping story lines and exquisite stereo Hi-Fi selections.
Mozart

MP 1700
How does one capture the spirit and the genius of Mozart in a one-hour program? Like the sun, Mozart's music is radiant, yet beyond desription. The video plunges into the rich and complex life of this immortal master who composed over 600 works in a mere 36 years. It takes us on a trip through time: a yoyage of discovery which shuttles freely over 200 years exploring Mozart's creative process, visiting his house in Salzburg then and now, the winding streets of Vienna, a stunning 18th century costume ball, and the haunting specter of death which invaded his dreams. The compelling episode creates a very real and very human Mozart that is unlike any protrayal you will ever see.

Beethoven

MP 1701
Beethoven was one of the world's most powerful personalities. His music is as alive today as it was in the 19th century when it influenced every other composer. At his funeral, Schubert was one of the torchbearers and over 20,000 people stood outside the cemetery. The video will take you to that cemetery and the landmarks of Beethoven's extraordinary life - his home in Bonn, his beloved Vienna, and the fairytale Rine countryside. But above all, it takes you inside his turbulent mind to reveal deep humanity, the agony over his crushing deafness, and the rebel genius that gave the world a sound which forever changed the face of music.

Schubert

MP 1702
Schubert is one of the most fascinating composers who ever lived. He was the last of a specil breed of masters which included Mozart and Beethoven. Yet, unlike them, he left no mark during his lifetime. His genius was indisputable, but no one saw it, not even he himself. Even though he lived only a few blocks from Beethoven, he could neber bring himself to talk to him; ironically, he is buried next to him. The video pushes itself to the limit by unearthing the essence of this enigmatic man. It leads us through the Schubert "Garage" where his greatest works were written, to the Viennese night life, and a gathering of 19th century students. The search for Schubert even includes encounters with a car mechanic, a museum attendant, a station master, and an organ grinder - all played by the same actor. The result is a highly intriguing image of a man whose genius after two centuries is finally coming to light.

Brahms

MP 1703
Built around Brahms' ravishing music, the video creates a gripping drama which takes the viewer from the tavern brawls of his youth, through the agony of writing his 1st Symphony, to the despair of his hopeless love for Clara Schumann - wife of his musical idol.
Klingende Gruesse von der malerischen Bergstrasse MU 837
ca. 50 min. - Schon die alten Roemer schaetzten den Reiz dieser Landschaft zwischen der weiten Rheinebene und dem Odenwald mit seinen bewaldeten Haengen und lieblichen Taelern, wo im Fruehling Mandelbaeume und Forsythien, Aprikosen und Magnolien um die Wette bluehen. Und die Roemer waren es auch, die an der "strata montana", der "Bergstrasse", die ersten Weinstoecke pflanzten. Doch nicht nur wegen der "guten Troepfchen" ist Heppenheim, der Schauplatz unseres Videos immer eine Reise wert: die romantische Wein- und Festspielstadt mit ihrer historischen Altstadt, den malerischen, mittelalterlichen Gassen, ihren Winzerkellern und Museen hat ihren Besuchern das ganze Jahr ueber vielfaeltige Attraktionen zu bieten. Fanfarenzug Worms, Original Odenwaelder Trachtenkappelle, Heppenheimer Schoppensaenger, Stadtkapelle Heppenheim, Franz Lambert an der Wersi Orgel, u. v. a.
**No Longer Available**
Klostertaler - Alles o.k.AU 100
color, ca. 44 min. - Im Grunde kann ein Album mit dem Titel "Alles o.k." nur von einer Gruppe stammen. Von einer optimistischen, lebensfrohen, ausdrucksstarken, hoechst professionellen und doch bodenstaendigen Formation. Von sympathischen Maennern, die mitten im Leben stehen und sich niemals unterkriegen lassen. Alles o.k.: Geh in die Berg Bua; Hale-Hey-A-Hey; Rennsteiglied(1. Strophe); Mensch sein; Einfacher Mann; Freundschaft; Hey-hey-Boarischer; Kimm, wir heben ab; Alles o.k.; Fuer dich lass ich Madonna steh'n; Wenn der Tag zu Ende geht; Rennsteiglied; Ciao D'amore.
Komm mit ins Land der Lieder - Kinderchor MU 503
color, ca. 60 min. - As they compete for the top proze of the best German children's choir, eight charming and talented choirs from all regions of Germany perform "Im schoensten Wiesengrunde", "Heidi" and many more.
Acht der besten Kinderchoere aus allen Regionen Deutschlands, mit dem Toelzer Knabenchor und den Regensburger Domspatzen als Gastchoere, singen sich in Ihr Herz hinein. Im schoensten Wiesengrunde, Das Lieben bringt gross' Freud', Wenn ich ein Voeglein waer', Mit dem Pfeil und Bogen, Da unten im Tale, Ein Jaeger aus Kurpfalz, Es dunkelt schon in der Heide, Nun ade, du mein lieb' Heimatland, Eine Seefahrt, die ist lustig, Biene Maya, Heidi, Der Mond ist aufgegangen, Auf einem Baum ein Kuckuck sass, Als wir juengst in Regensburg waren, Ade nun zur guten Nacht, und viele, viele mehr. Ein Hochgenuss fuer alle, die das deutsche Volkslied-Gut schaetzen. Discontinued. Out of print. MU 503
**No Longer Available**
Koenigstein im TaunusMU 932
color, ca. 45min. - Maria Hellwig presents a musical afternoon. Local groups and choirs assist in bringing you over twenty beautiful songs and sounds of the Hessen region. Also included is an interesting segment on falcons of the famous Falkenhof. MU 932
**No Longer Available**
ok 8/13
For hundreds more of the most popular Folkmusic, Schlager Paraden with Old and New Songs, Operas and Lots of Oompah! click on:
Fuer hunderte weitere tolle Musik-/Schlager-/Volksmusik- und Klassikvideos einfach unten mit dem Maeuschen klicken. Viel Spass beim schnuppern.
For RUSH PURCHASE ORDERS, save time and
postage by using your credit card.
Just call 1-800-252-1957 9:00 a.m. to 5:00 p.m.
(Extended hours during the Christmas holidays).
For ORDER INQUIRIES, CUSTOMER SERVICE, or RENTAL DEPARTMENT, please call 1-317-547-1257.
Alle oben aufgefuehrten Videos sind in deutscher Sprache, in Farbe,
im amerikanischen Videosystem NTSC in VHS-Kassette.
30 Day Rental Rates
Rental charges for a 30 day period. Shipping time is included in this period.

1 Tape

$10.50

5 Tapes

$34.50

2 Tapes

$17.00

6 Tapes

$41.00

3 Tapes

$23.00

7 Tapes

$47.25

4 Tapes

$28.50

8 Tapes

$52.80
The shipping charges to you are included in our low, low rental fees above. You are responsible for paying the return shipping. We ship via UPS and most orders are processed and leave our store the same day they are received. We also include an order form on which to place your next order if you so desire. There is absolutely no obligation to rent more videos. The shipping container is usually suitable for use to return your tapes to us. We even enclose a mailing label with our address and your return address which may be placed on the container when you return your tapes. What could be easier?
Alle unsere Videotapes, nicht nur 'Rental only' konnen Sie fuer 30 Tage leihen.
Anruf genuegt: 1-800-252-1957 EST.
How else may I place an order?
Click on the envelope below to send e-mail
to the German Language Video Center!

Not responsible for typographical errors.
Video run times are approximate.
Prices and availability subject to change without notice.
Send comments regarding contents of this page to
glvc@indy.net





Member VSDA since 1985.

Last modified: Wednesday, July 20, 2022 5:15 PM
German Language Video Center© 1997/2016
Entire Website copyrighted 1997, 1998, 1999, 2000, 2001, 2002, 2003, 2004, 2005. 2006, 2007, 2008, 2009, 2010, 2011, 2012, 2013, 2014, 2015, 2016
No reproduction or download allowed for commercial purposes without written permission.

GLVC 2016©.