The place where our customers send their friends!

Welcome to the Only American Video Tape Store for rare German Movies and Old ZDF volksmusik shows.
Please note: All video tapes are in the American NTSC VHS video format
and will play on all VCR's in North America. We are closing out all of our VHS inventory. This will be your last chance to obtain these beautiful ZDF music videos and hundreds of classic German movies and heimatfilme. Due to the limited demand in the USA, most of these movies will unfortunately never be available on DVD in America.
Once our videos are gone, they're gone!!!
We have drastically reduced the prices on over 2000 video titles closeout. Make sure to buy these classics while supply lasts.
On all VHS clouseout prices we will send you a new or previously viewed tape.

CLOSEOUT!!!!!

BUY NOW!!!

Any 10 videos for only $49.95
plus $19 s/h
while supplies last

German Music Video Descriptions

Please note: all of our music VHS video titles from the German ZDF Fernsehen starting with
Order # MU... and PK... have been discontinued; and will be no longer
be available for sale in the U.S. once our limited inventory is depleted.
Order now while they are still available.

E

An Evening with Marlene Dietrich MP 1523
ca. 50 min., NR - The legendary Marlene Dietrich captured in this unique stage performance, filmed in 1972 at the new London Theatre, England. Including songs from her famous film "The blue Angel". I get a kick out of you; You're the cream in my coffee; See what the boys in the backroom will have; The laziest girl in town; When the old was young; I wish you love; White Grass; Boomerang Baby; La vie en rose; Lola; Lily Marlene; Where have all the flowers gone; Honeysuckle rose; Falling in love again.


Die Entfuehrung aus dem SerailDG 5083
color, German with English subtitles, ca. 146 min. - Singspiel in drei Aufzuegen. Libretto: Gottlieb Stephanie (the Younger) nach Christoph Friedrich Bretzner. Chor und Orchester der Bayerischen Staatsoper.


Eine Rheinfahrt die ist lustig PK 1904
color, ca. 45 min. - Mainzer Hofsaenger, Margit Sponheimer, Blauck Foeoes, Margit Anderson. Er ist romantisch, lebenslustig, voller Gegensaetze und im wahrsten Sinne des Wortes sagenhaft - der gute alte Vater Rhein. On board of the Luxury-cruiser, "Prinzessin von Preussen" our musical journey starts in Amsterdam, cruising up to Speier and to the Pfalz. With stops in Xanten
and Cologne, past romantic castles including the famous Loreley. This musical trip goes past roman churches in Worms and Speyer, all on the good old father Rhine". PK 1904
**No Longer Available**

Einmal am Rhein

MU 801
color, ca. 90 min. - Experience a white riverboat cruise on this historical and musical journey along the romantic Rhein. Rudolf Schock, Freddy Breck, Heeresmusikkorps, and others present "Im Krug zum gruenen Kranze", "O du wunderschoener deutscher Rhein" and "Warum ist es am Rhein so schoen". Wer traeumt nicht von einer schoenen Schiffsfahrt auf dem romantischen Mittelrhein, wo steile Schieferwaende die weit geschwungenen Weinberge abloesen und jede Burg und jeder Stromabschnitt mit einer Sage verknuepft sind. Damit Sie nicht seekrank werden, sind wir fuer den zweiten Teil dieser einmaligen musikalischen Rheinreise an Land gegangen. Begleiten Sie uns auf die Festung Ehrenbreitstein, wo Sie ein herrlicher Ausblick auf Koblenz und die Moselbruecke erwartet, und ans Deutsche Eck, wo Mosel und Rhein sich kuessen, wie es so schoen im Volksmund heisst. Das Heeresmusikkorps 300 sorgt fuer schmissige Marschmusik und Rudolf Schock zeigt in einem seiner letzten Auftritte, das er ein Tenor von Weltrang war.
Rudolf Schock, Elmar Gunsch, Tina York, Freddy Breck, Das Medium Terzett, Kinderchor Die Kolibris, Chor der Chorleiter Rheinland-Pfalz, Das Heeresmusikkoprs 300, die Majoretten aus Esch-sur-Alzette, die Weinkoeniginnen von Rhein und Mosel, u.v.a.
**No Longer Available**



Elb Melodie "vom Ruebezahl zur Alten Liebe" MU 1250
color, ca. 83 min. - Ein grossartiges Reise-Musik-Video-Erlebnis entlang der Elbe, nach Meissen, Wittenberg, Dessau, Magdeburg, Tangermuende, Hamburg und Cuxhaven, mit Musik von der Quelle bis zur Muendung. Dazu eine Menge Volks-, Trachten- und Chorgruppen.
Kommen Sie mit auf eine faszinierende, unvergessliche Elbreise, auf eine musikalische Schiffsfahrt ganz besonderer Art. Die Stationen sind das Elbsandsteingebirge, Villa Baerenfett, Festung Koenigstein, Schloss Pillnitz, Loschwitzer Bruecke, Elbflorenz, Dresden mit all seinen grossartigen Sehenswuerdigkeiten, Meissen, Wittenberg, Dessau, Magdeburg, Tangermuende, Doemitz, Wendland, Hambug, Cuxhaven, Nordsee. Die Aufnahmen sind atemberaubend schoen. Unterwegs gib's dann an fast jeder Ecke, oder Elbkruemmung, eine Menge wunderschoener musikalischer Unterhaltung. Mit bekannten Kuenstlern, wie Heidi Kabel, Gunther Emmerlich, Achim Reichelt, Horst Koebbert, Ruth Ziesak, Chanty-Chor Cuxhaven, Saechsischer Bergsteigerchor, Hamburger Mandolinen-Orchester u.v.a. Ein grossartiges Video Erlebnis entlang der Elbe, Schicksalstrom im Herzen Deutschlands. MU 1250
**No Longer Available**


Entlang der Etsch und Suedtirol PK 863
ca. 45 min. - Along the Etsch in South Tyrol, music from Germany, Austria and Italy, and a guided tour through this beautiful and varied land. A very special video! Suedtirol ist durch seine Traditionen ein kulturell und vor allem musikalisch besonderes reizvolles Gebiet. Das so vielgesichtige Land musikalisch und geographisch kennenzulernen ist das Ziel dieses einmalig schoenen Videos. Die Etsch ist unser Reisebegleiter. Es geht musikalisch vom Reschenpass ueber die Dolomiten nach Bozen und Trient, vom Gardasee nach Verona, um nur einige Stationen zu nennen. Es gibt eine Vielzahl von Leckerbissen ganz besonderer Art: Von der herrlichen Blasmusik und dem Dreigesang der Berge zu den weinbeseelten Liedern am Kalterer See, von herrlichen Gesangdarbietungen vor dem Trienter Dom bis zu lustigen Kommoediantenvorfuehrungen am Gardasee und vom italienischen Schlager bis zum klassischen La Donna e mobile in der weltberuehmten Arena von Verona - und dazu immer wieder diese grossartig schoenen Landschaftsaufnahmen. Beim Genuss dieses Videos schlagen die Herzen der Freunde schoener Volksmusik Purzelbaeume! **No Longer Available**

Erinnerungen an Berlin MU 105
ca. 60 min. - With Maria Hellwig. Mehrere hundert Mitwirkende aus den verschiedensten deutschen Landschaften kommen hier zusammen, sie erzaehlen, singen und verstehen sich trotz der unterschiedlichen Dialekte. Sie kommen aus Ostfriesland, Hessen, dem Harz, aus Schwaben, Hamburg, Bayern und dem Schwarzwald. Und mittendrin natuerlich die Berliner... Dass bei dieser Gelegenheit sehr viel Musik gemacht wird, versteht sich von selbst. Hier nur einige der Titel: Donnerwetter-Tadellos, Wir Fahren so jemuetlich uff de Perdebahn, Hinterm Ofen sitzt ne Maus, Bolle-Lied, Untern Linden, So lang noch untern Linden, Das ist Ostfriesland, Sing man Tau, Nach Schwaben kommt Baden, Im Harzer Land, eine Seefahrt die ist lustig, Oh Schwarzwald, oh Heimat... und so viele, viele mehr!
**No Longer Available**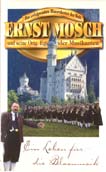 Ernst Mosch und seine Orig. Egerlaender Musikanten AU 90
ca.56 min. - Das erfolgsreichste Blasorchester der Welt bringt Ihnen 'Ein Leben fuer die Blasmusik'. Er spielt fuer Sie: Boehmische Maedchen sind Klasse (Polka), So was wie Du (Walzer), Schoene Pragerin (Polka), Der Weg zurueck (Walzer), Greif nicht nach den Sternen (Polka), Antonin Polka, Wenn unsere Musikanten spielen (Polka), Sommernacht in Prag (Walzer).
F
Fahrt ins Blaue... Mettlach an der Saar PK 1694
ca. 45 min. - Mit: Maria und Margot Hellwig, Marianne und Michael, Fitz Quartett, Kurt Lauterbach, Kern Buam, Trompetenduo Alpenland u.v.a. Bilderbuchschoene, eisklare Winterlandschaften. Ein schoenes Stueckchen bayrische Heimat erwartet Sie und wird bestimmt Ihr Herz erwaermen. **No Longer Available**
Fahrt ins Blaue... Ellmau in Tirol PK 1701
color, ca. 43 min. - Mit Maria und Margot Hellwig, Stanglwirt Trio, Fritz Strasser, Ellmauer Blaeserquartett, u.v.a. Heute geht unsere schoene Fahrt nach Ellmau, einen romantischen kleinen Bergdorf am Fusse des Wilden Kaisers. Von hier bringen Maria Hellwig und eine Vielzahl hochbegabter Volksmusikanten ein ungemuetliches Dreiviertelstuendchen echter Tiroler Weihnachtsstimmung. Wir erfahren auch einiges ueber die typischen Festtagsbraeuche dieser wunderschoenen Aplenregion.
**No Longer Available**
Die Fledermaus TH 2791
color, ca 180 min. - German language with some English - On two cassettes. The Royal Opera House presents "Die Fledermaus" by Johann Strauss, with Hermann Prey. Invite some friends over and enjoy this great play at home. Comes with printed dialogue booklet. With Kiri Te Kanawa, Hermann Prey, Hildegarde Heichele, Fenjamin Luxon. Donductor: Placido Domingo.
Die Fledermaus FLE 30
ca. 200 min. - Operetta in three acts, sung in English. Music by Johann Strauss recorded live at the Royal Opera House, Covent Garden. Libretto by Karl Haffner and Richard Genee. Sung in English.
"Musical champagne" best describes this perennial favorite - perhaps the most popular of Johann Strauss operettas - in which the opulence of the Viennese Belle Époque and the elegant gaiety of the music combine to provide an evening of sparkling entertainment. On the night of this recording, the "champagne" was nothing less than Dom Perignon. During the party scene, Dame Joan Sutherland makes a guest appearance to bid farewell to the Royal Opera House, Covent Garden, where she began her extraordinary career. Joining her "at the party" are two close friends who have come to honor her on this special night: Luciano Pavarotti and Marilyn Horene. This moving, star-studded evening marks a brilliant and joyous tribute to the career of "La Stupenda."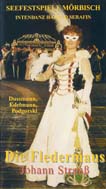 Die Fledermaus VLM 630 VHS
color, ca. 135 min., Seefestspiele Moerbisch, Opperette in drei Aufzuegen, Intendanz Harald Serafin. Text nach H. Meilhac und L. Halevy von C. Haffner und Richard Genee. Musik von Johann Strauss. Mit Silvana Dussmann, Peter Edelmann, Thaddaeus Podgorski, Slowakisches Volkstanz Ensemble.
**DVD has optional English Subtitles**

Die FledermausDG 072
ca. 146 min.- Bayerisches Staatsorchester; Carlos Kleiber, Otto Schenk. Mit E. Waechter, P. Coburn, B. Kusche, B. Fassbaender, J. Hopferwieser u.v.m.
Die Flippers an der Cote d'AzurPK 685
ca. 45 min. - Wir begleiten die Flippers nach Cannes, St. Tropez, Nizza und Monte Carlo. Unter der Sonne des Suedens und vor der Kulisse atemberaubend schoener Landschaften verzaubern diese Troubadoure des Herzens die Zuschauer mit ihren gefuehl- und sehnsuchtsvollen Liedern von Schicksal, Schoenheit und Liebe. Sie singen fuer uns: Manuels Melodie, Ich hab' ein Herz aus Schokolade, Je t'aime heisst: Ich liebe Dich, rote Sonne weites Land, u.v.a.
**No Longer Available**
Freut euch des Nordens GP 101
color, ca. 105 min. - Variety show. The NDR TV show comes to Chicago live, to celebrate their 50th show "Hamburg Gruesst Chicago". With Margot Eskens, Johnny Hill, Peter Petrel, Gotthilf Fischer and Guenther Wewel.
Fahrt ins Blaue - Bad Wimpfen am Neckar PK 1699
ca 45 min. - Maria Hellwig, Gitti & Erika u.v.a. Diesmal geht unsere Fahrt ins Blaue in die Freie Reichs- und Kaiserstadt Bad Wimpfen. Dieses wundershoene Staedtchen hat eigentlich zwei Gesichter, in dem einen spiegelt sich mittelalterliche Romantik und in dem anderen ein modernes Sole-Heilbad. Mit viel Charm und Musik zeigt uns Maria Hellwig die Sehenswuerdigkeiten. Mit dabei sind eine grosse Anzahl von Blas- und Trachtenkapellen, froehliche Saenger und Stimmungskuenstler. Sie Zeigen uns ein lebendiges Schwabenbild. PK 1699
**No Longer Available**

Fahrt ins Blaue - Bayrischzell und Wendelstein PK 1690
ca. 45 min. Mit: Maria und Margot Hellwig, Marianne und Michael, Fitz Quartett, Kurt Lauterbach, Kern Buam, Trompetenduo Alpenland u.v.a. Bilderbuchschoene, eisklare Winterlandschaften. Im urgemuetlichen "Heuboden" Heimatlokal spendet der knisterne Kamin behagliche Waerme und talentierte Kuenstler der Volksmusik. Ein schoenes Stueckchen bayrische Heimat erwartet Sie und wird bestimmt Ihr Herz erwaermen.
**No Longer Available**
Fahrt ins Blaue - Winkelmoos Alm bei Reit im Winkel PK 1689
ca. 45 min. - Maria Hellwig, Medium Terzett, Fredl Fesl, Toni Sailer, Hans Rosenthal u.v.a. Wo Maria Hellwigs Lieder froh erklingen sind Musik, Schwung und viel Gemuetlichkeit zu Hause. Heute hat Maria eine Freundesschar volksmusikalischer Talente um sich versammelt und fuehrt durch ein stimmungsvolles Unterhaltungsprogramm. Geniessen Sie unser Video in vollen Zuegen.
**No Longer Available**
Fahrt ins Blaue - Mayschoss an der AhrPK 1693
ca. 45 min. - Maria & Margot Hellwig, Guenter Wevel, Kurt Adolph Thelen, De Blaeck Foeoes, Die Sonntagskinder, Brohltalspatzen, Deutschland-Choere u.v.a. Heute geht's an die Ahr, ins groesste Rotweingebiet Deutschlands im sued-oestlichen Teil der Eifel. Im zauberhaft schoenen Oertchen Mayschoss hat Maria Hellwig viele bekannte Kuenstler um sich versammelt, die Ihnen singende, klingende Ahrstimmung darbieten. Dazu dann noch die vielen Sehenswuerdigkeiter dieser Region. Dieses heitere Heimatvideo wird gewiss auch Sie zu einem froehlichen Ahrschwaermer * machen.
* Vorsicht bei der Aussprache dieses Wortes!
**No Longer Available**
Fahnen, Farben & Folklore - Bruegge PK 879
ca. 50 min. - Bruegge in Westflandern is often called the "Venice of the North." the medieval city, the castle, the old town hall, are among the oldest and most beautiful in Belgium. Folk dancing, lace making, Flemish music, and special guest, Till Eulenspiegel, make an interesting and colorful show.
Bruegge in der Provinz Westflandern, das "Venedig des Nordens" mit seinen zahlreichen Grachten, "Reien" genannt, und dem mittelalterlichen Stadtbild uebt einen ganz besonderen Reiz auf den Besucher aus. Der Burgplatz mit dem praechtigen Rathaus, einem der schoensten und aeltesten dieser Art in Belgien, bildet die malerische Kulisse. Von hier aus erblickt man das nahe gelegene Wahrzeichen Bruegges, den Belfried. Dieser Stadtturm, Symbol buergerlicher Unabhaengigkeit im Mittelalter, beherbergt eines der beruehmtesten Glockenspiele der Welt. Flandrische Volkstaenze, Bilder von der Kunst des Kloeppelns, gemischte Choere, die die Schoenheiten der Stadt und der Region besingen und ein grosses Aufgebot an Fahnenschwenkern und Blasmusikern sorgen fuer grossartige Stimmung. Ein ganz besonderer Gast kommt aus dem benachbarten Damme, Till Eulenspiegel. Mit Zeger Vandersteene, Carlos Decoene, "Till Eulenspiegel", Aime Lombaert, Glockenspiel, Bloedend Hart, Klakkebusse, Vagantes Morborum, Collegium Instrumentale Brugense u.v.a.
Festlich-Heitere Hofmusik im SchlossparkMU 845
color, ca. 50 min. - This tape will take you on a trip into the past. See the Ludwigsburger Schlosspark and enjoy Rondo Veneziano, with music from Mozart and Vivaldi.
**No Longer Available**
Der Fliegende HollaenderJB 20
140 min. - Bayreuth Festival, German dialogue, English subtitles. Romantische Oper in drei Aufzuegen. Simon Estes, Lisbeth Balsev, Matti Salminen, Robert Schunk. Chor und Sondechor der Bayreuthe Festspiele. Orchester der Bayreuther Festspiele. Conducted by Woldemar Nelsson. Staged and directed by Harry Kupfer.
Fidelio VA 8
color, ca. 130 min. - by Beethoven, Sung in German with English subtitles. The London Philharmonic Orchestra performs. Since its founding over fifty years ago, the Glyndebourne Festival has been synonymous with an artistic level of operatic production unmatched throughout the world. The Festival has continually brought together internationally acclaimed singing actors, conductors, directors, and scenic designers to produce ensemble performances of unparalleled excellence. Jaquino - Ian Caley, Marzelline - Elizabeth Gale, Rocco - Curt Appelgren, Leonore - Elisabeth Soederstroem, Don Pizarro Robert Allman, Florestan - Anto de Ridder, and many more..
Frank Yankovic, America's Polka King KU 1714
color, and b/w, ca. 58 min. - Documentary about the life of Frank Yankovic. "No one ever played Polkas any better", said Lawrence Welk.
Franken und Thueringen und SachsenMU 841
color, ca. 50 min. - Travel from the Odenwald to Saxony and listen to wonderful music. "Bayrischer Defiliermarsch", "Deutschmeister Regiments Marsch", "Florentiner Marsch" and may more.
Der Freischuetz HV 35
ca. 150 min. - By Carl Maria von Weber. Sung in German with English subtitles. Wuerttemberg State Opera, Stuttgart. Chorus and Orchestra of the Wuerttemberg State Opera, C. Ligendza, T. Kraemer, R. Viljakainen, W. Raub. Carl Maria von Weber's opera "Der Freischuetz" met with instant success on its premiere in Berlin in 1821. That success spread rapidly throughout Europe, as audiences identified readily with the folk melodies and hunting characters of its Bohemian setting. The story tells of Max's struggle to win Agathe in marriage. His desperation which leads him to trade with the devil in order to regain his lost marksman's skill, finds resolution when fate intervenes to prevent the fatal "free-bullet" from striking Agathe, saved by the sacred roses in her bridal coronet.
Freut euch des Lebens Sonntagskonzert MU 819
ca. 55 min. - From the new Bundesland Sachsen - Anhalt, from the beautiful town of Quedlinburg. Dances and yodeling frim the Harz mountains. Walter Scholz, known as the "Trompeter mit der Teufelszunge" and experience what he is able to do with his instrument.
OK 8/13

For RUSH PURCHASE ORDERS, save time and
postage by using your credit card.
Just call 1-800-252-1957 9:00 a.m. to 5:00 p.m.
(Extended hours during the Christmas holidays).
For ORDER INQUIRIES, CUSTOMER SERVICE, or RENTAL DEPARTMENT, please call 1-317-547-1257.
Alle oben aufgefuehrten Videos sind in deutscher Sprache, in Farbe,
im amerikanischen Videosystem NTSC in VHS-Kassette.
For hundreds more of the most popular Folkmusic, Schlager Paraden with Old and New Songs, Operas and Lots of Oompah! click on:
Fuer hunderte weitere tolle Musik-/Schlager-/Volksmusik- und Klassikvideos einfach unten mit dem Maeuschen klicken. Viel Spass beim schnuppern.
30 Day Rental Rates
Rental charges for a 30 day period. Shipping time is included in this period.

1 Tape

$10.50

5 Tapes

$34.50

2 Tapes

$17.00

6 Tapes

$41.00

3 Tapes

$23.00

7 Tapes

$47.25

4 Tapes

$28.50

8 Tapes

$52.80
The shipping charges to you are included in our low, low rental fees above. You are responsible for paying the return shipping. We ship via UPS and most orders are processed and leave our store the same day they are received. We also include an order form on which to place your next order if you so desire. There is absolutely no obligation to rent more videos. The shipping container is usually suitable for use to return your tapes to us. We even enclose a mailing label with our address and your return address which may be placed on the container when you return your tapes. What could be easier?
Alle unsere Videotapes, nicht nur 'Rental only' konnen Sie fuer 30 Tage leihen.
Anruf genuegt: 1-800-252-1957 EST.
How else may I place an order?
Click on the envelope below to send e-mail
to the German Language Video Center!

Not responsible for typographical errors.
Video run times are approximate.
Prices and availability subject to change without notice.
Send comments regarding contents of this page to
glvc@indy.net





Member VSDA since 1985.

Last modified: Wednesday, July 20, 2022 5:14 PM
German Language Video Center© 1997/2016
Entire Website copyrighted 1997, 1998, 1999, 2000, 2001, 2002, 2003, 2004, 2005. 2006, 2007, 2008, 2009, 2010, 2011, 2012, 2013, 2014, 2015, 2016
No reproduction or download allowed for commercial purposes without written permission.

GLVC 2016©.