The place where our customers send their friends!
Welcome to the Only American Video Tape Store for rare German Movies and Old ZDF volksmusik shows.
Please note: All video tapes are in the American NTSC VHS video format
and will play on all VCR's in North America. We are closing out all of our VHS inventory. This will be your last chance to obtain these beautiful ZDF music videos and hundreds of classic German movies and heimatfilme. Due to the limited demand in the USA, most of these movies will unfortunately never be available on DVD in America.
Once our videos are gone, they're gone!!!
We have drastically reduced the prices on over 2000 video titles closeout. Make sure to buy these classics while supply lasts.
On all VHS clouseout prices we will send you a new or previously viewed tape.
CLOSEOUT!!!!!
BUY NOW!!!
Any 10 videos for only $49.95
plus $19 s/h
while supplies last
German Music Video Descriptions
Please note: all of our music VHS video titles from the German ZDF Fernsehen starting with
Order # MU... and PK... have been discontinued; and will be no longer
be available for sale in the U.S. once our limited inventory is depleted.
Order now while they are still available.
L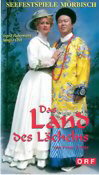 Das Land des LaechelnsVLM 7
color, ca. 120 min. Romantische Operette in drei Akten nach Victor Leon von Ludwig Werzer und Fritz Loehner. Musik von Franz Lehar. In der Fassung der Seefestspiele Moerbisch 2001. Featuring Harald Serafin, Ingrid Habermann, Dietmar Kerschbaum, Sangho Choi, Yuko Mitani, Tory Tanabe, Gideon Singer, Volker Wahl, Nora Miedler and Julia Resinger. With Festival Orchester Moerbisch, The Hunan Provincial Song and Dance Troupe, Union Turniertanzformation Gold und Silber Statisterie der Seefestspiele Moerbisch.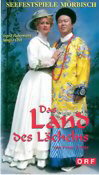 Das Land des LaechelnsVLM 7 DVD

color, ca. 120 min. Romantische Operette in drei Akten nach Victor Leon von Ludwig Werzer und Fritz Loehner. Musik von Franz Lehar. In der Fassung der Seefestspiele Moerbisch 2001. Featuring Harald Serafin, Ingrid Habermann, Dietmar Kerschbaum, Sangho Choi, Yuko Mitani, Tory Tanabe, Gideon Singer, Volker Wahl, Nora Miedler and Julia Resinger. With Festival Orchester Moerbisch, The Hunan Provincial Song and Dance Troupe, Union Turniertanzformation Gold und Silber Statisterie der Seefestspiele Moerbisch.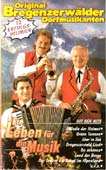 Ein Leben fuer die MusikAU 22
color, ca. 55 min. - The Bregenzerwaulder Dorfmusikanten trio presents Alpine music at its best, 12 beautiful hits from the Bregenzerwald region and interesting information about local customs.
Gruesse der Musik, Der Zauber der Berge im Alpenland, Der Gamserljager, Komm rueber an mein Platzerl, Melodie der Heimat, Bei Mami ist's so schoen, Gruene Tannen ueber'm See, Du schoenes Land der Berge, Heimat der Berge, deine Lieder, Kommt die Fruehlingszeit, Sehnsucht, du Bote der Liebe, Bregenzerwald-Lied. Weiteres sind auf diesem Video zu sehen: Filmbericht ueber den Bregenzerwald, Verleihung Goldene Schallplatte, Ludwig Bertel bei der Arbeit als Komponist, Kaeseerzeugung auf einer Alm im Bregenzerwald, 45 Jahre Musikertaetigkeit von Ludwig Bertel, Verleihung des Goldenen VN-Musikanten und vieles mehr...
Das Leben ist ein LiedMCP 28
ca. 30 min. - Mit wunderschoenen Landschatsaufnahmen Bayern, Oestereich, Suedtirol. Leg'n ma los; Ein Urlaub in Bavaria; Freunde singt mit uns ein Lied; Wenn wir auch nicht juenger werden; Das Leben ist ein Lied; Ein Feuerwerk der guten Laune; Ein liebes Wort zur rechten Zeit.
Ein Lied aus Wien MU 705
color, ca. 50 min. - Wonderful Vienna melodies accompany you as you tour the Hofburg, the world renowned Spanish riding school. Paul Hoerbiger and even the unforgettable Hans Moser sing the lovely songs of Vienna for you. Hans Holt laedt sie zu einem Bummel durch die oesterreichische Kaiserstadt ein. Und da Wien und Musik Begriffe sind, die man nicht voneinander trennen kann, ist dies natuerlich ein hoechst musikalischer Streifzug durch die alten Gassen und vertraeumten Winkel. Der Rundgang beginnt an der ehrwuerdigen Hofburg am Michaelerplatz, fuehrt dann ins romantische Paradeisgartl und schliesslich in die weltberuehmte Spanische Hof-Reitschule, wo rassige Lipizzanerpferde im Marsch- und Walzertakt taunzeln. Danach geht's zum Cafe Central in der Herrengasse, seit Jahrzehnten Treffpunkt der Literaten. Und beim Anblick der Koestlichkeiten in der Zuckerbaeckerei Demel laeuft einem buchstaublich das Wasser im Mund zusammen. Dazwischen immer wieder diese herrlichen Wiener Lieder, gesungen von Paul Hoerbiger, Elfriede Otto und Heinz Holececk. Sogar der unvergessene Hans Moser ist zu hoeren.MU 705
**No Longer Available**
The Legend of Tsar SaltanVW 1406
color, ca. 98 min. - Dresden State Opera; conducted by Siegfried Kurz. Music: Nikolai Rimsky-Korsakov (1844-1908); Prologue: 4 acts and seven tableaus; A sparkling tale of fantasy, "The Legend of Tsar Saltan" was written by Rimsky-Korsakov to celebrate the centennial of Pushkin's birth. It is his most symphonic opera and contains the dazzling world famous Flight of the Bumble Bee among other exciting melodies. Tsar Saltan chooses to marry the youngest of 3 sisters, the beautiful Militrissa, who longs to give him a hero-son. While away on a campaign, Prince Guidon is born, and the jealous sisters take revenge by sending the Tsar a message that Militrissa gave birth to a monster, who can never become a hero. The Tsar reacts by ordering the mother and son to be put out to sea. They reach a desert island, where Guidon grows up to be a magician and a hero, who saves the life of a swan. Out of gratitude, the swan makes a wonderful and luxurious city spring up on the island. The Tsar, hearing these rumors, whishes to visit the island but is dissuaded by the wicked sisters. Searching for his father's identity, Guidon sneaks into the Tsar's palace with help from the swan. The swan turns into a Princess and Guidon falls in love with her. When the Tsar embraces them, Militrissa forgives the Tsar and even pleads for her sisters.
Leise flehen meine Lieder mit Udo Juergens und Kinderchor MU 111
color, ca. 90 min. - Famous singers like Udo Juergens, Anneliese Rothenberger, Hermann Prey and the most popular children's and boy's choirs invite you to a musical journey through the four seasons. Outstanding entertainment! "Schlafe mein Prinzchen schlaf ein", "Sah ein Knab ein Roeslein stehn", "Aennchen von Tharau", "Ave Maria". MU 111
**No Longer Available**
Lieder, die von Herzen kommen #1 MU 502
color, ca. 90 min. - Willy Schneider, Gitti und Erica, Bianca, die Original Schwarzwald familie Seitz, Uschi Bauer. "Auf der Schwaeb'sche Eisenbahne", "Veronika". Join in for 90 minutes of foot-tapping and hand-clapping fun. We guarantee you will want to sing and dance along with this "music from the heart.
**No Longer Available**

Lieder, die von Herzen kommen #2 MU 511
color, ca. 90 min. - The charming Carolin Reiber hosts popular folk musicians from their native regions. Franzl Lang and many, many others. Enjoy "So ein Tag", "Patrona Bavariae", and "Trink mit mir den Wein vom Main". This is a music show you'll enjoy over and over again.
**No Longer Available**
Lindau am Bodensee MU 935
color, ca. 60 min. - Germany's "City in the Lake" Maria Hellwig presents her musical afternoon under sunny Bavarian skies and musicians and singers perform and inform. "Servus Gruezi" und Hallo", and over thirty more folk songs are included.
**No Longer Available**
Live aus Mainz MU 20054
color, ca. 45 min. - An array of entertaining folk dancers, musicians and local groups in their colorful costumes gather in the enchanting city of Mainz. You will delight to folk dancing, lively brass music and song.
**No Longer Available**
Live vom Muenchner Oktoberfest MU 876
color, ca. 45 min., Begleiten Sie uns auf diesem stimmungsvollen Bummel ueber das groesste Volksfest der Welt. Mit von der Partie sind eine Menge "Zugroaster" und viele einheimische Musikanten, die diese Wies'n-Saison musikalisch hochleben lassen. Hier nur einige der tollen Stimmungsmelodien: Bayerischer Defilier Marsch - So lang der alte Peter - Gruss aus Muenchen - Alm-Jodel-Boogie - Die schoenste Jahreszeit - Ein Prosit - Oktoberfestlied - So schlank muessen Maenner nicht sein - Schuetzenliesel - Kufsteiner Lied - Schneewalzer - Herzilein u.v.a.
Come along with us and visit the world's most famous folk festival. Smell the pork roasting, fish on a stick, a cold foaming beer on the table and enjoy some great Bavarian music: "Schuetzenliesl, Kufsteiner Lied, Schneewalzer, Herzilein, Patrona Bavariae and many more. With Takeo Ischi, Karolin Weidner, the Philharmoniker, and others to entertain you.
**No Longer Available**


Lohengrin JB 30
color, HiFi Stereo, ca. 180 minutes on two cassettes - with Placido Domingo, the forces of the Vienna State Opera bring this operatic milestone to magnificent realization.
Lohengrin
Bayreuth Festival, ca. 200 min. - German dialogue, English subtitles, 200 minutes. Romantische Oper in drei Aufzuegen/in three acts from the Festspielhaus, Bayreuth. Koenig Heinrich-Siegfried Vogel, Lohengrin-Peter Hofmann, Elsa von Brabant-Karan Armstrong, Ortrud-Elizabeth Connell, Friedrich von Telramund-Leif Roar and Herald-Bernd Weikl. Conducted by Woldemar Nelsson. Staged and directed by Goetz Friedrich.
**no longer available**
Lohengrin PA 12610
Subtitles, HiFi Stereo, ca. 220 minutes on two tapes - Soprano Eva Marion, along with Peter Hoffman in the title role, soar in a Lohengrin of magic, power and pathos. Taped live on January 10, 1986 at the Metropolitan Opera. The medieval romance of the Swan Knight, who comes miraculously to the rescue of the falsely accused Elsa of Brabant, became one of Richard Wagner's most beloved operas. Enacted against a background of chivalric and religious pageantry and made vivid by Wagner's powerful, richly scored music, Lohengrin comes grippingly ot life in this handsome metropolitan Opera production, featuring a notable cast under the baton of Artistic Director James Levine. Discontinued. Out of print.
Lustige Musikanten featuring Marianne und Michael
Lustige Musikanten aus Kurtatsch in SuedtirolPK 712
ca. 60 min. - Praesentiert von Marianne und Michael. Vico Torriani, Kastelruther Spatzen u.v.a. Aus Suedtirol sehr viel Spass und gute Unterhaltung.
**No Longer Available**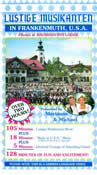 Lustige Musikanten aus Frankenmuth FR 95
1995, ca. 128 min. - Presented by Marianne & Michael; filmed at the Bavarian Inn Lodge in Frankenmuth, Michigan. Over two hours of fun and excitement! Featuring Gotthilf Fischer, Maria Hellwig, Freddy Quinn, Ernst Mosch and his Original Egerlaender Musikanten. A must for every German music fan!
Lustige Musikanten aus Weissenburg im Frankenland in BayernPK 713
ca. 104 min. - Praesentiert von Marianne und Michael. Stefan Mross, Heino, Uschi Bauer u.v.a. Ein filmischer Spaziergang durch Weissenburg und Umgebung zeigt u.a. die im Mittelalter wieder aufgebaute schoene alte Stadt mit ihren praechtigen roemischen Thermen. Discontinued. Out of print.
**No Longer Available**
Lustige Musikanten in der SchweizPK 714
ca. 60 min. - Das beliebte Kuenstlerpaar Marianne & Michael praesentieren mit ihren Lustigen Musikanten und vielen bekannten und beliebten Gaesten aus einer aussergewoehnlichen Lage zwischen Thuner- und Brienzersee zu Fuessen des imposanten Dreigestirns Eiger, Moench und Jungfrau. Mit Otti Bauer und sein Orchester, Tony Marshall, Ludwig Baumann, Vreni & Rudi, Die jungen Klostertaler, Die Tiroler Nachtschwaermer, Hackbrett-Quintett W. Alder, Loeschzugchoerli Interlaken u.v.a. Discontinued. Out of print.
**No Longer Available**
Lustige Musikanten von Burg Finkenstein im Kaerntner LandPK 715
ca. 60 min. - Marianne und Michael haben eine Vielzahl hochkaraettiger Volksmusiker hoch oben auf die Burg Finkenstein im Bergparadies Kaerntner Land eingeladen. Von hier, am Fusse der Karawanken, geniessen wir atemberaubenden Aussichten auf das Gail-Tal, das Villacher Becken und den Faaker See. Die herrliche Region liegt im Dreilaendereck Oesterreich, Slowenien und Italien. Mit Otti Bauer und sein Orchester, Waltraut Haas, Alpenoberkrainer, Dirk Schiefen, Coro Croz Corona, Stefan Moll, Goldried-Quintett, Roessl Musikanten, Die Stimmen aus Kaernten u.v.a. Discontinued. Out of print.
**No Longer Available**
Lustige Musikanten aus Brilon im SauerlandPK 716
ca. 90 min. - Originalton Michael: "Sauer macht bekanntlich lustig, deshalb sind wir mit den Lustigen Musikanten heute hier im Sauerland!". Genauer gesagt, in der reizenden Hansestadt Brilon im Westfalenland. Und das es lustig zugeht, dafuer sorgen das beliebte Kuenstlerpaar Marianne und Michael und eine grosse Schar von bekannten Saengern, Taenzern und Trachtengruppen. Mit Patrizius, Otti Bauer und sein Musikanten Express, Astrid Harzbecker, Martina Dorak, Robert Neumaier, Uschi Bauer, Andy & Bernd, Inge & Maria, Gabi Seitz Ensemble, Die Trixies, Marinechor der Schwarzmeerflotte u.v.a. PK 716
**No Longer Available**
Lustige Musikanten in Ellmau in TirolPK 717
ca. 90 min. - Am Fusse des Wilden Kaisers auf der einen Seite, und an den Auslaeufern der Kitzbueheler Alpen auf der anderen, liegt Ellmau, das ganz besondere Lieblingsziel von Marianne & Michael und ihren Lustigen Musikanten. Eine grosse Heerschar an Spitzenkuenstlern wird Sie hoch oben auf der Ruebezahl Alm musikalisch-lustig verwoehnen. Mit Waltraut Haas, Otti Bauer und sein Musikanten Express, Franzl Lang, Coro Croz Corona, Astrid Harzbecker, Kurt Elsasser, Tiroler Nachtschwaermer, Original Tiroler Echo, Die Trankwalder, Kitzbuehler Alpenquintett, Gradl Buam, Milser Musikanten, u.v.a. Discontinued. Out of print.
**No Longer Available**
Lustige Musikanten in Uhlbach im SchwabenlandPK 718
ca. 90 min. - Mal wieder richtig Heimat tanken... mal anderthalb Stuendchen hinein in's traumhaft schoene Schwabenland... mit Stimmung und Stars und guter Laune. Mit Eva Lind, Tony Marshall, Die Schaefer, Marianne & Michael, Geraldine Olivier, Seitz Express, Die Fischer Choere, Die Kirmesmusikanten, Max Greger, Fred Bertelmann, Montanara Chor, u.v.a. PK 718
**No Longer Available**

Lustige Musikanten und Marianne & Michael praesentieren Lustige Musikanten in Kanada-Whistler Mountain PK 724
ca. 105 min. - Ob auf Skihuetten, auf Almwiesen, in urigen Bauernhaeusern, herrschaftlichen Weinguetern, Burgen oder gemuetlichen Gasthaeusern, ueberall erfreuen Marianne und Michael und ihre vielen Gaeste das Publikum mit grossartigen Darbietungen von stimmungs- und heimatgeladener Volksmusik. Erleben Sie mit diesem einmaligen Video das hochtalentierte Kuenstlerpaar mit vielen seiner Whistler, im Western der gewaltigen Rocky Mountains. Im praechtigem Sonnenschein erleben wir volksmusikalische Hochstimmung vom Besten am laufenden Band. Mit von der Partie sind: Otti Bauer und sein Orchester, Stefanie Hertel & Stefan Mross, Angela Wiedl, Freddy Quinn, Slavko Avsenik & die jungen Oberkrainer, Alpenrebellen, Mooskirchner, Zillertaler Buam, Big Band der Bundeswehr, Royal Canadian Mounted Police, Carson Kids, Prairie Oyster u.v.a. In Whistler Mountain geht's hoch her, die Stimmung steigt, es tanzt der Baer.
**No Longer Available**
| | |
| --- | --- |
| | DVD, Seefestspeile Moerbisch, 2005, ca. 150 min. Operette in 3 Akten von Victor Leon und Leo Stein, Musik von Franz Lehar. Subtitles available in English, French and Italian |
ok 8/13
For hundreds more of the most popular Folkmusic, Schlager Paraden with Old and New Songs, Operas and Lots of Oompah! click on:
Fuer hunderte weitere tolle Musik-/Schlager-/Volksmusik- und Klassikvideos einfach unten mit dem Maeuschen klicken. Viel Spass beim schnuppern.
For RUSH PURCHASE ORDERS, save time
and postage by using your credit card.
Just call 1-800-252-1957 9:00 a.m. to 5:00 p.m.
(Extended hours during the Christmas holidays).
For ORDER INQUIRIES, CUSTOMER SERVICE, or RENTAL DEPARTMENT, please call 1-317-547-1257.
Alle oben aufgefuehrten Videos sind in deutscher Sprache, in Farbe,
im amerikanischen Videosystem NTSC in VHS-Kassette.
30 Day Rental Rates
Rental charges for a 30 day period. Shipping time is included in this period.

1 Tape

$10.50

5 Tapes

$34.50

2 Tapes

$17.00

6 Tapes

$41.00

3 Tapes

$23.00

7 Tapes

$47.25

4 Tapes

$28.50

8 Tapes

$52.80
The shipping charges to you are included in our low, low rental fees above. You are responsible for paying the return shipping. We ship via UPS and most orders are processed and leave our store the same day they are received. We also include an order form on which to place your next order if you so desire. There is absolutely no obligation to rent more videos. The shipping container is usually suitable for use to return your tapes to us. We even enclose a mailing label with our address and your return address which may be placed on the container when you return your tapes. What could be easier?
Alle unsere Videotapes, nicht nur 'Rental only' konnen Sie fuer 30 Tage leihen.
Anruf genuegt: 1-800-252-1957 EST.
How else may I place an order?
Click on the envelope below to send e-mail
to the German Language Video Center!

Not responsible for typographical errors.
Video run times are approximate.
Prices and availability subject to change without notice.
Send comments regarding contents of this page to
glvc@indy.net





Member VSDA since 1985.

Last modified: Wednesday, July 20, 2022 5:16 PM
German Language Video Center© 1997/2016
Entire Website copyrighted 1997, 1998, 1999, 2000, 2001, 2002, 2003, 2004, 2005. 2006, 2007, 2008, 2009, 2010, 2011, 2012, 2013, 2014, 2015, 2016
No reproduction or download allowed for commercial purposes without written permission.

GLVC 2016©.