The place where our customers send their friends!
Welcome to the Only American Video Tape Store for rare German Movies and Old ZDF volksmusik shows.
Please note: All video tapes are in the American NTSC VHS video format
and will play on all VCR's in North America. We are closing out all of our VHS inventory. This will be your last chance to obtain these beautiful ZDF music videos and hundreds of classic German movies and heimatfilme. Due to the limited demand in the USA, most of these movies will unfortunately never be available on DVD in America.
Once our videos are gone, they're gone!!!
We have drastically reduced the prices on over 2000 video titles closeout. Make sure to buy these classics while supply lasts.
On all VHS clouseout prices we will send you a new or previously viewed tape.
CLOSEOUT!!!!!
BUY NOW!!!
Any 10 videos for only $49.95
plus $19 s/h
while supplies last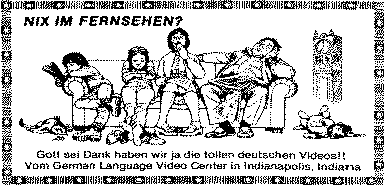 Hi Folks,
Welcome to the German Language Video Center web site. We have approximately 2,600 different films including wonderful musical show video tapes from Germany, Austria and Switzerland... movies, old and new...travel, history and adventure...for you and your family to enjoy in the comfort of your home. Keep in mind all the videos within this web site are for sale or rent. They may be rented for thirty (30) days for one video for as little as $10.50 a month. This may be preferable if you are only interested in watching a particular film only once or twice, but there are hundreds of nice movies and musical videos that you surely would like to buy and watch with your friends whenever the mood strikes you. You can enjoy all the pleasures of an outing to a movie theater, without leaving your home, and save the cost of movie tickets. You only have to supply the popcorn ! We also provide a service to transfer your family and home movies from Germany or other countries to the American NTSC video system so they may be played on VCRs here in the States. Or we can convert your American family video tapes to the German system. This will make a nice gift at Christmas time. To our long time friends, we say a hearty "Thank you!" for your continued support, and to our new video friends, we extend a hearty welcome. We're glad you are joining us. Wir hoffen bald von Ihnen zu hoeren und verbleiben mit einem
HAPPY AUF VIDEOSEHEN!
Juergen und Gabi Jungbauer
& dedicated staff

Nobody but nobody in America has a larger selection of German Language videos for sale, or rent, at such a low price, for such a long time.
How else may I place an order?
Click on the envelope below to send e-mail
to the German Language Video Center!

Not responsible for typographical errors.
Video run times are approximate.
Prices and availability subject to change without notice.
Send comments regarding contents of this page to
glvc@indy.net





Member VSDA since 1985.

Last modified: Friday, October 21, 2016 2:18 PM
German Language Video Center© 1997/2016
Entire Website copyrighted 1997, 1998, 1999, 2000, 2001, 2002, 2003, 2004, 2005. 2006, 2007, 2008, 2009, 2010, 2011, 2012, 2013, 2014, 2015, 2016
No reproduction or download allowed for commercial purposes without written permission.

GLVC 2016©.