The place where our customers send their friends!
Welcome to the Only American Video Tape Store for rare German Movies and Old ZDF volksmusik shows.
Please note: All video tapes are in the American NTSC VHS video format
and will play on all VCR's in North America. We are closing out all of our VHS inventory. This will be your last chance to obtain these beautiful ZDF music videos and hundreds of classic German movies and heimatfilme. Due to the limited demand in the USA, most of these movies will unfortunately never be available on DVD in America.
Once our videos are gone, they're gone!!!
We have drastically reduced the prices on over 2000 video titles closeout. Make sure to buy these classics while supply lasts.
On all VHS clouseout prices we will send you a new or previously viewed tape.
CLOSEOUT!!!!!
BUY NOW!!!
Any 10 videos for only $49.95
plus $19 s/h
while supplies last
WAR DOCUMENTARIES VIDEO TAPES
Suggested for scholarly and educational use.
---
S
Der Stern von Afrika / The Star of Africa BB 931
1957, ca. 105 min. - German language w/English subtitles. Witness the dashing exploits of the Star of Africa, the Eagle of the Desert: Hans-Joachim Marseille, a Luftwaffe Ace with 158 confirmed kills. Marseille, born into a wealthy family, quickly gained a reputation for being a fearless flyer, thanks to tricks performed while at the Luftwaffe's flight school. Brazen and uncompromising, he repeatedly ran into conflict with the German "Iron Code" of discipline. During W.W.II Marseille gained glory as an attack-loving "Flying Devil." His ability to turn inside an opponent and his mastery of deflection shooting made him one of Germany's best Aces. This was proved on September 1, 1942 when Marseille shot down 17 aircraft in a single day. Marseille won the Knight's Cross with Oak Leaves, Swords and Diamonds as well as the Italian gold Medal for Bravery, which was awarded to only three men in W.W.II. Starring Joachim Hansen and Marianne Koch, directed by Alfred Weidemann.
Sieg im Westen (Victory in the West)DVD IH 21 DVD
Germany, 1941, b&w, 120 minutes, original German sound, English subtitles. Sound quality: variable. Hitler's greatest military victory--the conquest of Holland, Belgium and France in the spring of 1940--is graphically documented in this special Nazi feature. Here is the onslaught of panzers, aircraft and infantry that stunned the World. Film from special front-line camera crews, captured Allied footage and animated maps enhance the viewer's understanding of this awesome blitzkrieg.
The Smashing of the ReichDO 2
U.S.A., 1962, ca. 84 min. - The fall of the German war machine, with emphasis on air power. Includes much footage never before seen: The Normandy landings, Bastogne, the Elbe River assault and the liberation of Paris concentration camp survivors.
The Speeches Collection - Adolf HitlerMP 1685
German dialogue, English subtitles, b/w, ca. 50 min. - The World will never forget the horrific consequences of Adolf Hitler's words. Before, only German-speaking people could understand Hitler's messages of propaganda and hatred. Now, through scrupulous research and translation, this startling video will present his most dramatic speeches, revealing the demonic phrases he used to hypnotize the masses. This is a unique opportunity to own Hitler's words that kill.
The Scharnhorst Part 1CH 741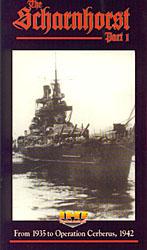 English commentary and subtitles, b&w/color, ca. 75 min. - From 1935 to Operations Tiberius 1942. The origins of the Scharnhorst can be traced as far back as 1928. However, as a result of the strict conditions imposed on Germany by the Treaty of Versailles, the early ships were overdeveloped in terms of speed and poor in terms of stability. Additionally, there was a discrepancy between the number of guns and their calibre. When the national Socialists came to power in 1933, German foreign policy was focused on amendments to the Treaty. With the Anglo German Treaty of 1935, Hitler finally succeeded in getting rid of many of the restrictions. This meant that the construction of ships of the Scharnhorst class, originally planned in secret, had been legalized. The battleship Scharnhorst and her sister ship Gneisenau heralded the first large German warships since 1918. These newly developed craft represented a successful merging of the former liners and battle cruisers from the time of the first World War. The construction of so-called "Speed Battleships" began in the mid-thirties with these two models. The Scharnhorst took part in a variety of operations during the second World War. Her most legendary exploit was, together with her sister ship the Gneisenau, and the heavy cruiser Prinz Eugen, the breakthrough of the Channel in 1942 (Operation Cerberus).
This video covers the period from construction, sea trials and early active service, from the dash along the English Channel in broad daylight home to Wilhelmshaven, Germany in February 1942.
The Scharnhorst Part 2 CH 743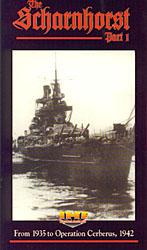 English commentary and subtitles, color/b&w, ca. 56 min. - After the loss of her sister ship "Gneisenau", the good fortunes of the Scharnhorst ran out; while intercepting a Murmansk bound Allied convoy in December 1943, the Scharnhorst was attacked by two British warship groups. Putting up a valiant fight against hopeless odds, the Scharnhorst was finally sunk after sustaining 15 torpedo hits. Out of 1,968 crewmen, only 36 survived.
Sniper: The invisible EnemyIH 379
Silent, motionless and deadly, German snipers lurked on the European battlefields of World War 2, hunting enemy sharpshooters, supporting assaults and laying diabolical traps on defense. Drawn from two German military training films made in 1944, this program provides fascinating views of tactics, weapons and camouflage techniques that are still viable today. Germany, 1944, b&w, 67 minutes, English commentary and subtitles.
WARNING: This program is a serious educational presentation on the subject of snipers and sniping. It is intended solely for study by military and law-enforcement personnel, qualified hunters and students of modern battlefield tactics and strategies. No other use is intended, contemplated or suggested by International Historic Films, Inc.
The Secret Life of Adolf Hitler DO 16
U.S.A. 1958, 60 min., English language, b&w - Narrated by Westbrook van Voorhis. Hitler's rise to power includes rare footage, as well as an interview with Eva Braun.
T
Die Tausendjaehrige Potsdam CH 608
A chronicle of the city in pictures by Peter F. Leopold and Heike Leopold. Germany,
1989, b&w, 60 minutes, German dialogue.
Tag der FreiheitIH 18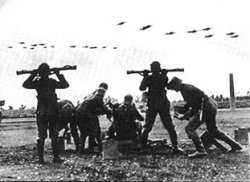 Germany, 1935, b&w, 21 minutes. A warning of things to come is given in this featurette depicting a mock battle staged by German troops during the colorful ceremonies at Nuremberg on German Armed Forces Day 1935. The camera follows the soldiers from their early-morning preparations in their "tent city" as they march singing to the vast parade grounds where a miniature war involving infantry, cavalry, aircraft, flak guns and the first public appearance of Germany's new "forbidden" tank is presented before Hitler and thousands of spectators. This beautifully photographed, light-hearted film created by Leni Riefenstahl is a supplement to her earlier "Triumph of the Will" as a special tribute to the Germany Army. Complete and uncut. Music by Peter Kreuder.
The Third Reich in Color CH 800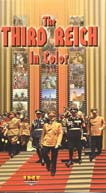 Germany, 2001, Color, ca. 100 minutes, English commentary. Third Reich In Color: This remarkable trove of color footage, assembled from far-flung private and state collections, presents Hitler's Europe as never seen before. Amateur film enthusiasts -- soldiers, tourists, Hitler's own pilot, even Hitler's mistress, Eva Braun -- began experimenting with color film in the late 1930s, their camera eye recording the Third Reich from every angle. Some of this film was only recently uncovered in former Soviet-bloc archives, hidden for almost 60 years; all of it, thanks to digital technology, has been newly transferred to video with surprising clarity. Home movie segments -- Hitler with his inner circle, Goebbels' children at play, and a vacationing Marlene Dietrich on the French Riviera with a young John F. Kennedy -- capture the era's leading actors with an often unsettling intimacy. Nazi festivals, rallies, pageants and military parades (including a bizarrely risqué Night of Amazons in Munich), Wartime coverage includes new found combat film from almost every major campaign of the war - Blitzkriegs of Poland, Norway, Yugoslavia, the invasion of Russia, Afrika Korps troops in Tunisia, day to day life of German soldiers. D-day and the final desperate defense of Germany and the fall of Berlin. Authentic footage of the execution of partisans. The brutalities of the Eastern Front and the horrors of the Warsaw Ghetto, new weapons in action, including V-2 rocket launchings -- these and more are here presented, uncensored and unrehearsed, with color's startling realism. Our images of this period, long frozen in iconic black & white, will never be the same.
The Third Reich in Color Part II CH 847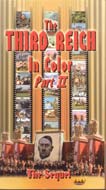 Germany, 2001, Color, ca. 100 minutes, English commentary. This sequel to Third Reich in Color Part 1 features more remarkable color footage, masterfully assembled to provide a sweeping account of Hitler's Germany and World War II. The revelations here include vivid combat sequences from The Spanish Civil War, Invasion of Norway, Operation Barbarossa, Northern Africa, The War in the Pacific, and The Invasion of Normandy. Particularly revealing film sequences from The Wars final chapters: The Wehrmacht in Retreat, Soviet Soldiers in Berlin, Hermann Goering in Allied Captivity, and Soviet Victory Parade in Moscow. Sequences from two UFA color propaganda feature films are also included: "Artillery Strikes" (1940) and "Alert At The Pass" (1943) featuring German Mountain Troops in the Caucasus. These and more are presented uncensored, unrehearsed and with color's startling realism.
Tito Visits Moscow IH 306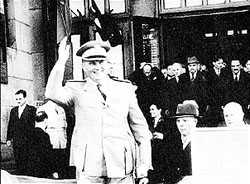 USSR, 1956, b&w, 30 minutes, Russian narration, English subtitles. The 1956 Moscow visit of Josip Broz Tito, Communist president of Yugoslavia, is depicted in three separate Soviet newsreels. Included is a rare synchronous-sound Russian-language speech by Tito.
Traitors to Hitler (German Bomb Plot) DT 416
Documentary, English language, color/b&w, ca. 65 min. - A great fascinating account to the efforts of some German generals to eliminate Hitler and the very interesting trial by the Nazis. A video you surely must see!
Triumph of the Will DO 8
1934, b&w, English sub-titles, ca. 110 min. - May be the most enduringly controversial film ever made, justly both despised and admired. A shamelessly biased, unabashedly subjective rendering of the infamous 1934 Nuremberg rallies of the Nazi party, Triumph of the Will was commissioned by Hitler from his favorite actress-turned-director Leni Riefenstahl. An essential document of Hitler the orator and mesmerizer of the masses, Triumph of the Will revels in the monumental architecture of Albert Speer, the formal precision of the marching cadres, and above all, the almost religious exaltation of Hitler as the mystical personification of the dreams and ideals of his people, capturing kinetically with a mastery of technique that is both breathtaking and revolting.
The True GloryDO 26
U.S.A., 1945, ca. 86 min. - Official war department film, introduced by General Dwight D. Eisenhower. How the Allied armies defeated Hitler's war machine. Winner of an Academy Award
U
Der U-Boot Krieg DFC 13
1991, German language, 55 min., b&w - The story of the German U-boats, using very rare footage, only recently obtained from the Eastern Bloc and not seen since the war. "Sie waren das Einzige, wovor ich wirklich Angst hatte." Dies sagte der sonst immer unerschuetterliche Winston Churchill ueber die U-Boot Flotte der deutschen Marine. Zusammen mit der gefuerchteten Flotte oberhalb des Wassers forderten die U-Boote die traditionellen Beherrscher der Weltmeere heraus, die britische Royal Navy. Angefuehrt von Admiral Karl Doenitz zerstoerten sie Schiffladungen, schnitten den Nachschub ab und operierten inmitten alliierter Konvois. Die Geschichte dieses Kampfes wird unter Verwendung von seltenem Filmmaterial gezeigt.
U-Boot War R 177
Same as above only In English language, b&w/Color, ca. 55 min. A decade of secret rebuilding had brought forth capital ships like the Scharnhorst, Gneisenau and Prinz Eugen - names to strike fear into any Allied seafarer. But it was from under the water that the biggest threat was to come. Commanded by Admiral Karl Doenitz, the submarines laid waste to shipping, cutting supply lines and striking from within convoys where Allied escorts dare not use guns. The U-Boat captains were the equivalent of Luftwaffe aces - ruthless, cunning and ice-cool under pressure. Enduring harsh conditions for months on end and working in darkness with no chance of escape, this was truly a war of nerves.
U-Boat am Feind IH 51
b&w, 12 minutes. Both films on one videocassette. Total running time 42 minutes. An original German Wartime documentary depicting life on board a submarine during an actual mission. Germany, 1940, b&w, 30 minutes, English subtitles. NOW IT CAN BE TOLD: An official US Navy film showing the German submarine U--505 boarded and captured on June 4th, 1944 off Cape Bianco, French West Africa, by Task Group 22.3 of the US Atlantic Fleet. This was the only German submarine ever boarded and captured at sea, and the first foreign man-of-war so captured by the US Navy since 1815.
Ueberleben hinter Stacheldraht CH 641

Germany, 1978, b&w, 46 minutes, German commentary. A detailed picture of German prisoners of war during and after World War 2, including their living conditions, forced labor, education during imprisonment, homecomings, and relationships with warders' countrymen. The film shows how Germany's "unconditional surrender" led to prisoners being treated badly and demonstrates that Eastern Front prisoners fared worse than those in other areas.
V
V-2/German Rocket Tests IH 68
U.S.A. 1946, 18 min., b&w - Postwar V-2 rocket tests in the New Mexico Desert. Germany (ca. 1944), silent, 10 min., Color - Actual film footage of V-2 tests at Peenemuende with a visit by Himmler. Extremely rare footage.
Both programs on one videocassette.
Vlasov: General for Two Devils - Russian Volunteers in Hitler's Armee CH 758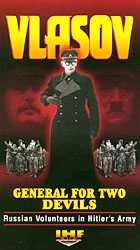 Germany, 1995, b&w/Color, 59 minutes, English commentary and subtitles. Patriot or traitor? More than one-half century after his execution, General Andrei Vlasov remains one of World War II's most controversial figures. A brilliant Soviet commander, Vlasov was captured by the German Wehrmacht in July, 1942, and soon became central to the campaign by junior German officers to launch a Russian Liberation Army (usually referred to as the ROA) against Stalin's regime. These plans ran up against Nazi dogmas of Lebensraum and Slavic inferiority, however, and Vlasov spent much of the war under house arrest. Only in the last months of the war did the Germans consent to sponsor a truncated version of his Liberation Army, with predictably futile results. Yet Vlasov's vision--of a Russia freed of Stalin's yoke, with guaranteed freedoms for its peoples--survived his battlefield defeats; that he sought to attain his goals through German Nazi sponsorship underlines the tragedy of his--and Soviet Russia's-- predicament.
This new documentary offers newly-found film footage and extensive interviews with Vlasov's surviving associates, lieutenants, and foot soldiers, including Igor Novosiltzev, Constantine Sacharevitsch, Nikolai Kozlov, Nikolai Numerov, Nikolas Vastchenko, and Nikolai A. Chiketov. The views of Vlasov's German backers are represented by Hans von Herwath, Robert Krötz, and Helmuth Schwenninger, while William Sloane Coffin, Arthur Cowgill, Frank Roberts, and Tom Dennis comment upon the U.S.-British supervised repatriation of Vlasov's surviving troops to the Soviet Union in 1945.
With its multiple perspectives and rich visual documentation, this solidly-researched film provides the clearest picture yet of this difficult subject, revealing Vlasov's tortured legacy in its many dimensions.
W
War Atrocities R 024
The horror and madness of global conflict is vividly depicted in this sobering and chilling collection of rare documentary footage which stands as an indictment of world war. Comprised of US newsreel footage and captured German and Japanese film, some of which was censored for over 20 years, War Atrocities serves to remind us of the futility of war. Included: Terror of the Third Reich: Adolf Hitler, Camps of the Dead: startling scenes of concentration camp atrocities, Mob Violence: A revenge crazed mob desecrates and mutilates the bodies of dictator Benito Mussolini and his mistress, Hiroshima and Nagasaki: The devastation and terrifying aftermath following the dropping of the first atom bomb.

War Stories FRF 803
English language, b&w/color, ca. 95 min. - Seven women share their extraordinary true love stories set during the Second World War in New Zealand.
The Winter War (Talvisota)ww 910
English language, 1990, ca. 125 min. - The overwhelming Soviet army ceaselessly stormed tiny Finland's borders with massive artillery, a powerful air force and well-armed infantry for 105 days during the Soviet invasion of 1939-40. What gave the defenders of a small nation the strength to hold back an awesome enemy? The Winter War is the first film made about this epic struggle; recounting the war from the soldiers' point of view, letting us experience the brutality of daily life in the trenches. The screenplay, based on Antti Tuuri's book Talvisota, is a dignified tribute to the tenacious Finnish heroes who preserved their country's independence.
**No Longer Available**

Waffen - SS R 1482
1990, English language, 60 min. - The SS had its beginnings in the turbulent street politics of the Weimar Republic. It became Heinrich Himmler's personal powerbase and under him the SS grew into a vast private army and state-within-the-state. It was a chaotic, corrupt and often grossly inefficient organization. But one part of it - the "Waffen"" or "Armed" SS, formed initially as a fighting force - achieved worldwide fame and notoriety. The Waffen-SS won a unique reputation for daring elan and unfailing professionalism in combat. Yet if their courage was unquestioned, so too was the fear and loathing which they elicited - even, eventually, amongst their own people, and in the regular soldiers alongside whom they fought.
Wallenberg - Good Evening Mr. Wallenberg R 207
Color, 115 min., Drama, Swedish, German and Hungarian with enhanced English Subtitles - The video tells the story of Raoul Wallenberg, one of the greatest unsung heroes of WWII and the only man aside from Sir Winston Churchill to ever be made an honorary citizen of the United States. Wallenberg was a small-scale businessman from Sweden, whose life was transformed after he witnessed bodies being thrown from a train on its way to Auschwitz. With the support of the Swedish Embassy, he consequently moved to Budapest in late 1944 to help protect Jews from Adolph Eichmann's Sonderkommando. By issuing Swedish passports and brazenly intimidating German officials, he succeeded in helping hundreds of Jews either flee from Budapest or get placed in protective housing. His greatest challenge came in 1945, however, when he saved the lives of some 65,000 Jews in the Budapest ghetto by forcing the hand of the German general responsible for their fate. Although hailed as a hero the world over, Wallenberg was taken prisoner by the Russian army a month after these events, and never released.
World War I: 1914 - 1918 FRF 803
ca. 55 min, b&w - This program tells the story of the "war to end all wars" in panoramic detail, drawing upon the archives of all the bombatants. The United STates, under General "Black Jack" Pershing, entered the war in 1917 when the Allies were exhausted. America's doughboys applied the finishing blow to the German armies. But the war sowed the seeds for an even more devastating world conflict which would begin in 1939.
"The World at War" Series of 26 Videos
A superb collectibe series on video, narrated by Sir Laurence Olivier, this dramatic compilation of film from national and international sources is acclaimed as the definitive history of World War II and has won numerous awards.
Each volume ca. 60 min. in English language. This video is out of print. Order now. We will not be able to re-order.
Vol. 1 A New Germany 1933-39 VOL 1
Stricken by humiliating defeat and deep economic depression Germany seeks new hope, pride and prosperity through National Socialism. Adolf Hitler leads the Nazi movement with the fervent support of millions of German citizens As Europe looks on apprehensively, Germany threatens to attack Poland.
Vol. 2 Distand War 1939-40 VOL 2
Germany invades Poland and bombs Warsaw into submission. Prime Minister Chamberlain is forced to bring an unprepared Britain into the war .Following the failure of the British expeditionary force to Norway, the Chamberlain government falls and is replaced by Churchill. The Nazi war machine rolls into the Low Countries and France.
Vol. 3 France Falls - Mya -June 1940 VOL 3
The eyes of the world are on France - its huge army, its impregnable Maginot Line. Incredibly, the Wehrmacht skirts the Line and forges South. As the humiliated French Army collapses, Paris is occupied and France falls. The British retreat to the Channel coast as Hitler stands poised, ready to invade Britain.
Vol. 4 Alone - Britain - May 1940-June 1941 VOL 4
Nearly 350,000 Allied troops are dramatically rescued at Dunkirk, British morale plummets, but Churchill inspires his nation to fight on alone. The RAF heroically battles the Luftwaffe in the skies over London, and Britain gains a reprieve as Hitler's offensive turns to Russia.
Vol. 5 Barbarossa - June-December 1941 VOL 5
Germany, master now of all Europe, including Balkans, turns against Russia. The early stages are composed of devastating German victories as the Panzers sweep with appalling speed deep into Russia. But the German High Command delays, fatally, and the advance is held a few kilometers from Moscow when the mud and then the fierce cold takes a grip.
Vol. 6 Banzai - Japan Strikes - December 1941 VOL 6
Japan, seeking unrestricted access to raw materials she needs fro expansion, tires of negotiations and strikes at Pearl Harbor, inflicting a severe blow to American naval power. In a few months, Japan demonstrates how ill-prepared the Allies are, sweeping forward to capture Hong Kong, Burma, Malaya, Singapore, the Dutch East Indies, and the Philippines.
Vol. 7 On Our Way - America Enters the War VOL 7
The conflicts in Europe and the Pacific are two separate wars. Many Americans are content to forget about Hitler and Europe and concentrate their war efforts on the japanese. President Roosevelt is committed to the fight against Hitler, but Congress is not. Inexplicably, Hitler declares war on America, thus relieving Roosevelt of a difficult decision and , ultimately, altering the course of the war.
Vol. 8 Desert - The War in North Africa VOL 8
The war in North Africa takes the best part of three years and is fought and refought over the same 600 miles of desert between Alexandria in Egypt and Benghazi in Cyrenaica (Libya) before Montgomery's "Desert Rats" defeat Rommel's Afrika Korps at El Alamein. The Germans are driven from North Africa and the way seems clear to the underbelly of Europe, Italy.
Vol. 9 Stalingrad VOL 9
The encirclement and defeat of the German army at Stalingrad holds more importance than the numbers of men lost - large though these were. For the first time, the Germans are beaten in the field. The legend of German mastery on land is dispelled as the people Hitler once called sub-human prove themselves more clever then he is.
Vol. 10 Wolfpack VOL 10
The German attempts to starve Britain by attacking ships bringing supplies from North America are very nearly successful. Many tons of shipping are sunk and many lives lost to the U-Boat attacks (Wolfpacks) of Gross Admiral Carl Doenitz. The allied merchant ships, despite convoy techniques, Navy Escorts and elementary underwater detection devices, are extremely vulnerable.

Vol. 11 Red Star #VOL 11
The Story of Russia's massive, lonely war with its 20,000,000 military and civilian casualties. In Leningrad 200,000 people were killed by German shells, and a further 630,000 died of cold or starvation. Incredibly the Russians not only survived but went on to rout the Germans.
Vol. 12 Whirlwind #VOL 12
The blitz on Britain brings strident public demand for revenge bombing, but by the end of 1941 Britain's force of 700 aircraft is being eaten into by the demands of North Africa and Atlantic battles.
Vol. 13 Tough Old Gut #VOL 13
Winston Churchill describes Italy to Stalin as "the soft underbelly of the crocodile". It is his arguments that persuade the Americans to join the Allies - reluctantly on the road to home. In November 1942, 11 months after Pearl Harbor, they meet the Wehrmacht for the first time. And in Tunisia they suffer what is to be their worst defeat of the war at the hands of the better equipped, more experienced Afrika Korps.
Vol. 14 It's A Lovely Day Tomorrow #VOL 14
Monsoon conditions for five months of every year with the attendant problems of disease make the lot of the Burma Army "just a nightmare". Europeans find jungle conditions alien, and the Japanese ability not only to endure but to thrive in the same circumstances helps build a "superman" myth among the allied soldiers.
Vol. 15 Home Fires #VOL 15
After the defeat in the Battle of Britain, the Luftwaffe changes the direction of their bombing raids from London to the provincial cities - Portsmouth, Sheffield, Glasgow and Bristol all suffer heavy casualties and damage, but Coventry and Plymouth are the worst hit. In Coventry, the heart is torn from the city and the situation is desperate.
Vol. 16 Inside the Reich - Germany 1940-1944 #VOL 16
In the Summer of 1940 the German forces are the conquerors of Western Europe, and t home the feeling is that the war is over. German cities are untouched and there is thankfulness that the courage of the First World War has not been repeated.
Vol. 17 Morning #VOL 17
In the early morning of 5 June, 1944, the largest amphibian invasion force ever gathered reaches the beaches of Normandy. Americans, British and Canadians attack on five separate beaches - and although beachheads are made on all, the Americans meet strong opposition and have many casualties.
Vol. 18 Occupation#VOL 18
The Netherlands, a neutral country, is attacked without warning in 1940. To stop more bloodshed, it capitulates quickly after Rotterdam is badly bombed. So subtly do the German occupiers proceed - with assurances of "no animosity" - most find it easy to carry on their normal lives.
Vol. 19 Pincers #VOL 19
With the liberation of Paris on August 25, 1944, the war seems to some to be as good as over. The Russians from the East and the Allies from the South and West are ready for the advance on the Fatherland. At this point, the disparity of views between Montgomery and Eisenhower reaches a critical point. The American plans advance on a broad front: Montgomery wants a narrow strike to burst through to the Ruhr and thus plans the Arnhem raid.
Vol. 20 Genocide #VOL 20
When the Nazis came to power in 1933, Heinrich Himmler was already Reichsfuehrer of the SS. the new eminence of the National Socialist Party allowed him to set about realizing his dream of awakening the Germanic race within the German people. He had already refined the philosophy of Nazism, its ideas on politics and on race. His aims lay in recreating an older "Aryan" German.
Vol. 21 Nemesis #VOL 21
As the front lines shrink around Germany, the death toll mounts and many thousand die as the RAF and the USAF attack by night and by day. Allied prisoners of war are released by the advancing comrades, while German soldiers are captured by the thousands. In the bunker, Hitler and those around him face the end of the Reich. Goehring and Himmler betray their Fuehrer, and he decides on self-destruction, but not before marrying the faithful Eva Braun.
Vol. 22 Japan 1941-1945 #VOL 22
Many Japanese were stunned and fearful when war was declared against the West in 1941. But after the victories of Hong Kong, Malaya, and Singapore, their earlier fears were lost in exultation. By 1944 the scales had tipped fully against Japan, but still they defended their homeland - unaware of the terrible weapon yet to be used against them, which would end the war.
Vol. 23 Pacific - The Island to Island War #VOL 23
The Allied Pacific offensive came under the command of two rivals: General MacArthur to sweep upwards from the Solomons and New Guinea to the Philippines - Admiral Nimitz in leaps from island to island, starting in November 1943 in the Gilberts at Tarawa. The Americans though it would be easy. The casualties proved them wrong.
Vol. 24 The Bomb #VOL 24
On August 6, 1945, an American B-29 bomber, the "Enola Gay" named after the mother of the pilot Paul Tibbetts, dropped the world's first uranium bomb on the Japanese city of Hiroshima. Four days late a second bomb was dropped on Nagasaki.
Vol. 25 Reckoning #VOL 25
Germany remains the key to European problems. Nobody wants Germany to be strong again yet no-one is ready to face the consequences of keeping her a ruin forever. Thus it has been decided that four armies of occupation will supervise Germany's recover so that she can make good what she has damaged and destroyed. When the Japanese surrender, the American's decide that the occupation forces in Japan will be American Troops. They want an industrialized Japan as quickly as possible in America's image and within the American orbit. MacArthur begins the task.
Vol. 26 Remember #VOL 26
In the Second World War twenty million Russians died in action and in captivity. Britain and the Commonwealth lost four hundred and eighty thousand. Germany, in the war she started, lost nearly five million men and women. Two and a half million Japanese were killed. America - not invaded or bombed -lost nearly three hundred thousand men.
World War II
Each tapes has specified minutes. Come in sets of twos.
Vol. 1 - Prelude to War #FC 701
approx. 53 min., b/w - "We are determinated that before the sun sets on this terrible struggle our flag will be recognized throughout the world as a symbol of freedom on the one hand, of overwhelming power on the other."
"No compromise is possible and the victory of the democracies can only be complete with the utter defeat of the war machines of Germany and Japan." G.C. Marshall, Chief of staff
Vol. 2 - The Nazi Strike#FC 702
approx. 43 min., b/w - "My motto is, "Destroy by all and any means. National Socialism will reshape the world." Adolf Hitler.
The scenes contained in this picture come from authentic sources such as American newsreels, official possession of the War Department.
Vol. 3 - Divide and Conquer #FC 703
57 min., b/w - The Nazi blitzkrieg reaches its highest point and Nazi treachery reaches its lowest... On September 3rd, 1939 the British and French declared war on Germany. By September 27th, the Germans had wiped out Poland and met the oncoming Russian Army. Determined to avoid a two front war, Germany halted her drive to the east and turned west to first crush Britain and France.
Vol. 4 - The Battle of Britain #FC 704
approx. 53 min., b/w - Now Hitler stood, just as Napoleon had stood more than one hundred years before, and looked across the English Channel to the one fighting obstacle that stood between him and world domination. The cliffs of Britain rose sheer and white out of the choppy waters. Hush that little island and its stubborn people, and the way was open for world conquest. It was time for the main event - The Battle of Britain."
"Where Napoleon failed, I shall succeed. I shall land on the shores of Britain." Adolf Hitler
Vol. 5 - The Battle of Russia #FC 705
Approx. 84 min., b/w - "History knows no greater display of courage than that shown by the people of the Soviet Union." Henry L. Stimson, Secretary of War
"We and our allies owe and acknowledge an everlasting debt of gratitude to the armies and people of the Soviet Union." Frank Knox, Secretary of the Navy
"The gallantry and aggressive fighting spirit of the Russian soldiers command the American army's admiration." George C. Marshall, Chief of Staff, U.S. Army
"The scale and grandeur of the Russian effort mark it as the greatest military achievement in all history." General Douglas MacArthur, Commander in Chief, Southwest Pacific Area
Vol. 6 - The Battle of China #FC 706
"The whole nation must rise as one man and fight these Japanese bandits."
"Ours is a war of survival and independence. We will never submit.... we will resist to the very end." Chiang Kai-Shek
Vol. 7 - War comes to America #FC 707
approx. 66 min., b/w - "Today we rule Germany, tomorrow, the world." Adolph Hitler
"Two worlds are in conflict.... two philosophies of life... one of these two worlds must break asunder.? Adolph Hitler
Vol. 8 - D-Day the Normandy Invation #FC 708
approx. 51 min., b/w - On the night of June 5-6, 1944, British and U.S. airborne troops took off for their vital destinations. Below them, into a stormy channel, an armada of warships and landing craft was emerging from ports along the coast of west and south-east England. Minesweepers swept then channels while naval escort groups kept what submarines that ventured near, away from the packed troops transports. D-Day had arrived.
Vol. 9 - The World at War #FC 709
approx. 44 min., b/w - "Yesterday, December 7th, 1941, a date which will live in infamy, the United States of America was deliberately attacked by the naval and air forces of the Empire of Japan." President Theodore Roosevelt.
Here is a pictorial record of a decade of war that led to the attack on Pearl Harbor and the Western Hemisphere. The material on this video was taken from the news reels and from enemy films in custody of the United State Government. Nothing has been staged. Every scene in the record is authentic.
Vol. 10 - Appointment in Tokyo #FC 710
approx. 55 min., b/w - A President's order to leave, a promise to return. An "Appointment in Tokyo?
At his Melbourne headquarters General MacArthur faced grim facts. Against nearly 3000 Japanese planes he had barely 500, against Japanese millions he had 11 poorly equipped divisions. Against him were 1,000 miles of Japanese infested islands and Japanese controlled seas, against him was time and space and power and preparation. Against him was an area that made the vast United States look small...
Vol. 11 - Attack in the Pacific #FC 711
approx. 60 min., b/w - This is the story of the oceanic phase of the war of free people against Japan... the greatest naval war in history... Fought to clear the way for Japan's ultimate defeat on land. Above all is the story of the United States Navy, and its men, whose heroism and sacrifice have made possible, victory in the Pacific. Armed Forces Information Film.
Vol. 12 - Payoff in the Pacific #FC 712
Approx. 58 min., b/w - On April 9, 1942 outnumbered American soldiers surrender on Bataan. The infamous "Death march" that followed was a milestone in the history of man's inhumanity to man. On May 6 the beleaguered guarrison on Corrigador capitulated leaving the enemy supreme between Hawaii and Australia. General Hama who ordered the death march, accepted the American surrender from General Jonathan Waynewright. Waynewright wrote just before his capture "we did our best, although beaten we are unashamed." Before the ink was fry on the surrender documents General Douglas MacArthur promised " Shall Return."

X
Y
Z
To view descriptions of other German war documentaries, click on the link below
How else may I place an order?
Click on the envelope below to send e-mail
to the German Language Video Center!

Not responsible for typographical errors.
Video run times are approximate.
Prices and availability subject to change without notice.
Send comments regarding contents of this page to
glvc@indy.net





Member VSDA since 1985.

Last modified: Wednesday, July 20, 2022 6:18 PM
German Language Video Center© 1997/2016
Entire Website copyrighted 1997, 1998, 1999, 2000, 2001, 2002, 2003, 2004, 2005. 2006, 2007, 2008, 2009, 2010, 2011, 2012, 2013, 2014, 2015, 2016
No reproduction or download allowed for commercial purposes without written permission.

GLVC 2016©.