The place where our customers send their friends!
Welcome to the Only American Video Tape Store for rare German Movies and Old ZDF volksmusik shows.
Please note: All video tapes are in the American NTSC VHS video format
and will play on all VCR's in North America. We are closing out all of our VHS inventory. This will be your last chance to obtain these beautiful ZDF music videos and hundreds of classic German movies and heimatfilme. Due to the limited demand in the USA, most of these movies will unfortunately never be available on DVD in America.
Once our videos are gone, they're gone!!!
We have drastically reduced the prices on over 2000 video titles closeout. Make sure to buy these classics while supply lasts.
On all VHS clouseout prices we will send you a new or previously viewed tape.
CLOSEOUT!!!!!
BUY NOW!!!
Any 10 videos for only $49.95
plus $19 s/h
while supplies last
WAR DOCUMENTARIES VIDEO TAPES
N
Nazi...Lest We Forget DO 1288
1944, 1949, ca. 35 min. - Nuernberg und seine Lehre (Nuremberg and Its Lesson) On November 21, 1945, accused Nazi war criminals were placed on trial at the Palace of Justice in Nuremberg, Germany. The authentic footage in this film documents the trial and graphically illustrates atrocities perpetrated against the people of Europe, particularly against the Jews. The film includes shots of slave laborers in concentration camps, victims of Nazi inhumanity dying inside gas chambers, the charred remains of bodies in ovens, and warped medical experiments that were performed on healthy "patients" by death camp doctors. "Nuernberg" was produced in Germany to show the German people the full extent of Nazi brutality. This version, with English narration, was distributed by the U.S. Army. Flieger Am Feind (A Nazi Newsreel). Nazi Luftwaffe (air force) pilots demonstrate bombing techniques. With a motion picture camera placed in the cockpit, flyers in gas masks are shown preparing to attack urban targets. The film records the loading of bombs onto airplanes, a take-off of a group of bombers, in-flight shots of actual bombings, and attacks on Allies' airplanes. Featured are expertly-filmed aerial shots of Lusftwaffe maneuvers and subsequent on-ground military procedures to use aerial photographs made by the pilots during their flights. Authentic Luftwaffe songs accompanies the film.
Nazi War Crime Trials - Nuremberg DO 11
U.S.A., U.S.S.R., 1945, English commentary, b/w, ca. 67 min. - Seven short documentary films about the Nuremberg Trials produced in the U.S. and the Soviet Union in 1945. Goering, von Papen, Hess, Schacht, Streicher, Keitel and other high ranking Nazis and German military officers are seen. These films contain scenes of hangings and executions by firing squads that are not for the squeamish. In total, an authentic if somewhat grisly portrait of the fate of the remaining Nazis after World War II.
The Nazis Strike DO 13
U.S.A. 1942, ca. 40 min. - Directed by Frank Capra and Anatole Litvak. Starting with "We will dominate the whole world," the film continues through Germany's rearmaments and the outbreak of war and ends with America's entry into the European fighting.The documentary footage of the Nazis is well put together and assembled, especially the actions of Hitler at the start of war during the Czechoslovakian and Polish invations.
Nazi Medicine FRF 820
Color/b&w, ca. 54 mi. - This video graphically documents the racial theories and eugenics principles that set the stage for the doctor's participation in inhuman and unethical human experimentation. It provides the historical basis for many current dilemmas in bioethical work.
Nuremberg Trials DE 200
b&w, 60 min., English language - Russian made documentary.
O
The Occult History of the Third Reich
From the occult origins of the Nazi party to the death of Hitler in the flaming ruins of Berlin, the emergence of the doctrine of National Socialism took place in a dark and sinister world of rituals and beliefs. Using newly discovered archive footage The Occult History of the Third Reich explores the remarkable phenomenon that mesmerized Germany in the 1930;s and '40s.
Part 1 - The Enigma of the Swastika R 171
50 min., b&w/Color - First adopted in 1920, the Swastika was at the very center of the Nazi Party's ideology. The armed cross became the cornerstone of Aryan mythology and the symbol of the terrifying ambition of one man - the messianic figure of Adolf Hitler. The unique documentary looks at the swastika's ancient roots in the mysterious religious cults of India and Tibet and explores its adoption by European occultists and the subsequent transformation of this symbol of good fortune into an infamous emblem of terror.

Part 2 - The SS Blood and Soil R 172
55 min., b&w/Color - The most sinister of all Nazi creations was the black-clad SS. Originally Hitler's bodyguard, this military-religous order became a racial aristocracy under the leadership of Heinrich Himmler. A carefully selected elite, destined to subjugate all other peoples and achieve the ultimate purification through racial selection and elimination, the SS personified the Aryan vision of a master race. Their fascinating documentary explores the strange and secret world of the SS, from its roots in the teaching s of Germanic mystics and occultist circles, to its rise.

Part 3 - Himmler The Mystic #R 173
55 min., b&w/Color - The wold of Heinrich Himmler was based on the strange and mysterious occultism that featured throughout the Third Reich, and he remains the most enigmatic of Hitler's high command. Obsessed with astrology and spiritualism, Himmler transformed the SS from Hitler's bodyguard into a mystical order steeped in the Aryan cult and, guided by ancient prophecies, planned to create a city ruled by SS nobility and inhabited by racially pure Germanic peasant warriors. This extraordinary documentary explores the strange beliefs of the Reichsfuehrer SS and his black-uniformed elite and their origins in the shady world of secret societies, mystics and clairvoyants.
Part 4 - Adolf Hitler R 174
50 min., b&w/Color - The occult was never far from the life of the infamous leader of the Third ?Reich. From his poverty-stricken boyhood years in Vienna right up to his death in the flaming ruins of war-torn Berlin, Adolf Hitler was immersed in the Germanic mysticism of Guido von lIst and Joerg Lanz. Believing he was the Stark von Oben, The Strong One From Above sent by providence to create the Thousand Year Reich, Hitler's vision of himself as a new Messiah was reinforced by his closest associate, deputy leader of the Nazi party, Rudolf Hess, himself an astrologer and mystic. For the first time in this remarkable video documentary the strange and terrifying beliefs of this sinister figure are explored. Hitler's fascination with the origins and rise to power of Aryan man his obsession with possessing the spear of destiny and his own messianic plans for the world are revealed through recently discovered rare archive footage of this terrifying era.
Our Russian Front DO 6
U.S.A. (Ca. 1943), b&w - Documentary dealing with Russian people's determination against the advancing Hitler Army.
Of Pure Blood - "Lebensborn" MP 1211
1985, English and German dialogue (with English subtitles), b&w/Color - This video will reveal the long kept mystery of this "child producing organization" during the Third Reich. Real W.W.II footage and interviews with survivors. It was one of the most vicious and horrible schemes in history - the Nazi plan to breed and distill the children of Germany into a pure, Aryan race. This macabre notion is backed with real World War II footage and shocking interviews of Hitler's victims. Countless "genetically unfit" children were sent to concentration camps while plundering Poland, Czechoslovakia, France and Norway for the Nordic child - one with intelligence, blond hair, light eyes and the right size skull. All told, over 200,000 infants were dragged from their mothers and systematically "Germanized". Only a handful ever saw their homeland again. This painfully graphic program is the only filmed testimonial to one of the most bizarre and elitist aspects of Nazism.
**No Longer Available**
Olympia, Part 1 (Festival of the People) OL 383
Germany, 1938, English dialogue, b/w, ca. 111 min. - Based on the 1936 Munich Olympic Games, dedicated "To the honor and glory of the youth of the world." Produced and directed by Leni Riefenstahl as part of the Nazi propaganda effort, yet still a fascinating documentary filled with breathtaking moments and images. Adolph Hitler requested Leni Riefenstahl to do this two part documentary on the 1936 Olympic Games, which has ended up setting the rules and styles which are used today in our sports reporting. Famous directors have emulated her form and style in their wartime documentaries.
Olympia, Part 2 (Festival of Beauty) OL 383-2
Germany, 1938, English dialogue, b/w, ca. 90 min. - Controversial director Leni Riefenstahl was commissioned by the Olympic Committee do document the 1936 Berlin Olympiad. Released in April, 1938, after 18 months of editing, Riefenstahl's impressive two-part record of the event was instantly recognized as a lyrical masterpiece of photography and sound. Nevertheless, Olympia was shunned by Hollywood - many considered it a hymn to Hitler's beliefs. Today, undimmed by the passing years, Olympia endures as a majestic celebration of the grandeur of the human body and spirit. Olympia II captures the grace of athletes in motion during field hockey, soccer, bicycling, equestrian, aquatic and gymnastic events. Highlights are the Pentathlon and the Decathlon, which was won by American Glen Morris. Part II ends with the triumphant conclusion of the games.

P
Prelude to War DO 1
1942, English language - Frank Capra. This documentary takes a compact look at the events of 1931-1939.
Q
R
Revolution CH 787
Gesamtlaufzeit 90 min., drei Filme a 30 min. - In diesen drei Filmen des Filmenachers Juergen Stumpfhaus machen die Bilder des Kameramannes Oliver Jakob, der Schnitt des Bundesfilmpreistraegers Rene Perraudin und vor allem das Engagement der ueber 1.800 Badner-innen die Rekonstruktion von der Geschichte zu einem besonderen Erlebnis.
1847: Die Not - Verbannt ins Paradies
Naturkatastrophen und Hungersnot zwang Zehntausende nach Amerika auszuwandern. Pfarrer Kleiser war 1847 Chronist.
1848: Der Aufstand - Hecker's Weg
Dr. Friedrich Hecker, Rechtsanwalt zu Mannheim, wird im April 1848 der Anfuehrer eines Freischaerlerzuges, der Deutschland die Republik bringen will.
1849: Die Revolution - Die Insel der Freiheit
Im deutschen Suedwesten proklamieren die Demokraten 1849 die freie Republik.
The Rise and Fall of the Third ReichMV 600257
1980, 120 min., English dialogue - Here is the incredible story of how an Austrian paper hanger rose form total obscurity to become the absolute master of the German people - the definitive pictorial record of the Nazi demagogue who unleashed his private madness on the world. Based on William S. Shirer's monumental best seller, this award-winning program exposes the blackest chapter in the history of mankind. To present the true facts, ten researchers spent over twenty years uncovering government documents and actual Nazi film footage.
**No Longer Available**
Rommel MP 1875
1989, b&w, 60 min., English language - Fascinating documentary. For the first time ever - the complete story of Irwin Rommel, who came from humble military beginnings and went on to become a Nazi Field Marshall - the highest position in the German Army. Demolishing everything in his path with deadly tank warfare, his was a hellish "Blitzkrieg," or "Lightning War" in Europe and North Africa. Explosive footage of Rommel's first iron-fisted campaigns shows why his very name sent a chill down the spines of the Allied forces. Also, the true story of Rommel's involvement to a plot to kill Adolf Hitler is explored in detail. You will be a witness as Rommel makes the world feel the wrath of "The Desert Fox."
Russians at War IH 339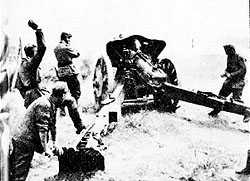 U.S.S.R. 1943, English narration, 60 min., b&w - Action highlights of the 1942 Russian winter campaign.
The Russian Front 1941 - 1945 (sold only as a set - may be rented separately)
4 tapes, all English, color and b/w, ca. 48 min. each.
Now available on video for the first time, Professor John Erickson, award-winning author of the "Road to Stalingrad" and "Road to Berlin", reassesses the titanic struggle between Hitler and Stalin on the Eastern Front. This volume covers the final phase of the war as the mighty red army rolls back the tide of German conquests and surges on to the gates of Berlin. Featuring rare archive footage from Russian and German sources, informative graphics and maps, incisive commentary and analysis by Professor John Erickson.
To view descriptions of other German war documentaries, click on the link below
How else may I place an order?
Click on the envelope below to send e-mail
to the German Language Video Center!

Not responsible for typographical errors.
Video run times are approximate.
Prices and availability subject to change without notice.
Send comments regarding contents of this page to
glvc@indy.net





Member VSDA since 1985.

Last modified: Wednesday, July 20, 2022 6:16 PM
German Language Video Center© 1997/2016
Entire Website copyrighted 1997, 1998, 1999, 2000, 2001, 2002, 2003, 2004, 2005. 2006, 2007, 2008, 2009, 2010, 2011, 2012, 2013, 2014, 2015, 2016
No reproduction or download allowed for commercial purposes without written permission.

GLVC 2016©.