The place where our customers send their friends!
Welcome to the Only American Video Tape Store for rare German Movies and Old ZDF volksmusik shows.
Please note: All video tapes are in the American NTSC VHS video format
and will play on all VCR's in North America. We are closing out all of our VHS inventory. This will be your last chance to obtain these beautiful ZDF music videos and hundreds of classic German movies and heimatfilme. Due to the limited demand in the USA, most of these movies will unfortunately never be available on DVD in America.
Once our videos are gone, they're gone!!!
We have drastically reduced the prices on over 2000 video titles closeout. Make sure to buy these classics while supply lasts.
On all VHS clouseout prices we will send you a new or previously viewed tape.
CLOSEOUT!!!!!
BUY NOW!!!
Any 10 videos for only $49.95
plus $19 s/h
while supplies last
WAR DOCUMENTARIES VIDEO TAPES
Suggested for scholarly and educational use.
C
The California Reich DO 18
USA 1977, English dialogue, 55 min. - Oscar® nominated documentary about the Nazi party in California today. A shocking report about a fanatic group of people.
Chameleon Cameraman CH 653
Color, 63 minutes, English voice-over and commentary. - This is the extraordinary story of Henry (Heinz) von Javorsky, a man who has survived and thrived in many lands and under many regimes because of his skill with a camera. In Nazi Germany he was able to make a living--and live--despite having a Jewish grandmother, because he was a specialist in aerial photography-- a skill needed for both combat photography and filming war movies. At the end of the war his camera again saved him, for he was able to film SS troops marching Sachsenhausen concentration-camp survivors past his house and then show these shots to the Soviet conquerors, who consequently protected him and his family. He then became a newsreel photographer in Berlin, first for the Soviets and then for the Allies. Finally he ended up in America in 1952, where he made industrial films for Volkswagen and Sikorsky and received an Academy Award for his short film about breaking the on-water speed record. The chameleon somehow always survived. We see Javorsky at his home near New York City and in and around Berlin as he talks to a film historian, his son, and coworkers from the past (including Walter Frentz, Hitler's personal cameraman and the subject of another film directed by Stumpfhaus and distributed by IHF). As Javorsky's story unfolds, we see a lavish array of clips from his work. These include films made with Leni Riefenstahl and Luis Trenker, aerial shots from war movies like Pour le merite, Cologne in flames in 1944, and Soviet newsreel coverage of the trial of Sachsenhausen concentration camp war criminals. We also get insights into how Javorsky was able to survive not only physically but psychically. For example, after carefully taking pictures of the carnage in Cologne, he realized that "while the camera was whirring", he "turned to ice". Directed by Jürgen Stumpfhaus.
Churchill, Winston R 1412
Color & b/w, ca. 30 min. - Winston Churchill was the British lion, its bulldog, the defender of its freedom, the pride of her people. In the dark early years of WWII - when all the world cowered before Hitler and his hordes - island nation through those trying times with his eloquent, heart-felt exhortations. Through his Parliamentary and radio speeches to theBritish people, Churchill was to summon up such wellsprings of national pride and fervor that his poetic words would later earn him a Nobel Prize for literature.
Cross of Iron BB 58
English language. color, rated R, ca. 128 min. - Cross of Iron is the only war film directed by master filmmaker Sam Peckinpah. Set in 1943, this explosive epic centers on Corporal Steiner (James Coburn), an accomplished but war-weary combat veteran leading a group of German soldiers on the Russian front. Steiner's authority comes under attack when Captain Stransky (Maximilian Schell) takes over the command of his troops. A Prussian aristocrat, Stransky has one goal in mind: to win the coveted Iron Cross, Germany's highest medal, at any cost. The two military aces soon face off in an intense and deadly battle of wills. In English language.
The Cross and the Star FRF 732
Documentary, English language, ca. 55 min. - The video finds disheartening echoes of anti Semitism in the otherwise profound, lyrical gospel of St. John, the sermons of St. Augustine, the Writings of Martin Luther, and in the voices of the Crusaders and the Spanish Inquisitors.
D
D-Day KU 1612
60 min. b&w - Actual war report footage with English documentation.
The Desert Fox R 1014
ca. 88 min., B&W, 1951 - James Mason delivers a strong performance in the title role of this sympathetic study of Field Marshal Erwin Rommel. In the early 40s, Rommel's juggernaut Afrika Korps dominated North Africa. But as the tide turned and he came to the painful realization that his Fuehrer, to whom he had sworn allegiance, was destroying Germany, his ingrains sense of duty pushed him into a conspiracy against Hitler. Focusing on the later part of Rommel's career, the film portrays him as a dedicated soldier, sympathetic to his men and devoted to the art of waging war in a dignified, disciplined manner.Co=staring Jessica Tandy as Rommel's wife and Cedric Hardwicke as another anti-Hitler conspirator.
Desert Victory TN 2220
approx. 60 min. - In September 1940, a massive Italian force invaded Egypt from Libya. In December 1940, the British Army of the Nile drove the Italians back 500 miles into Libya. Coming to Italy's aid, Hitler sent his Afrika Kops and General Erwin Rommel to North Africa in February 1941. In sixty days the Libyan coast was Rommel/s. He earned the name "Desert Fox" after taking Tobruk. To stop Rommel, the Allies hammered the German-Italian supply lines.In 1942 Churchill changed army commanders. General Bernard Montgomery too charge of the British 8th Army. This video is the actual story of Montgomery's attack on El Alamein in October 1942.
Deutsche Revolution - Der Traum von der Freiheit 1848/49 CH 786
Deutsch,1997, Farbe, ca. 90 min. - Die 90-minuetige, szenische Dokumentation zeigt in grossartigen bewegenden Bildern des Kameramannes Oliver Jakob die Ereignisse der Revolution von 1848/49. Es sind weit ueber 1.500 Statisten und Darsteller, die als revoltierende Bauern, Freischaerler, Buerger/innen und Bundessoldaten diese bewegenden Epoche wieder zum Leben erwecken. Das Pariser Atellier des Seemalers Anton Melbye (Otto Sander) ist im Dezember 1851 Treffpunkt des deutschen Emigranten Carl Schurz (Peter Schell) und dessen Freund und Literaten Strodtmann (Felix v. Manteuffel) aus Schleswig. In ihre Gespraeche ueber Schiffbruch und Rettung fliessen Erfahrungen und Erlebnisse aus den Jahren 1948/49 ein. Sie skizzieren dabei nicht nur die deutsche, sondern auch eine gesamteuropaeische Perspektive. In diese Rahmenhandlung sind Augenzeugenberichte der deutschen Revolution von 1948/49 eingebettet, die wie Splitter eines Kaleidoskops ineinandergreifen. Sie zeichnen in szenischen Episonden erlebte Geschichte nach. Es sind Erinnerungen von Demokraten und Ryalisten, Akteuren und Zauderern, Erinnerungen von Frauen, Maennern und Kindern, fuer die eine deutsche Republik noch als ein zu verwirklichender "Traum von der Freuheit" galt.
Doodlebug (V1 Rocket) BB 9
b/w, ca. 52 min. By 1942 the tide of war had finally started to swing in the favor of the Allied forces. As the industrial might and great cities of Germany suffered as never before, Hitler promised revenge. Soon 'vengeance weapons' were developed and deployed , a turning point in in the technological history of warfare. The V1, otherwise known as the 'Doodle Bug' would cause havoc in the streets of Britain's capital. However, as the Allied forces closed in on the Third Reich, in a desperate attempt to stop the onslaught - the V2 was launched for the first time. In the dying days of the Third Reich, who would have believed that such a weapon could have been produced.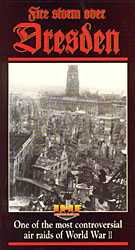 Dresden, Fire Storm over Dresden CH 742
b&w/Color, 77 minutes, English narration. On the night of February 13th 1945, there began one of the most controversial raids of World War Two - the bombing of Dresden. Witnesses to the raid and its aftermath describe the events and the terror of what it was like to be in Dresden throughout the night of the raid.
**No Longer Available**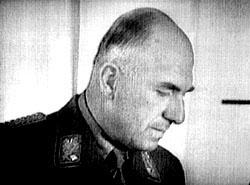 Dr. Todt: Mission and AchievementCH 682
At the time of his death in 1942, Dr. Fritz Todt was among the most powerful men of the Third Reich. By training a civil engineer, Todt first caught Hitler's attention in 1932 by emphasizing the importance of road building for national economic recovery. Upon taking power, Hitler made Todt responsible for what would become Germany's great Autobahn project. Every aspect of Autobahn construction--its design, aesthetic ("to harmonize with the German landscape"), and model role in National Socialist labor relations--was stamped with Todt's personality. As was his other great achievement, the building of the massive network of bunkers and fortifications known as the West Wall--described here as the "first battle" in the war against France. With the outbreak of war, Todt's organization provided German troops an exemplary corps of engineers, filling out Germany's expanding imperium with new roads, bridges, aircraft fields, and fortifications. All of this is lavishly documented in this film, which supplies extensive and often rare footage of Todt's life and work, concluding with remarkable footage from his state funeral inside the Chancellory in Berlin. Germany, 1943,B & W, 36 minutes, German commentary, English subtitles.

Dunkirk/France KU 1610
60 min. b&w - Actual war report footage with English documentation.




Dornier DO-335

IH 417
28 min., b&w - The Luftwaffe's last and best propeller-driven fighter. The fastest and most advanced propeller-driven fighter plane in the World: The Dornier Do-335. Though eclipsed by the age of jet propulsion, Dornier's Do-335 fighter still remains one of the World's most revolutionary warplanes, boasting advanced flight characteristics and other advantages that give it a unique place in aviation history. The impact this remarkable aircraft might have had on the Third Reich's crucial battle for air supremacy - had it been produced in time to affect the outcome of the war - can easily be imagined. Original historical films and rare test-flight footage shows the Do-335's development and flight performance

E

Ein Tag im Juli: Berlin 1945 CH 617
Germany, 1972, Color, 50 minutes, German commentary - US Air Force cameramen captured these Berlin scenes on color film in July of 1945. They include conversations with Berliners, Truman being greeted by Gromyko (who was then serving as an expert on Germany) while Truman was enroute to the Potsdam Conference, refugees, views of places that were famous before the War, wood auctions in the Tiergarten, and rubble being cleared by Truemmerfrauen.
*No Longer Available*

Elite Forces KU 1608
1990, English language, 60 min. - The paratroops have long been firmly established as the best-known of all "elite forces". The idea of "parachute troops" Was originally put forward in 1918, but it was not really until the Second World War that the modern paratrooper emerged. The first units were almost entirely the creation of General Kurt Student, Commander of the German Airborne Forces, whose men carried out some of the most spectacular exployets of the war. The brilliant early successes of the German paratroops rapidly led to the creation of similar elite forces by both the British and the Americans. Three Allied airborne divisions took part in the Normandy landings of June 1944; and although many of the drops went widely astray, the paratroops went on to achieve nearly all their objectives. But it is not merely on the dazzling airborne actions that the paratroops claim to fame is founded. Deployed as elite infantry, their record is no less impressive, especially in defense - as was demonstrated so notably by the Germans at Casino, The British at Arnhem, and the Americans at Bastogne.




The Eye of the Third Reich

CH 652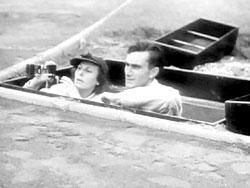 The subject of this film, Walter Frentz, was Leni Riefenstahl's chief cameraman and a personal cameraman for Adolf Hitler. The director, Jürgen Stumpfhaus, has woven together interviews with Frentz, excerpts from Frentz's diaries from the '40s and today, and many samples of his work to depict a man who made countless carefully-composed pictures ennobling an inhuman regime. Frentz had his first success with a film about kayaking, which ended up as a supporting program for Robert Flaherty's Nanook of the North. Shortly afterward he worked with Leni Riefenstahl on Triumph of the Will and was her chief cameraman on Olympia. On Riefenstahl's recommendation he became Hitler's personal cameraman, filming military sites to show Hitler conditions there, and filming Hitler, his visitors, and his inner circle at the Reich Chancellery and Hitler's headquarters. (These pictures were also often used in the weekly newsreels.) He was with Hitler almost until the end--this film includes photos of a party in Hitler's bomb shelter taken shortly before Hitler's death. As Frentz's story unfolds, we hear about his craft-- how, for example, he used techniques from his kayaking film to photograph Hitler's motorcade in Triumph of the Will-- and we hear about his encounters with people like Himmler, Speer, and Eva Braun. And throughout we gain insight into a man who seems to feel no guilt because he believes he "only reproduced, never produced" what he saw. This film has received high praise in Europe. The Frankfurter Allgemeine Zeitung, for example, called it an "excellent documentary with excellent photography". Frentz emerged from the war with an enormous collection of color photos and film of military installations, dignitaries visiting Hitler, bombed-out German cities, and a vast array of never-before-seen glimpses of the Third Reich. This film includes some of these, and IHF will soon be releasing a film showcasing much more of the Walter Frentz collection. Directed by Jürgen Stumpfhaus. Color, 61 minutes, English voice-over and commentary.

The Eagle's Nest: Hitler's Secret Center of Power
Netherlands (1987), English language - Above a small Bavarian town lies the Obersalzberg, the site of Hitler's "Eagle's Nest". This mountaintop retreat became both the Fuehrer's personal palace and the Reich's second capital. Here Goering, Speer, von Ribbentrop and Bormann built residences near their Fuehrer's. And it was here that Lloyd George was duped and here that Hitler received the news of the German defeat in the East. A rare color footage of the inner circle of Nazi fanatics, unique contemporary interviews wit Albert Speer and other survivors, and much more.
Part 1 - The Early Years

K 1627
b&w/color, ca. 60 min. - As Germany struggles with the aftermath of World War I, the unstable Weimar Republic finds itself unable to control the splinter parties of both Left and Right. Failed artist Adolph Hitler discovers his true calling, politics, and becomes a member of the rising National Socialist party. Jailed after the failed putsch in Munich, Hitler writes "Mein Kampf", finishing it in the Obersalzberg, site of the Eagle's Nest. Eventually he leads the NSDAP and, upon his elevation to chancellor, stirs Germany to a frenzy of nationalism and racism.

Part 2 - Europe Faces the Reich

K 1628
b&w/color, ca. 60 min. - Germany has armed, and National Socialism has evolved into fanatic fascism, but the divided democracies of Europe prefer to ignore the rising storm. The frightening display of military might in 1939 in Berlin precedes the annexation of Austria - a plan forged at the Eagle's Nest. Mussolini and Lloyd George meet with Hitler at the Berghof, the one flattered, the other duped, while plans are laid to march into Czechoslovakia. Hitler's bold plan begins with the seizure of the Sudetenland, followed by the cynical non-agression pact with Stalin, while the massive complex of the Berghof is being completed in 1939. Daily life in the mountains with Hitler, Himmler and Eva Braun, as shown through Hermann Goering's home movies, surviving pre-war footage and interviews with Nazi lieutenants.

Part 3 - The Second World War

K 1629
b&w/color, ca. 60 min. - In the summer of 1939 Europe realizes the awesome power of the Reich, but it is already too late. German armor, directed from the Berghof, rolls over most of the continent. The entire population of Europe is in danger of being crushed by the German War Machine, and becoming servants of the SS state. The mask is removed and the face of Germany's "New Order" becomes terrifyingly clear to the world. This program ends with the Swastika flying over Red Square in Stalingrad and, for a brief moment, it appears that the "master plan" has succeeded.

Part 4 - The End of the Reich

K 1630
b&w/color, ca. 60 min. - The tide turns, as Hitler's forces, spread too thin and short of supply, must assume the defensive. The prolonged war on the Eastern Front has drained Germany and defeat becomes inevitable. Unwilling to recognize or accept the situation, the entire Nazi regime fighters frantically to keep their hold, all the while viciously carrying out the "final solution". The U.S. has entered the war and the allies deliver the "coup de grace". A postscript shows Germany immediately after the war, and documents the destruction of the Berghof.
Erwin Rommel, Hitler's Krieger PK 7500
45 min., German language - Wer glaubt, alle Offiziere im III. Reich waren verblendete und verbohrte Nazis, der sitzt einer ungerechtfertigten Verallgemeinerung auf. Der brilliante Kommandeur des Afrika-Korps (der "Wuestenfuchs") war bei Freund und Feind geschaetzt. Samuel Bradshaw, Leutnant der britischen 8. Armee, in einem Interview: "Sie koennen einen Gefangenen nicht immer mit warmen Essen versorgen, aber Sie koennen das Beste tun was moeglich ist. Und die Deutschen haben das mit uns getan. Daher hatten wir immer einen grossen Respekt vor ihnen... Das Afrika-Korps war ehrenhaft, und so war Rommel. "Am Ende jedoch wurde dem "desert fox" selbst jeglicher Respekt versagt.
**No Longer Available**
Eva Braun, Hitler's Mistress R 178
color/b&w, ca. 50 min. - Eva Braun, Germany's most infamous woman, rose from working-class shop assistant to notoriety as Hitler's mistress and died with him in the bunker only hours after becoming his wife. This video is her own remarkable legacy - a 'home movie' filmed mostly at the Berghof in Bavaria. Her years spent in the company of Hitler's inner circle show Eva Braun to have been uninterested in politics or serious conversation, preferring to amuse herself with dancing, animals and romantic films. But it was her love of photography which resulted in this extraordinary and macabre film as we watch the most important figures of Second World War Germany come and go at Hitler's mountain retreat. Goering, Goebbels, Himmler, Speer, von Ribbentrop, Bormann all appear alongside Hitler at the house-parties and important conferences held at this alternative seat of government. This unique documentary allows us an exclusive private view of the Nazi elite at work and play as it examines the personality and bizarre life of Eva Braun, whose only ambition was to be a good housewife.
The Eye of Vichy FRF 789
Drama, 1993, French language, English narration, b/w, ca. 110 min. - A brilliantly chosen compilation of long forgotten film footage and newsreels produced by the Nazis and French collaborators during World War Two.
To view descriptions of other rare German war documentaries,
click on the link below
How else may I place an order?
Click on the envelope below to send e-mail
to the German Language Video Center!

Not responsible for typographical errors.
Video run times are approximate.
Prices and availability subject to change without notice.
Send comments regarding contents of this page to
glvc@indy.net





Member VSDA since 1985.

Last modified: Friday, October 21, 2016 2:18 PM
German Language Video Center© 1997/2016
Entire Website copyrighted 1997, 1998, 1999, 2000, 2001, 2002, 2003, 2004, 2005. 2006, 2007, 2008, 2009, 2010, 2011, 2012, 2013, 2014, 2015, 2016
No reproduction or download allowed for commercial purposes without written permission.

GLVC 2016©.