The place where our customers send their friends!
Welcome to the Only American Video Tape Store for rare German Movies and Old ZDF volksmusik shows.
Please note: All video tapes are in the American NTSC VHS video format
and will play on all VCR's in North America. We are closing out all of our VHS inventory. This will be your last chance to obtain these beautiful ZDF music videos and hundreds of classic German movies and heimatfilme. Due to the limited demand in the USA, most of these movies will unfortunately never be available on DVD in America.
Once our videos are gone, they're gone!!!
We have drastically reduced the prices on over 2000 video titles closeout. Make sure to buy these classics while supply lasts.
On all VHS clouseout prices we will send you a new or previously viewed tape.
CLOSEOUT!!!!!
BUY NOW!!!
Any 10 videos for only $49.95
plus $19 s/h
while supplies last
WAR DOCUMENTARIES VIDEO TAPES
---
F
Fighter Aces KU 1607
1990, English language, 60 min. - By 1915, the armies of the Great War are locked in the stalemate of the trenches. Yet, a new form of combat is already taking shape - the aerial duel. Almost from its beginnings, air-warfare captures the popular imagination. The new heroes are the fighter pilots. The best become known as Aces. High above the trenches, the courage and skill of men such as Baron von Richtofen, Oswald Boelcke, Mick Mannock, Billy Bishop and Herman Goering would make them legends in their own lifetime.
Order # KU 1607

Was $28.95
Fahnen Junker IH 374
Germany, 1943, b&w, 17 minutes, English subtitles - From bayonet fighting to blasting bunkers, glacier climbing to sniper fire, here is the tough training that molded the leaders of Hitler's armies. This original Nazi film, enhanced by action-packed sequences and a brilliant musical score, depicts life at German schools for infantry officers.
**No Longer Available**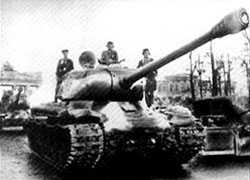 The Fall of Berlin IH 149
1945, b&w, 72 minutes, English commentary - Over 40 Byelorussian and 1st Ukrainian Army cameramen contributed footage of this remarkable documentary of the fall of Berlin, including captured German footage. Directed by Yuri Raizman. USSR.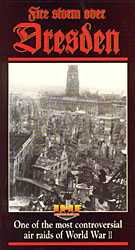 Fire Storm over Dresden CH 742
b&w/Color, 77 minutes, English narration - On the night of February 13th 1945, there began one of the most controversial raids of World War Two - the bombing of Dresden. Witnesses to the raid and its aftermath describe the events and the terror of what it was like to be in Dresden throughout the night of the raid.
Feuertaufe-Baptism of Fire IH 508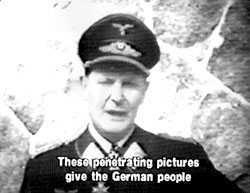 Germany, 1940, b&w, 90 minutes -German commentary, English subtitles. The Legend of the Luftwaffe began in Poland, the first victim of Hitler's blitzkrieg. Combat cameramen filmed the aerial campaign, showing preparations for flight, massive air strikes, and the appalling devastation wreaked upon Polish towns and armies. Highlighted by a lengthy, riveting sequence depicting the siege of Warsaw, Feuertaufe inspired Germany with pride and confidence and foreign viewers with dread. Norbert Schultze's original score lyrically enhances this propaganda masterpiece.
Flucht und Vertreibung R 86401-86403
b/w, and color, 1944 brach ueber die deutsche Bevoelkerung in Ostpreussen, Pommern, Schlesien, Ungarn, Jugoslawien und Rumanien eine furchtbare Katastrophe herein. Mit dem Vormarsch der roten Armee begaben sich Millionen von Deutschen auf die Flucht. Viele wurden von den schnell heranrueckenden feindlichten Truppen ueberollt.
Order # R 86401
Part 1, Inferno Im Osten
Order # R 86402
Part 2, Die Rechtlosen
Order # R 56403
Part 3, Zwischen Fremde und Heimat

Fortress Europeih 279
What was it like to be a German soldier on D-Day? Original German World War II newsreels spanning three years have been drawn upon to highlight the design and construction of the Atlantic Wall coastal batteries and bunkers, and the Germans' realistic combat exercises to prepare for Allied invasion.The first six weeks of the Normandy battle, beginning with German counterattacks against Allied airborne landings on the night of June 5th, 1944, are graphically portrayed in this feature. The German Army, Navy, Luftwaffe, and elite paratroop and Waffen SS divisions are shown, together with their famous commanders, waging a desperate struggle to drive the Allied landing troops back into the sea. Here is the battle for "Fortress Europe" as seen through the eyes of its defenders: the D-Day you've never seen before. Transferred to videocassette from original 35-millimeter negatives for superb audio and visual quality.
CONTENTS:
German Newsreel: August 1st through 7th, 1942 German artillery, anti-aircraft guns, and armor go into position in the French coastal region. German aircraft patrol the area. German batteries fire during a gunnery exercise. The battleship Tirpitz and other warships on patrol in Norwegian waters.
German Newsreel: August 8th through 14th, 1942 German armored divisions are transferred to France. Marshal Gerd von Rundstedt and Generals Paul Hausser and Sepp Dietrich review a parade of the Leibstandarte Adolf Hitler in Paris on July 29th.
German Newsreel: April 24th through 30th, 1943 Albert Speer inspects Atlantic Wall building sites. Supplies are unloaded as the construction of heavy-gun emplacements is continued. Giant cannons, including a railroad gun of the Dora class, are mounted in concrete and steel turrets.
German Newsreel: February 1944 German soldiers on guard along the French coast. Marshal Erwin Rommel inspects the Atlantic Wall.
German Newsreel: April 18th through 24th, 1944 The Germans open dykes in Flanders and Holland and flood the countryside. Marshal von Rundstedt and Generals Kurt Meyer and Sepp Dietrich inspect panzer grenadiers of the SS division Hitler Youth. Marshal Rommel on an inspection tour. A German anti-aircraft bunker during an exercise. Germans borrow footage from an American newsreel to show a landing rehearsal. Waffen SS troops train to meet possible airborne landings. Coastal artillery during a gunnery exercise.
German Newsreel: May 23rd through 29th, 1944 During an inspection tour of the Atlantic Wall, Marshal Rommel addresses officers (original synchronous sound). The interior of a heavy-gun turret during a firing exercise (original synchronous sound).
German Newsreel: June 13th through 20th, 1944 The complete German newsreel providing the first coverage of the Allied landings in Normandy. German torpedo boats harass the invasion fleet, infantrymen oppose landed Allied glider crews and paratroops. Coastal artillery fires on transport vessels. Landed gliders are overrun and their crews made prisoners. Allied bombers raid Caan, France. The Waffen SS armored division Hitler Youth duels American Sherman tanks trying to break out from the beachhead. Fighting in the Bayeaux area.
German Newsreel: June 21st through 28th, 1944 Naval officers decorate members of a German torpedo-boat flotilla. Heavy guns along the coast fire on landing ships. French refugees abandon their destroyed city after an Allied air raid. French homeless living in caves. An Allied breakout attempt is halted by German tanks and infantry. Wilhelm Mohnke decorates members of the SS division Hitler Youth. A counter-attack is carried out by Waffen SS troops. German 88-millimeter guns and rocket launchers fire on Allied tanks.
German Newsreel: June 29th through July 5th 1944 Colonel Lent at a Luftwaffe situation conference for night fighters. The crew of a shot-down B-17 are led away as prisoners. French civilians at Le Havre recover from an air raid. SS troops in the front line receive news communiqués. General Meindl of the Second Paratroop Corps confers with Major von der Heydte. Soldiers of Paratroop Regiment 6 prepare for a scout mission. Damaged Allied tanks near Saint Lo. German soldiers of Paratroop Regiment 6 and the Götz von Berlichingen panzer grenadier division in close combat in dense underbrush. A destroyed Allied armored column near Saint Lo. Prisoners from the 29th US Division are assembled. German bombers and patrol boats engage the Allied transport fleet during nighttime sorties.
German Newsreel: July 6th through 12th, 1944 German batteries in surrounded Cherbourg duel Allied warships. A transport vessel catches fire. Wrecked landing craft along the beach. Destroyed vehicles of the 22nd British Armored Brigade are shown near Villers-Bocage. Damaged British Cromwell and German Tiger I and Panzer IV tanks in the streets of Villers-Bocage. American prisoners in an assembly area. SS General Sepp Dietrich at his command post. Waffen SS troops in action in jungle-like terrain. German panzers, including flame thrower vehicles, launch a counterattack.
German Newsreel: July 13th through 20th, 1944 German motorized columns bring up reserves. German troops patrol a destroyed coastal town. Major Frey and officers of the Leibstandarte Adolf Hitler at a situation conference. Motorized units advance. German soldiers relax during a lull in the fighting. A scout troop of Panzer Grenadier Regiment 38, Götz von Berlichingen division, reconnoiters the Prairies Marecagueses area. German armor and infantry counter-attack. Lieutenant Franz Ludwig and members of his assault-gun unit are decorated. German infantry fight in a coastal town.
Order # IH 279
was $28.95
Die Frontschau #1IH 22
Germany, 1943, B&W, 60 minutes, English subtitles. 1940-1943, Never shown to the German public during the war, Die Frontschau are unique combat documentaries presenting the individual actions of a company or battalion in a single engagement. This program features Front Show 5/6: "Mountain Troops Fight for a Village", depicting the assault on Baronowice in Soviet Eastern Poland in 1941; Front Show 7: "Attack of Tanks and Infantry Against a Village" and Front Show 8: "Defensive Battle in Winter", filmed by German cameramen on the Leningrad front.
The grim Front Shows were screened before German troops to initiate them to the reality of life and death at the front line.
Fuehrer! Rise of a Madman MP 1203
U.S.A., 1988, Eng lang., 108 min., b&w - Episodes from Hitler's Mein Kampf prison days and his elevation to head of the Nazi Party to the inhuman chapters of World War II. With haunting commentary and electrifying footage taken throughout his infamous career. Experience the eventful episodes of the Fuehrer's life, from his Mein Kampf prison days and his elevation to ead of the Nazi Party to the inhuman chapters of W.W.II, his sexually deviant relationship with Eva Braun, and their ultimate suicide in a Berlin bunker. You'll withness Hitler's maina in all its forms; with is dreams of deification, his hypnotic speeches, and the infectious zeal of this self-convinced messiah that made the "Hitler Youth" spy even on their own families.
Order # MP 1203

Was $38.95
The Fuehrer's Birthdays CH 785
Germany, 1994, b&w/Color, 50 minutes, English commentary and subtitles. Under the Third Reich, the Führer's birthdays became major national holidays. This film charts the rise and fall of Hitler's power by examining these annual events. Celebrations of Germany's Volksgemeinschaft in Hitler's early years in office give way to the calculated military demonstration of 1939, when the technologies of Blitzkrieg warfare are unveiled in a 41/2 hour procession before the Führer's reviewing stand. The last desperate months of Nazism find macabre expression in the scenes from Hitler's birthdays of April 1944 and 1945, as followers vow to carry on amidst Berlin's bombed-out ruins. Along with its survey of Hitler's personality cult, this film offers an unabashedly revisionist account of the causes of World War Two.
Order # CH 785

Was $28.95
Farewell Friends-Berlin PK 7003
Documentary, English language, ca. 45 min. - Impressive documentation of the celebrations in Berlin on the occasion of the Allies' final farewell. Rare historic highlights recall the 1945 airlifts at Tempelhof and Gatow, the infamous construction of the Berlin Wall in 1961, etc.
Fatherland WWB 780
ca. 106 min. - 1964 Berlin. Fiction Movie. The whole city prepares for the Fuehrer's 75th birthday celebration. You read that right. Two decades earlier, Hitler's forces turned back the D-Day invasion and won the war. Now the victorious chancellor plans to meet U.S. President Joseph Kennedy Sr. and sign a treaty that will thaw the long Cold War that followed - and bury forever World War II's most horrific secret. Rutger Hauer and Miranda Richardson race against time through the super-state of "Germania" in Fatherland, the taut thriller from Robert Harris' best seller that rewrites history into a nerve-jangling what if? For decades, the world has believed the Reich's claim that six-million Jews were resettled "in the east." Now a German policeman and an American journalist have uncovered the truth about the Nazi death camps. Hitler's reign will be destroyed if the world finds out. And that's something the Gestapo can never allow. In English language.
Order # WWB 780

was 28.95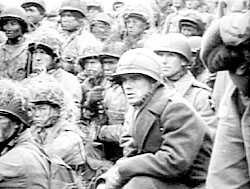 Famous Third Army CH 704
USA, 1950, b&w, 22 minutes. (ETO August 1st, 1944 - May 7th, 1945) General George S. Patton commanded the US Third Army during 281 days of incessant combat with the Germans in 1944 and '45. This film is a record of the Third Army's drive through France, Belgium, Luxembourg, Germany, Austria, and Czechoslovakia. Here's a documentary with a fast-moving narrative of the strategy and tactics employed by the only American general considered by the Germans to be the equal of their best Panzer generals!
Feldzug in Polen/Baptism of Fire DO 20
Germany, 1939, B&W, 37 minutes, English Commentary. - During the Second World War the German Government produced foreign-language versions of some of their famous documentary films for export. These films were often screened by German minorities overseas to clarify the German point of view of the war and counter Allied propaganda against Germany. One of the first of these rare features is this English-language account of the German-Polish war of 1939. Who started this war? See the German's own answer, as the perfidious war conspiracies of the Poles, their unheroic military tactics and their senseless defense of surrounded Warsaw are all alleged in this most unusual campaign film.
G
The General Marshall Story CH 706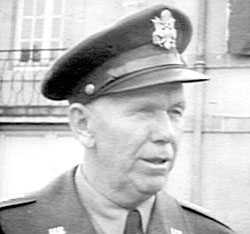 USA, 1963, b&w, 29 minutes. General George C. Marshall became the professional head of the US Army on September 1st, 1939. He was in charge of creating an army of more than eight million men that would eventually defeat the armed forces of Germany, Japan, and Italy. After the war he played an important part in managing the cold war with communism.


German Invasion of Poland 1939 IH 20
b&w, 60 minutes, sound with English Subtitles. The world's first look at Hitler's armies at war is Germany's own documentary of her 1939 invasion of Poland. Films of this conflict, soon eclipsed by greater and longer campaigns, are rarely seen. IHF's program fills an important cinematic gap in Nazi military history. The first German wartime newsreel illustrates the regime's skillful propaganda. Footage depicting a Polish artillery barrage against the German frontier town of Beuthen, and of refugee Germans who had fled into the Reich to escape Polish persecution, illustrates Hitler's claimed justification for invasion. British leaders are cast as instigators. Scenes of air-raid preparations in Berlin, the call-up of reservists, and an armaments factory show German preparations. In the Polish-controlled port of Danzig, Waffen SS troops fire the war's first shots as they assault the city's post office, where Polish "guerrillas" were barricaded. The lightning thrust of the German army shows infantry, cavalry, mountain and motorcycle troops, and armor acting with battlefield discipline and coordination remarkable for a combat- inexperienced force. Scenes of a Luftwaffe sortie and the point-blank bombardment against the Polish fort at Westerplatte by the German warship Schleswig-Holstein are included. Hitler's dramatic appearances near the front were liberally included in the German's campaign films of Poland. Here is Adolf Hitler at war: grim and calculating at a military conference, light- hearted among soldiers at an army field kitchen, proud and confident while reviewing his advancing infantry, apprehensive and excited when watching the climatic German bombardment of Warsaw. Among scenes of the ferocious land battles of Radom and Kutno, infantry penetrations into burning towns, and weary German soldiers at rest is an event of exceptional interest: the first meeting of German troops with their Soviet allies on the battlefield. Here is the invasion of Poland, where the legend of the Blitzkrieg was born, with original German sound, exactly as heard and seen by the German people: from the first strides across the frontier, when German infantrymen enthusiastically break down a Polish border gate, to the resounding crash of the goosestep as the victorious German soldiers parade past their Fuehrer through conquered Warsaw.
German Propaganda Shorts DO 23
1938, some Eng. sub., 50 min., b&w/Color - Includes Day of Freedom 1935, propaganda-documentary. Also Munich 1938 Arts Festival and the Eternal Jew.
German Wartime Newsreels, Part 1 IH 341
Germany, 1941--1945, b&w, 85 minutes, German commentary, English subtitles. The rise and fall of German military fortunes are traced in these five original Nazi newsreels from 1941 to 1945. Here are the great campaigns: Hitler's attack against Soviet Russia, with scenes of Army Group North advancing toward Leningrad; the 1942 capture of Sevastopol by von Manstein's 30th Army Corps; the gigantic armored clash of Germany's elite divisions and their Soviet counterparts at Kursk; the German defense of Eastern France in October 1944 and the Germans' battle for their own frontier in the final months. A vivid impression of the milestones of World War 2.
Germany Awake
English commentary and subtitles, 1968, b/w, ca. 90 min. A documentary on the German motion picture and its use as a propaganda tool, produced by Erwin Leiser (originally titled Deutschland Erwache). Excepts from the following German feature films are included: Dawn (1933), Hans Westmar (1933), Hitler Youth Quex (1933), Bismarck (1940) newsreels, For Merit (1938), Venus on Trial (1941), Refugees (1933), Homecoming (1941), Crew on the Dora (1943), Request Concert (1940), Jud Suess (1940), I Accuse (1941), U-Boat, Course West (1941), The Higher Order (1935), The Rothschilds (1940), Ohm Kruger (1941), Carl Peters (1941), The Great King (1942), Kolberg (1945), the Great Love (1945).
A collectors must!!
**No Longer Available**
Geschichte der Luftwaffe (English language)KU 1605
60 min., English language - The German Luftwaffe was no ordinary Air force. It was crucial for Hitler's dreams of victory, the deciding weapon of the Blitzkrieg. No ordinary airforce, the Luftwaffe was to become the handmaiden of Hitler's dream of conquest and a vital component of "Blitzkrieg. The Fuehrer's continual demands upon his airforce, as he fanatically pursued his "Grand design" forced the Luftwaffe into the role of workhorse, though incompetence, intrigue and greed amongst it's commanders made the task near impossible. Starved of new planes and pilots to fly them, stretched across two fronts in Europe and playing a vital role in North Africa, Goering's elite corps was fatally flawed. This tragic story chronicles the initial brilliant success of the Luftwaffe in Europe, it's structure and tactics and the inherent weaknesses that were to drag the phoenix once again to it's inescapable consummation within the fires of Berlin.
Order # KU 1605
in English Language
Geschichte der Luftwaffe DFC 14
German Language, ca. 60 min. - Die deutsche Luftwaffe war keine gewoehnliche Streitmacht der Luefte. Vielmehr wurde sie zum Handlanger von Hitlers Eroberungstraeumen zur entscheidenden Waffe im "Blitzkrieg". In diesem Video wird sehr seltenes Filmmaterial aus dem Ostblock gezeigt das seit dem Krieg im Westen noch nicht zu sehen war.
Order # DFC 14




in German language
The Guns of August IH 28
USA, 1964, b&w, 100 minutes. Rare film footage, photographs, graphics, and expert narration by actor Fritz Weaver were combined to bring Barbara Tuchman's Pulitzer Prize-winning book to the screen. "The War to End All Wars" is traced from its beginnings in 1914, involving King Edward the Seventh and Kaiser Wilhelm, through four years' agony of relentless warfare and bitter end in 1918.
This is the story of World War 1, one of the darkest, most-chaotic periods in recorded history.
03/10
To view descriptions of other German war documentaries, click on the link below
How else may I place an order?
Click on the envelope below to send e-mail
to the German Language Video Center!

Not responsible for typographical errors.
Video run times are approximate.
Prices and availability subject to change without notice.
Send comments regarding contents of this page to
glvc@indy.net





Member VSDA since 1985.

Last modified: Friday, October 21, 2016 2:18 PM
German Language Video Center© 1997/2016
Entire Website copyrighted 1997, 1998, 1999, 2000, 2001, 2002, 2003, 2004, 2005. 2006, 2007, 2008, 2009, 2010, 2011, 2012, 2013, 2014, 2015, 2016
No reproduction or download allowed for commercial purposes without written permission.

GLVC 2016©.