The place where our customers send their friends!
Welcome to the Only American Video Tape Store for rare German Movies and Old ZDF volksmusik shows.
Please note: All video tapes are in the American NTSC VHS video format
and will play on all VCR's in North America. We are closing out all of our VHS inventory. This will be your last chance to obtain these beautiful ZDF music videos and hundreds of classic German movies and heimatfilme. Due to the limited demand in the USA, most of these movies will unfortunately never be available on DVD in America.
Once our videos are gone, they're gone!!!
We have drastically reduced the prices on over 2000 video titles closeout. Make sure to buy these classics while supply lasts.
On all VHS clouseout prices we will send you a new or previously viewed tape.
CLOSEOUT!!!!!
BUY NOW!!!
Any 10 videos for only $49.95
plus $19 s/h
while supplies last
Classic and other German Movies on Video from S - T
All in German Language - No Subtitles
Here are some of our extensive listings of beautiful and classic German
films from the last 70 years. Prices listed are the retail prices.
Remember all videos are in the American NTSC-System
and in German language only.
Please note: most of our old classic video titles starting with
Order # IH, HF, CH or EVD will be discontinued; and will be no longer
be available for sale in the US once our limited inventory is depleted. We are not able to reorder any of those films.
Order now while they are still available. Some films might be still listed even though they are not any longer available.
S.O.S. Eisberg #CH 514
1933, b/w, adventure, ca. 102 min. - An expedition struggles to rescue a German explorer in Greenland. Photographed in Greenland in treacherous terrain. Featuring Leni Riefenstahl, Ernst Uden. Discontinued. Out of print.
Die Sache mit Styx #EVD 1073
1942, 90 min., b&w - An amusing love story - adventure and musical comedy all in one, lots of music and dancing. With Laura Solari, Viktor de Kowa and Margit Symo. Eine amuesante Liebes- und Gaunerkomoedie mit exotischem Einschlag und schwungvollen Taenzen von Margit Symo.
Die Stimme des Herzens (Der Saenger ihrer Hoheit) #CH 503
Germany, 1937, b/w, 90 min. (Der Saenger ihrer Hoheit). - The famous Benjamino Gigli stars in this musical video. He sings more than in any other film. High spirited. Discontinued. Out of print.
Der Saenger von Capri #TP 213
German language, ca. 92 min. - Mario Lanza, einer der gefeiertsten Tenore, singt seine beruehmtesten Lieder. Der Film ist die Serenade einer grossen Liebe. Nach schwerer, entbehrungsreicher Jugend ist der amerikanische Saenger Toni Costa kometenhaft zum Weltstar aufgestiegen. Vor allem die Herzen der Frauen fliegen ihm zu. Aber ebenso beruehmt wie seine Stimme sind seine Skandalgeschichten. Sein Manager schickt ihn deshalb nach Capri, um ihn eine Weile lang aus der Oeffentlichkeit zu enfernen. Bei einem Konzert auf dem Marktplatz nimmt ein Maedchen keine Notiz von ihm. In seiner Eitelkeit verletzt, beleidigt er sie, aber sie kann nichts hoeren. Als er ihre Geschichte erfaehrt, verliebt er sich in sie. Er setzt jetzt alles daran, Christa ihr Gehoer wiederzugeben. Sie konsultieren beruehmte Professoren, bis sich schliesslich einer bereiterklaert, Christa zu operieren. Die Operation gelingt und sie kann zum erstemal Tonis Stimme hoeren - er singt das Ave Maria. Ploetzlich setzt das Gehoer wieder aus und Toni betrinkt sich fuerchterlich. Das Ende seiner Karriere steht bevor, als er vor Gericht erscheinen soll - aber die Inselbewohner nemen alles auf sich. Christa erholt sich wieder und die beiden heiraten. Same as 'For the First Time. Discontinued. Out of print.
Please note: we are drastically reducing our video library. If there is a special movie you are interested in you may want to purchase or rent it now before the very last tape is sold and no longer available in USA.
Savoy Hotel #HF 328
Drama, 1936, ca. 100 min., b&w - In an elegant Moscow hotel in 1911, a waiter is accused of killing a hotel guest who had been scheming to gain his affections. Directed by Gustav Ucicky; featuring Hans Albers, Brigitte Horney, and Kaethe Dorsch.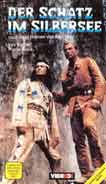 Der Schatz im Silbersee #TA 287
ca. 92 min. - Super Karl May adventure with Lex Barker. Der Besitz einer Wegskizze zu einem sagenhaften Schatz im Silbersee hat einem Mann das Leben gekostet. Winnetou und Old Shatterhand finden den Toten und nehmen die Verfolgung der Verbrecher auf. Doch die wissen Rat: Sie greifen ein Dorf der Utahs an und beschwoeren damit einen Rachezug dieser Indianer gegen alle Weissen herauf. Discontinued. Out of print.
Der Schimmelreiter #EVD 1401
1941, b/w, ca. 85 min. - Gespenstich huscht der Schimmel des Deichgrafen Hauke ueber die weiten Flaechen des friesischen Koogs. Unermuedlich kaempft der Deichgraf gegen die Bequemlichkeit und den Aberglauben der Bauern an, die seine Idee eines neuen Deichprofils nicht akzeptieren wollen. Mit Marianne Hoppe, Mathia Wieman, Eduard von Winterstein, Walter Suessenguth.
Schlussakkord #1 #CH 529
1936, ca. 96 min., b&w - A woman becomes a governess for a symphony conductor's adopted son, not telling either of them that she is the child's mother. This film's director later gained fame in Hollywood as Douglas Sirk. Directed by Detlef Sierck. Featuring Willy Birgel, Lil Dagover, and Maria von Tasnady. A great movie. Discontinued. Out of print.
Schlussakkord #2 #FD 3075
Drama, 1960, ca. 100 min., color - With Mario del Monarco and Victor de Kowa. Story of a great love between a mute girl and a stranger who is killed in an old Aztek rite by the villagers. A musical work by Peon Messias, the hit of the Salzburger Festspiele. Enjoy the beautiful voice of Mario del Manarco. Discontinued. Out of print.
Der scheinheilige Florian #EVD 1081
1941, b/w. - Bavarian comedy with a great cast. Joe Stoeckel, Erna Fentsch, Beppo Brehm, Elise Aulinger, Josef Eichheim and many more.
Schrammeln #HF 463
1944, ca. 100 min., b&w - in this biographical film set in late 19th Century Vienna, the Schrammel brothers compose music and start a quartet. Their Schrammelmusik has become an integral part of the ambience of the grand Viennese taverns know as Heurigen. Directed by Geza von Bolvary, featuring Paul Hoerbiger. and Hans Moser.
Schwarz auf Weiss #HF 493
1943, ca. 83 min., b&w - In this comedy, a chimney sweep with a son eager to get married wrangles with his neighbor a pastry cook with a daughter not eager to do her schoolwork. Directed by E. W. Emo, featuring Hans Moser and Paul Hoerbiger..
Schwarze Rosen #HF 490
1935, ca. 94 in., b&w - In this musical drama set in Russian-occupied Finland at the turn of the Century, a dancer being courted by Russian governor falls in love with a Finnish sculptor fighting for his country's freedom. Directed by Paul Martin; featuring: Lilian Harvey, Willy Fritsch, and Willy Birgel.
Schwarzer Jaeger Johanna #HF 457
1934, ca. 100 min., b&w - In 1809 a young woman encounters a circle of Prussian patriots, falls in love with their leader, and ends up fighting alongside them against Napoleon. Marianne Hoppe, Paul Hartmann, and Gustaf Gruendgens.
Schwarzwaldmaedel #EVD 1276
German Classics
Das Schwert des Barbaren
ca. 86 min. - Der grausame Nantuk und die mystische Feuergoettin Rani halten ihr unterjochtes Imperium mit brutaler Gewalt und magischem Zauber in Angst und Schrecken. Von der jungen Aki befreit, versucht Sagraal die Schwarzen Berge zu erreichen. Hier hoffen sie Rat und Hilfe beim alten Rudak zu finden. Ueberall hat der allmaechtige Nantuk seine Kreaturen. In Grotten und Hoehen lauern mordgierige Eidechsenmaenner. Sangraal macht sich auf den Rueckweg, um gegen die weltlichen und magischen Kraefte zu kaempfen, dafuer braucht er das magische Schwert.
Schoen muss man sein #FD 2059
1950, ca. 92 min., b&w, musical comedy - behind the scenes of an operetta production, the love affairs and jealousies, the small crisis and big explosions, wonderfully played by Sonja Ziemann, Willy Fritsch, and Hardy Krueger.
Der Seelenbraeu #EVD 1409
1950, b/w, ca. 100 min. - Mit Paul Hoerbiger, Heinrich Gretler, Aglaja Schmid, Robert Lindner, Alma Seidler, Carl Bos.
Alle Videofilme auf dieser Seite sind in deutscher Sprache ohne Untertitel.
Seinerzeit zu Meinerzeit #EVD 1068
1944, ca. 85 min., b&w - The older generation has always complained about the young people of today. Yet love is always the same. Hannelore Schroth portrays the young girl in love, set in different times. With Hannelore Schroth, Paul Klinger and Paul Wegener. Der Film zieht sich durch mehrere Generationen, wobei die aeltere meist der Meinung ist, sie sei frueher tugendsamer als die jeweilige "Jugend von heute" gewesen. Hier zeigt es sich, dass in puncto Liebe alles schone immer so war, ob in hochgeschlossenen Kleidern oder offenherzigen Badeanzuegen. Der Reiz der einzelnen Geschichten liegt darin, dass das junge Maedchen, ob Inge, Charlotte, Regine oder Sophie, immer von Hannelore Schroth gespielt wird.
Sensationsprozess Casilla #HF 485
1939, ca. 99 min., b&w - A German stands trial in an American court for the 1928 kidnapping and murder of a child film star. Directed by Eduard von Borsody, featuring Heinrich George, Jutta Freybe, and Albert Hehn. Discontinued. Out of print.
Seewolf #JUV 3357
ca. 95 min. - Starring Chuck Connors, Barbara Bach. Er ist beruechtigt und gefuerchtet. Mit vollen Segeln geraet Wolf Larsen von einem gefaehrlichen Abenteuer in das naechste. Seine Haerte und Intelligenz werden nur noch von der Brutatlitaet seines groessten Feindes uebertroffen. Dieser Feind ist sein eigener Bruder. In einer aufgewuehlten und tobenden See kommt es zu einem Kampf auf Leben und Tod; Mann gegen Mann. Actiongeladene Verfilmung nach dem Roman von Jack London. Discontinued. Out of print.
Sieben Jahre Pech #EVD 1222
1940, b/w, ca. 90 min. - Olly Holzmann, Clara Tabody, Hans Moser, Theo Lingen, Oscar Sima. Wenn ein Koenner wie Ernst Marishka Autor und Regisseur ist, kann man mit Recht etwas gelungenes erwarten. Ein Schriftsteller zieht sich in die Einoede zurueck, weil er sich vom Pech verfolgt fuehlt. Eine neue Liebe rettet ihn nach laengeren Verwicklungen. Limited Supply.
Sieben Jahre Glueck #EVD 1228
1942, b/w, ca. 92 min. - Hannelore Schroth, Wolf Albach-Retty, Theo Lingen, Hans Moser, Elly Parvo. Der Erfolgsfilm Sieben Jahre Pech sollte hier gewissermassen eine Fortsetzung erhalten. Der Diener Paul kommt nach Ablauf der sieben Jahre Pech zu seinem Herrn Hainz Kersten zurueck. Er wird in viele Abenteuer verstrickt. Limited Supply.
Skandal um Dr. Vlimmen #FD 2062
1956, ca. 99 min., b&w - the new veterinarian has a difficult time being accepted in a clannish small town. How will he silence the town. How will he silence the unfounded accusations and intrigues against him? With Heidemarie Hatheyer, Bernhard Wicki. Der neue Tierarzt hat es in der buergerlich-spiessigen Kleinstadt schwer. Die Intrigen der Alteingesessenen, die ihn zu vernichten trachten, gehen so weit, dass eine zu Unrecht gegen ihn angestrengte Alimentenklage ihn endgueltig unmoeglich machen soll. Aber der Tierarzt hat auch Freunde; gemeinsam mit ihnen gelingt es, die Verleumder zum Schweigen zu bringen.
Der Sklave von Karthago/Revak #JUV 3345
USA, 1960, ca. 82 min. - Classic starring Jack Palance in this adventure movie from the Roman empire. Hannibals Macht ist dem Untergang nahe. Die vielen Kriege gegen Rom haben das Volk muede gemacht. Um seine Soldaten wieder vollausgeruestet in die Schlacht schicken zu koennen, benoetigt er viel Geld, deshalb laesst er friedliche Inseln auspluendern. Kainus legt an der Kueste der keltischen Insel Penda an und ueberfaellt das friedfertige Volk. Sie nehmen den Prinzen Revak als Geisel. Revak wird zu den Skalven im Ruderdeck gesteckt. Im Hafen von Karthago findet die Prinzessin Tirantha gefallen an ihm und befiehlt ihr zu Diensten zu sein. Er schmiedet einen Fluchtplan.
Der Schimmelkrieg in der Holledau #EVD 1094
1937, b&w, ca. 80 min. - Es geht um einen jahrzehntealten Streit zweier Doerfer um den Diebsstahl eines Schimmels. Mit Heli Finkenzeller, Richard Haussler, Kurt Meisel, Gustaw Waldau.
So Ein Affentheater #KR 536
Comedy, 1953, ca. 84 min., b&w - A young chemist drives everybody crazy with his strange inventions. When he inherits a chimpanzee the trouble really starts! A funny, cute story with a happy end. Enjoy! With Joachim Brennecke, Heli Finkenzeller. Finenzer. Ein junger stellungsloser Chemiker lebt in einer Familienpension und bringt alle Welt mit seinen seltsamen Erfindungen zur Verzweiflung, auch die junge Kosmetikerin, in die er verliebt ist. Von seinem Onkel, einem Zirkusdirektor, erbt er einen Schimpansen, der sehr zutraulich und klug ist, jedoch staendig Unfug anrichtet und viel Aergernis erregt. Nach einer turbulenten Affenjagd, die im Schauspielhaus endet, ist es jedoch der Schimpanse, der die baldige Hochzeit des Chemikers mit der Kosmetikerin ermoeglicht.
So ein Flegel #EVD 1218
German Classics - mit Heinz Ruehmann, Annemarie Soerensen, Oscar Sima
So Endete Eine Liebe #CH 632
1934, b/w, ca. 79 min. - In this drama, Metternich forces Austrian Archduchess Marie Louise to forsake her lover Duke Franz von Modena so she can marry Napoleon. A beautiful film you must see. With Paula Wessely, Willi Forst.
So ein Maedel vergisst man nicht #CH 563
B/W, ca 78 min. - A musical comedy in an artistic milley. The director, a wellknown theatrical actor and directo, made this film shortly before emigrating from Germany. Directed by Fritz Kortner; music by Ralph Erwin; featuring Dolly Haas, Willi Forst, and Oskar Sima.
So war der deutsche Landser #KR 4030
1955, b/w, ca. 82 min. - Some never before shown material from all theaters of war. From the Blitzkrieg in Poland to France, Belgium, Kiev, Leningrad, Africa... wherever the German soldier was, how he lived, fought and died.
Der Sohn Der Weissen Berge #RP 20041 OR IH 555
1930, Drama, b/w, "Das Geheimnis von Zermatt.? - Hans Turri (played by Luis Trenker), German ski champion, also works as an Alpine guide. He trains with his comrades for the coming championships, when just a few days before the event, an unpleasant and shady engineer named Milacs hires him as a guide. When Turri returns without Milacs, Turri is suspected of murder. Action drama set in the beautiful Swiss Alps.
Hans Turri, deutscher Skisprung- und Langlaufmeister, ist nebenbei auch noch Bergfuehrer. Er trainiert mit seinen Kameraden in einem Schweizer Wintersportort fuer die bevorstehenden Skimeisterschaften. Wenige Tage vor seinem Einsatz heuert ihn der ebenso unsympathische wie zwielichtige Ingenieur Milacs als Bergfuehrer an. Als Turri ohne Milacs zurrueckkehrt, gibt er an, dieser habe auf der Berghuette uebernachten wollen und ihn kurz vor der Huette als Fuehrer entlassen. Ein Anruf auf der Huette ergibt aber das Milacs dort nie gesehen wurde - Hans Turri geraet ploetztlich in einen boesen Verdacht! $39.95
Sommer der Angst #BBM 313
ca. 89 min. - Die junge Julia (Lee Purcel) wird als Waise von der Familie ihrer Cousine Rachel (Linda Blair) aufgenommen. Die Bryants sind zuversichtlich, dass sich die beiden Maedchen anfreunden werden. Nach einer Reihe raetselhafter Vorfaelle reift in Rachel der Verdacht das Julia etwas damit zu tun haben koennte. Julia legt ein geradezu krankhaftes Interesse fuer Okkultismus und Zauberei an den Tag.
Son of Satan #JUV 3167
ca. 86 min. - Sechs ehemalige Schueler der Stuart Morse Academy erhalten ueberraschend eine Einladung zum Klassentreffen. Die alte Schule finden sie verlassen vor, nur ein festlich geschmueckter Raum ist hell erleuchtet - ein gerade angerichtetes Festessen steht auf dem Tisch. Erstaunt stellen die sechs fest, dass sie die einzigen Schueler dieses ungewoehnlichen Klassentreffens sind. Mistrauisch geworden, versucht John zu Hause anzurufen, doch die Leitung ist tot. Cindy will diesen unheimlichen Ort sofort wieder verlassen aber die Tueren sind verriegelt. Auch die Fenster sind nicht zu oeffnen. Angst und Schrecken breiten sich aus, als die bei der Suche nach dem Schluessel die Leiche ihres alten Hausmeisters finden. Von panischer Furcht beherrscht, versucht jeder auf eigene Faust einen Weg nach draussen zu finden, doch sie haben keine Chance. Mit Christopher Flint, T.G. Finkbinder, Damien Knight. Regie C.S. Gochis
Sorgenfrei durch Dr. Flagg    #JUV 3376
USA 1938, s/w, ca. 80 min. Mit Fred Astaire & Ginger Rogers. Amanda Cooper zoegert immer wieder eine Ehe mit ihrem Freund, einen langweiligen Rechtsanwalt, einzugehen. Nach drei geplatzten Hochzeitsterminen schickt sie der verzweifelte Braeutigam zu einem Freund in psychiatrische Behandlung. Dr. Flagg erklaert sich bereit ihm zu helfen, erreicht jedoch das Gegentiel: seine Patientin verliebt sich in ihm… Discontinued. Out of print.
Spiegel des Lebens #CH 666
Austria, 1938, ca. 90 min., b&w - In this drama taking place before World War 1, the conflict between doctors and nonmedical practitioners comes to the fore. Directed by Geza von Bolvary, music by Hans Lang and Frank Fox; featuring Paula Wessely, Attila Hoerbiger, and Peter Petersen.
Spiel auf der Tenne #EVD 1072
1937, b/w, ca. 80 min. - To improve the tourist trade, a coach driver and an innkeeper have the great idea to start a country theater. A Bavarian folk piece complete with "Fensterln" and earthy humor. With Kurt Meisel and Heli Finkenzeller.
Spiel der Goetter #BBM 553
color, ca. 90 min., Klassiker - In einem Buddhistischen Kloster am Fusse des Himalaja hat es mit der Ruhe ein Ende. Die religioesen Zeremonien werden merklich durch die Fussball-Weltmeisterschaft gestoert. Der junge Orgyen und seine Freunde schleichen sich nachts aus dem Kloster um die Liveuebertragung im Fernsehen zu sehen. Der Ordnungshueter und der Abt fassen einen ebenso weisen wie ueberraschenden Entschluss... A big Movie hit in German Movietheaters.
Die Spur fuehrt Nach Berlin #EVD 1275
Politthriller, 1952 - Ein US-Anwalt sucht in den Truemmern Berlins enien Millionen Erben. Mit Irina Garden, Gordon Howard, Kurt Meisel, Hans Nielsen.
Standschuetze Bruggler (Marksman Bruggler) #IH 468
1936, b&w, ca. 87 min. - A Tyrolean farmer's son fights in World War 1. Directed by Werner Klingler; featuring Ludwig Kerscher, Franziska Kinz, and Rolf Pinegger.
Stern von Rio #HF 489
1940, b&w, ca. 95 min. - An adventurer and a wealthy south American fight over a giant diamond and a seductive nightclub dancer. This movie's initial popularity was largely due to the dancer's numbers, considered daring at the time. Directed by Karl Anton; featuring La Jana, Werner Scharf, and Gustav Diessl. 
Stradivari #CH 624
1935, b/w, German dialog, ca. 91 min. - In this drama, a young lieutenant inherits a Stradivarius violin that plays a critical role when he and is fiancée, a violin teacher, are separated by World War I. Directed by Geza von Bolvary; music by Alois Melichar; featuring Gustav Froehlich, Sybille Schmitz and Albrecht Schoenhals.
Die Stimme des Herzens (Der Saenger ihrer Hoheit) #CH 503
Germany, 1937, b/w, 90 min. (Der Saenger ihrer Hoheit). - The famous Benjamino Gigli stars in this musical video. He sings more than in any other film. High spirited. Discontinued. Out of print.
Der Stolz der 3. Kompanie #CH 672
1931, ca. 86 min., b&w - At just the right time, a musketeer adept at acting manages to get the girl he loves and leave the army. This comedy was later banned by the National Socialist government because of the disrespect it supposedly showed toward the military. Directed by Fred Sauer; music by Hans May; featuring Heinz Ruehmann, Adolf Wohlbrueck, and Viktor de Kowa.
Das suendige Dorf #FD 20035
ca. 94 min. - Eine herrliche Filmkomoedie. With Joe Stoecker, Beppo Bremm, Guenther Luenders u.v.a. A very funny story about hushed-up young love entanglements. The plot thickens when a decision needs to be made by the village elders to ban one of their own for misconduct. A fascinating and hilarious piece of Bavarian with! Discontinued. Out of print.
Der Superbulle # JUV 3166
Action movie, ca. 82 min., color, Original Kinofilm with Goetz George. - Our hero Goetz George is after some bank robbers. A life and death situation! Great acting and lots of action!
Am Morgen dieses Tages wird der Kripomann Eddie Blomfield (Goetz George) in einern Lohngeldraub verwickelt. Er stellt den Taeter Blinky Smith, der auf der Flucht mit seinem Wagen in den Tod rast. Sein rauschgiftsuechtiger Bruder hat nur ein Ziel, den Tod seines Bruders zu raechen. Damit Smith schneller an sein Ziel kommt, ueberfaellt er Blomfields zustaendiges Polizeirevier. Mit einem lebensgefaehrlichen Einsatz versucht Superbulle Blomfield, den Verbrecher ausser Gefecht zu setzen. Smith kann sich befreien und stuerzt sich auf seine schwere Maschine. Nun beginnt eine moerderische Verfolgungsjagd. Ein Zweikampf auf Leben und Tod. Limited Supply.
Symphonie aus der Neuen Welt - Anton Dvorak #HH 109
1970, ca. 60 min. - The story of Anton Dvorak, the great composer, and his journey to the U.S. A strong source of inspiration for the 19th century composers was their country's native music. You will also have the opportunity to see Karlsbad and its surroundings in this delightful video tape. Discontinued. Out of print.
T
55 Tage in Peking #JUV 3299
1962, ca. 147 min. - In Peking bricht im Fruehjar 1900 der "Boxeraufstand" los, jene Aktion fremdenfeindlicher chinesischer Geheimbuende, die sich insbesondere gegen die Europaeer richtet. Im Diplomatenviertel verschanzen sich einige hundert Angehoerige auslaendischer Gesandschaften und fuehren fuer fast zwei Monate einen heldenhaften Kampf gegen die fanatisch angreifenden "Boxer".
Tagebuch einer Verliebten #EVD 1403
1953, b/w, ca. 100 min. - Liebeskomoedie Siebter Hochzeitstag, und dann das! Barbara findet zwei Schlafwagenkarten. Klarer Indiz das Gatte Paul mal wieder einen "Flirt" hat. Wuetend schreibt sie in ihr Tagebuch: "Mein Mann hat mich mit einer anderen betrogen. Rache!" Nach einigem hin und her faehrt Barbara an die Riviera - zu ihrem einstigen Verehrer Nicola. Mit Maria Schell, O.W. Fischer, Franco Andrei, Margarethe Haagen.
Tante Gusti kommandiert #CH 518
1932, comedy, b/w, ca. 71 min. - "Husarenliebe". A funny musical farce in military surroundings. Featuring Hansi Niese, Max Adalbert and Else Elster.
Tanz mit mir #JUV 3377
1934, USA, ca. 94min. b/w, With Fred Astaire and Ginger Rogers. A romantic love story with lots of dancing, etc.
Mimi Glossop will sich scheiden lassen. Um ihren Mann loszuwerden, muss sie jedoch einen Seitensprung vortaeuschen. Ihre Tante Hortense und ihr Anwalt engagieren einen Gigolo mit dem sich Mimi in einem englischen Badeort treffen soll. Doch das Taeuschungsmanoever verlaeuft anders als geplant. Denn dort verliebt sie sich in einen amerikanischen Taenzer den sie faelschlicherweise fuer "ihren Seitensprung" haelt... Discontinued. Out of print.
Tanzende Sterne #EVD 1408
1952, b/w, ca. 85 min. - Revuefilm Nachtclubbesitzerin Nicolle hat ihr Establissement beim Gluecksspiel verzockt. Also ab an die Riviera und sich einen reichen Mann angeln. Prima fuer Nicolles Stieftochter, dass dieser auch noch einen Sohn hat... Reich ausgestattet, tanzwuetig aber leider ohne zuendenden Witz. Mit Germaine Damar, Georg Thomalla, Fita, Axel von Ambesser, Ursula Justin.
Torreani #KR 537
1951, b&w, ca. 93 min. - A down on his luck circus artist has landed in jail in South America. One day he escapes and returns to Berlin. There he interrupts the lives of his former friends. A story of murder, passion, and life in the world of variety. Directed by Gustav Froehlich. Cast: Gustaf Froehlich, Rene Deltgen. Der heruntergekommene Artist Torreani verbuesst in Suedamerika eine Zuchthausstrafe. Er verschenkt seine Erbschaft, ein Variete in Berlin, und seinen Namen an den mit ihm befreundeten Artisten Holsten. Nachdem dieser das erneuerungsbeduerftige Varietehaus mit grosser Energie wieder aufgebaut hat, kommt der aus dem Zuchthaus entflohene Torreani zurueck. Eine Taenzerin, deren Karriere Torriani einst beinahe zerstoerte, will ihn toeten, verfaellt ihm jedoch aufs neue. Um ihre Tochter vor weiterem Unheil zu bewahren, erschiesst die Mutter der Taenzerin Torreani. Der Mordverdacht richtet sich gegen Holsten, ehe die Angelegenheit durch das offene Gestaendnis der Taenzerin ihre Aufklaerung findet. Holsten kann nun seine erfolgreiche Arbeit am Variete fortsetzen.
Tanz auf dem Vulkan #HF 520
1938, b&w, ca. 82 min. - A cross between a historical drama and an operetta, this film depicts the exploits of the famous French actor Debureau during the period of the July revolution in 1830 Paris. Directed by Hans Steinhoff; featuring Gustaf Gruendgens, Sybille Schmitz, and Ralph Arthur Roberts.
Die Teufels Brigade #JUV 3346
USA, German language, 1951, ca. 96 min. - Western starring Gary Cooper, Mari Aldon. It's 1840 in Florida and as always, Indians and Whites are engaged in disputes.
Man schreibt das Jahr 1840: Von einem Fort im Schungel Floridas werden die feindlichen Indianer von Waffenschmucklern mit Gewehren versorgt. Leutnant Tufts und Hauptmann Quincy Wyatt gehen mit vierzig Mann auf einen langen Marsch, um dies zu unterbinden. Der im Schutze der Nacht geplante Anschlage gelingt. Auf dem Rueckweg wird ihnen der Weg von einer Horde Indianer abgeschnitten und zwingt sie zu einem strapaziosen Umweg durch den Dschungel.
Remember, all videos on this page are in the American NTSC/VHS system. All are in German language with no subtitles.
Tiefland #CH 538
1954, b&w, ca. 98 min. - Directed by Leni Riefenstahl, the last of her films twelve years in the making. A landowner in the Pyrenees arranges a marriage between a gypsy dancer and a shepherd so he can have the woman as a mistress. This drama, based on an Eugen d'Albert opera, was the last completed feature film directed by Leni Riefenstahl. Music by Giuseppe Becce and Eugen d'Albert; featuring Leni Riefenstahl, Berhard Minetti, and Franz Eichberger.
Time Barbarians #JU 3220
color, ca. 90 min. - The mighty barbarian King Doran is famous for his strength and justice. His journey leads him through time and space, ending in present day Los Angeles, where he saves pretty TV reporter Penny Price from a dangerous street gang. This action-fantasy film brings you sword fighting form the past to the present. Der maechtige Barbarenkoenig Doran ist beruehmt fuer seine Gerechtigkeit und Kraft. Mit Hilfe eines magischen Kristalls, der ihn unbesiegbar macht, wehrt er alle Angreifer ab. In seiner Abwesenheit wird seine geliebte Frau Lystra von Manorak ermordet. Er stielt den von Lystra gehueteten Kristall und flieht durch Raum und Zeit. Doran schoert Rache und mit dem magischen Schwert folgt er Manorak ins heutige Los Angeles. Er rettet die Fernsehreporterin Penny Price und bald hallt der Klang funkenspruehender Schwerter durch die Strassenschluchten von L.A.
Titanic #HF 320
1943, b&w, ca. 90 min. - In this spectacular depiction of the Titanic's disastrous voyage, the stories of many passengers are told, including the British ship owner whose greed is responsible for the disaster and the ship's German first officer, who tries to forestall it. Scenes of the sinking were used uncredited in the 1958 British film A Night to Remember. Directed by Herbert Selpin and Werner Klingler; featuring Sybille Schmitz, Kirsten Heiberg, Hans Nielsen, and Ernst Fritz Fuerbringer. ( A note on distribution: After seeing this film, Propaganda Minister Goebbels thought the scenes of mass panic were not appropriate viewing for Germans, who were then being subjected to British bombing. So he allowed only foreign release, with the film premiering in Paris in 1943. Beginning in late 1949 Germans could see the film, but the Allied powers forbade its showing in West Germany in 1950 because of its anti-British propaganda.)  
Der Tolle Bomberg #1    #CH 550
German lang., 1932, b/w, ca. 91 min. A comedy set in the Rhineland, based on the novel by Josef Winckler. Directed by Georg Asagaroff; music by P.J. Haslinde and Hans Erdmann; featuring Hans Adalbert Schlettow, Liselott Schaak, and Paul Heidemann, Marion Michael, Harald Juhncke, Gert Froebe, Camilla Spira, Paul Henckels, Hubert von Meyerinck, Ingeborg Christiansen. Gredreht auf Schloss Wiesenberg.
Der tolle Bomberg #2 #KR 3019
color, 1957, 90 min. - The story of the crazy Baron Bomberg who loved to play tricks with life and the world, raced his horse with a train, hid fleas in the tuxedos and ball gowns of his relatives dressed as a nurse to get into a girl's boarding school, jumped from the city tower, held his own eulogy, and adopted his own son. It's the bawdiest and funniest Hans Albers film ever. Eine turbulente Komoedie mit den Lieblingen des deutschen Lustspielfilms. Die Streiche des tollen Barons Bomberg, der sich ueber die Welt lustig machte - mit der Eisenbahn um die Wette reitet, narkotisierte Floehe in die Frackschoesse und Dekolletes seiner lieben Verwandten steckt, als Krankenschwester in ein Maedchenpensionat eindringt, vom Rathhausturm springt, seine eigene Leichenrede haelt und schliesslich seinen leiblichen Sohn adoptiert, erzaehlt der derbste und humorvollste aller Hans Albers Filme.
Traumulus (Dreamulus) #CH 663
1936, b&w, ca. 94 min. - In a small town in Wilhelmine Germany, an overly idealistic secondary-school principal, blind to severe problems at home and at school, sees the error of his ways, when one of his students commits suicide. Many have praised Emil Jannings's lead performance in this drama based on the play of the same name by Arno Holz and Oskar Jerschke. This film was hugely successful and received many plaudits from the National Socialist government. Directed by Carl Froehlich; featuring Emil Jannings, Harald Paulsen, and Hilde Weissner. EVD 1089
Trottel im Weltall (Naked Space) #BBM 53
ca. 94 min., color - Irgendwann in ferner Zukunft: Das Raumschiff Vertigo unter dem Kommando des etwas einfaeltigen Captain J. Jameson hat den Auftrag, unbekannte Galaxien zu erforschen. Auf einem Zwischenstop entdecken Jameson und seine Crew einen Protoplasma-Klumen den sie mit an Bord nehmen.Nach und nach wird die Manschaft der Vertigo dezimiert. Ein Wettlauf mit der Zeit beginnt. Mit Leslie Nielsen u.v.a.
Trouble in Mind #BBM 581
color, ca. 107 min. - Hawk, ein ehemaliger Bulle, wird aus dem Gefaengnis entlassen. In einem Cafe der Endzeit-Stadt Rain City lernt er die attraktive Georgia und ihren Verlierer-Freund Coop kennen. Coop laesst sich auf kleine krumme Geschaefte mit dem Unterweltkoenig Hilly Blue ein und geraet immer mehr in den Sog der Hoelle. Hawk ist der einzige der ihm noch helfen kann. Ein blutiges Finale soll die Nacht beenden. Mit Kris Kristofferson, Keith Carradine, Lori Singer, Divine, u.a.
Truxa #HF 486
1936, b/w, ca. 97 min. - A music hall dancer in Berlin encounters jealousy and intrigue among her fellow performers. This was one of the most popular variety entertainment films of prewar Germany. Featuring La Jana.
Der Tunnel #HF 420 (The Tunnel) 1933, b&w, ca. 80 min. - Based on Bernhard Kellermann's 1913 novel, this spectacular internationally-successful science-fiction film portrays the building of a tunnel between America and Europe under the seabed. Directed by Kurt Bernhardt; featuring Paul Hartmann, Olly von Flint, and Gustaf Gruendgens.  
ok 11/12

Alle Videofilme auf dieser Seite sind in deutscher Sprache ohne Untertitel.
For hundreds more exciting and stimulating German movies
of the last 60 years, click on the letters below.
30 Day Rental Rates
Rental charges for a 30 day period. Shipping time is included in this period.

1 Tape

$10.50

5 Tapes

$34.50

2 Tapes

$17.00

6 Tapes

$41.00

3 Tapes

$23.00

7 Tapes

$47.25

4 Tapes

$28.50

8 Tapes

$52.80
The shipping charges to you are included in our low, low rental fees above. You are responsible for paying the return shipping. We ship via UPS and most orders are processed and leave our store the same day they are received. We also include an order form on which to place your next order if you so desire. There is aboslutely no obligation to rent more videos. The shipping container is usually suitable for use to return your tapes to us. We even enclose a mailing label with our address and your return address which may be placed on the container when you return your tapes. What could be easier?
We also rent videos to schools.
Schools may use the rates listed above if order is secured with a charge card.
If invoicing is required, the charge is $25.00 per tape.
Alle unsere Videotapes, nicht nur 'Rental only' konnen Sie fuer 30 Tage leihen.
Anruf genuegt: 1-800-252-1957 EST.
How else may I place an order?
Click on the envelope below to send e-mail
to the German Language Video Center!

Not responsible for typographical errors.
Video run times are approximate.
Prices and availability subject to change without notice.
Send comments regarding contents of this page to
glvc@indy.net





Member VSDA since 1985.

Last modified: Friday, January 21, 2022 6:00 PM
German Language Video Center© 1997/2016
Entire Website copyrighted 1997, 1998, 1999, 2000, 2001, 2002, 2003, 2004, 2005. 2006, 2007, 2008, 2009, 2010, 2011, 2012, 2013, 2014, 2015, 2016
No reproduction or download allowed for commercial purposes without written permission.

GLVC 2016©.