The place where our customers send their friends!
Welcome to the Only American Video Tape Store for rare German Movies and Old ZDF volksmusik shows.
Please note: All video tapes are in the American NTSC VHS video format
and will play on all VCR's in North America. We are closing out all of our VHS inventory. This will be your last chance to obtain these beautiful ZDF music videos and hundreds of classic German movies and heimatfilme. Due to the limited demand in the USA, most of these movies will unfortunately never be available on DVD in America.
Once our videos are gone, they're gone!!!
We have drastically reduced the prices on over 2000 video titles closeout. Make sure to buy these classics while supply lasts.
On all VHS clouseout prices we will send you a new or previously viewed tape.
CLOSEOUT!!!!!
BUY NOW!!!
Any 10 videos for only $49.95
plus $19 s/h
while supplies last
Here are some of our extensive listings of beautiful and classic German
films from the last 70 years. Prices listed are the retail prices.
Remember all videos are in the American NTSC-System
and in German language only.
Please note: most of our old classic video titles starting with
Order # IH, HF, CH or EVD will be discontinued; and will be no longer
be available for sale in the US once our limited inventory is depleted. We are not able to reorder any of those films.
Order now while they are still available. Some films might be still listed even though they are not any longer available.
Alle Videofilme auf dieser Seite sind in deutscher Sprache ohne Untertitel.
D
Damals #HF 346
b/w, 1943, ca. 90 min. - Drama, Zarah Leander plays an English doctor who finds work in a South American clinic after suffering years of guilt for endangering a patient's life, but is then accused of murder. Directed by Rolf Hansen; co-starring Hans Stuewe and Rossano Brazzi.
Danton #CH 677
1931, b&w, ca. 89 min. - During the French Revolution, Danton marries a royalist, negotiates with the Duke of Coburg to turn back an invasion, and fights Robespierre's malicious intrigues and growing dictatorship. This highly-praised drama features some of the finest theater actors in Weimar Germany. Directed by Hans Behrendt; music by Artur Guttmann; featuring Fritz Kortner, Gustaf Gruendgens, Lucie Mannheim, and Alexander Granach.
Das kann Jedem Passieren (1952)#EVD 1261
b/w. 90 min. Lustspiel. Gustav Knuh bringt seinem Steuerberaten Heinz Ruehmann in teufels Kueche. Er haengt ihm seine unehlichen Zwillinge an. Doch das Schicksal meint es auch diesmal gut mit ihm.
**No Longer Available**
Der Stolz der 3. Kompanie (The Pride of the Third Company) #IH 672
1931, b&w, ca. 86 min. - At just the right time, a musketeer adept at acting manages to get the girl he loves and to leave the army. This comedy was later banned by the National Socialist government because of the disrespect it supposedly showed toward the military. Directed by Fred Sauer, music by Hans Mayl; featuring Heinz Ruehmann, Adolf Wohlbrueck, and Viktor de Kowa.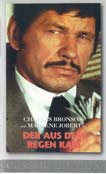 Der aus dem Regen kam #JUV 3248
ca. 141 min. Action - Grauenvoll luesterne Augen starren Mellie durch das Schaufenster an, als sie ein Kleid anprobiert. Und ebenso scheussliche Haende werfen sie wenig spaeter zu Hause auf ihr Bett. Ein Alptraum beginnt. Zwei Schuesse machen diesem Grauen ein Ende, Mellie hat den Fremden erschossen. Was hat sie getan? Wer wird ihr glauben? Voellig kopflos verwischt sie alle Spuren und fuehlt sich gerettet, doch bald schon verfolgt sie ein zweiter Fremder. Der Apltraum geht weiter. Starring Charles Bronson, Marlene Jobert.
Die Degenhardts #CH 467
1944, b&w, ca. 93 min. - A longtime civil servant in Luebeck is unjustly forced to retire, but he voluntarily returns to his post after his city is hit by allied bombing in World War 2. Directed by Werner Klingler; featuring Heinrich George, Renee Stobrawa, and Wolfgang Kukschy.
Please note: we are drastically reducing our video library. If there is a special movie you are interested in you may want to purchase or rent it now before the very last tape is sold and no longer available in USA.
Diesel   #IH 318
1942, b&w, ca. 82 min. - Willy Birgel portrays Rudolf Diesel, who invented the diesel engine in the 19th Century. He receives support from his wife and is eventually aided by the Krupp firm, but is opposed by short-sighted academics and engineers. Directed by Gerhard Lamprecht; co-starring Paul Wegener and Hilde Weissner.
Dinner For One #HH 3553
Color, English lang., 20 min. - James and the 90th Birthday Party was celebrated in a live colorful performance in Frankfurt. Mrs. Sophie celebrates her 90th Birthday with her four best friends. These friends have passed on years ago, but her loyal butler, James, impersonates them and carries on the tradition. Gewidmet fuer Camilla Horn; James: Bodo Schaefer; Mrs. Sophie: Macha Stein; Earl of Standford: Wolfhardt Kuhlins; Regie: Dr. Harald Schaefer. (With printed English and German text) Sold Out.
Der Dorfadvokat (1944)#EVD 1253
Liebeskomoedie, b/w - Hilde Hildebrant. Die unkonventionelle Art des Juniorchefs geht dem Kanzleivorsteher aufs Gemuet.
Dreyfus   #IH 661
b&w, 1930, ca. 91 min. - This is a careful reconstruction of the case of Alfred Dreyfus, the Jewish captain in the French general staff who was unjustly accused of treason in 1894. Juxtaposing intimate scenes and historical tableaux, this drama shows how authorities tried to cover up the facts and how people like Emile Zola made this an issue that tore France apart. The film is notable both for having made a courageous statement in an increasingly anti-Semitic Germany and for its splendid cast. Directed by Richard Oswald; featuring Fritz Kortner, Grete Mosheim, Heinrich George, Albert Bassermann, and Oskar Homolka.
Die Frau Meiner Traeume (The Woman of My Dreams) #IH 349
color, 1944, ca. 93 min. - In this musical heavily influenced by Busby Berkeley, a revue star falls in love with an engineer who takes a dim view of light entertainment. Directed by Georg Jacoby with music by Franz Grothe and featuring Marika Roekk Wolfgang Lukschy and Grethe Weiser.  Quality: FAIR
Dein Leben gehoert mir    #CH 673
1939, b/w, ca. 79 min. - Detectives investigate the murder of a violinist found on a operetta director's boat. With Karin Hardt, Dorothea Wieck and Karl Martell.
Der Verrufene Berg (Im Banne des Monte Miracolo) #RP 20039
b/w, ca. 85 min. - The Monte Miracolo is reputed to be a cursed mountain since up to now all attempts to conquer it have failed and resulted in tragedy and death. Two men who work in the village plan to climb the mountain. One is experienced and cautious while the other's careless heroics bode nothing good. A "must-see" for all Trenker fans! Written and directed by Luis Trenker; featuring Luis Trenker, Dora Bini, and Umberto Sacripanti.
Der Monte Miracolo steht im Ruf, ein "verfluchter" Berg zu sein, denn alle Versuche, ihn zu bezwingen, sind bisher auf tragische Weise gescheitert. So ist es auch kein Wunder, dass von den Bewohnern St. Christophoros, das zu Fuessen des Berges liegt, niemand einen erneuten Besteigungsversuch wagt. Als jedoch zwei Hollaendern erstmals die Bezwingung des beruechtigten Berges gelingt, scheint der Bann gebrochen. Zwei begeisterte Alpinisten, die als Ingenieure im Dorf an einem Staudammprojekt arbeiten, wollen nun auch eine Expedition zum Berggipfel unternehmen. Waehrend sich der eine Bergsteiger erfahren und umsichtig zeigt, verheisst das leichtfertige Draufgaengertum des zweiten nichts Gutes! Also # IH 558
Der brave Suender (The Well-Behaved Sinner)#CH 678
1931, b&w, ca. 91 min. - In this comedy written by Fritz Kortner and Alfred Polgar, a very proper head cashier and his young friend unwillingly commit fraud when they plunge into Vienna's night life. Max Pallenberg's lead performance displays the verbal and improvisational skills he was so well known for in German theater. Directed by Fritz Kortner, Music by Nikolaus Brodszky and Artur Guttmann, featuring Max Pallenberg, Heinz Ruehmann, and Dolly Haas.
Derby   #FD 2060
b/w, 1949, ca. 93 min. - A young war orphan is raised on the horse farm Lindenhof. She even gets her own filly to race. Against the advice of her vet and friend, she lets her injured horse start in the derby. Post war drama starring Willy Fritsch and Hannelore Schroth. 
Die vom Niederrhein  #CH 536
b/w, 1933, ca. 60 min. - Family relations, high society and student life figure in this romantic story. Directed by Max Obal; featuring Lian Deyers and Albert Lieven.
Donner, Blitz und Sonnenschein #EVD 1098
1936, b/w, ca. 90 min. - Comedy with Karl Valentin, Liesl Karlstadt, Ilse Petri.
Der Draufgaenger #CH 637
German language, b/w, 1931, ca. 86 min. - In this adventure, a Hamburg harbor policeman deals with murder, stolen jewelry, a Sing Sing convict, and a dance-hall girl. Directed by Richard Eichberg; music by Hans May; with Hans Albers, Marta Eggerth and Gerda Maurus. Discontinued. Out of print.
Dr. Rosin #BF 50
b/w, 1949, ca. 83 min. This film deals with a turn of the century Vienna physician who becomes involved with crime and is enslaved by an opium ring, is a sweeping Hollywood style epic (foreshadowing such films as "Dr. Zhivago"), which recreates old Vienna, Marseilles, San Francisco, and Shanghai on the back lot of the small Vienna studio. Brilliantly filmed and acted with music by the Vienna Symphony Orchestra, this film has been lost since the 1950s and this print, which is missing some of the dialogue scenes (it doesn't detract from the film's flow which is strongly visual), is the only surviving copy of this work.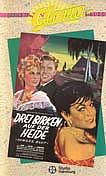 Drei Birken auf der Heide   #FD 20048
color, 1931, ca. 91 min. - After many years absence, Forester Hans Freese returns to the Heide village where he spent his childhood. Here he meets again the love of his youth, Rose. A wonderful Heimat film with Margit Saad, Sonja Sutterm.
Der Diamant des Zaren #IH 669
Germany, 1934, b&w, ca 80 min., - also known as Der Orlow [The Orlov]) (The Czar's Diamond). A revue singer falls in love with an auto mechanic, not knowing that he's actually a grand duke who has a famous diamond. This musical adventure is based on the operetta Der Orlow by Bruno Granichstaedten and Ernst Marischka. Directed by Max Neufeld; music by Bruno Granichstaedten; featuring Liane Haid, Ivan Petrovich, and Viktor de Kowa. Discontinued. Out of print.
Die drei Codonas  #EVD 1088
1940, b/w, ca. 80 min. - Based on a true story, the sad fate of these famous acrobats. Their love story and dramatic end really happened. A lavish and highly acclaimed film. With Rene Deltgen, Josef Sieber, Annelie Reinhold and many more! Discontinued. Out of print.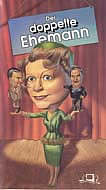 Der Doppelte Ehemann  #FD 20032
b/w, ca. 95 min. - The wealthy owner of an elegant fur store is the willing target of intense amorous advances by an extremely good looking young señorita from South America. With Grete Weiser.
**No Longer Available**

Du Bist Mein Glueck  Featuring Beniamino Gigli #CH 545
b/w, 1936, ca. 96 min. - In Munich, an Italian laborer studying operatic singing, falls in love with his music teacher's wife. This film's lead actor was a world-renowned opera star. Directed by Karl Heinz Martin. Featuring Beniamino Gigli, Isa Miranda, and Gustav Waldau. A classic movie! Discontinued. Out of print.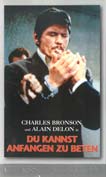 Du kannst anfangen zu beten - Charles Bronson  #JUV 3247
Action, ca. 110 min. - Alain Delon und Charles Bronson bieten reisserische Perfektion und ueberragende Aktion bis zur letzten Minute. Die zwei entlassenen Algerienkaempfer werden zu einem Team wider Willen. Das gemeinsame Ziel: ein Tresor mit ein paar Millionen Inhalt. Aber auf dem Weg zum grossen Geld stehen sie sich selbst oft im Wege. Schliesslich finden sie doch zu gegenseitiger Achtung. Der Schluss bietet noch einmal eine grosse Ueberraschung. Mit Charles Bronson, Alain Delon, Olga Georges Picot, Brigitte Fossey.
Die Drei Dorfheiligen  #FD 2003
b/w, 1949, ca. 101 min. - three important members of the village council act as moral judges and try to destroy the romance of the young village teacher. In reality, these three "village saints" have committed a few sins in the past. With Joe Stoeckel, Beppo Brehm, Willy Reichert. Discontinued. Out of print.
*No Longer Available*
Donaumelodien #KR 504
1936, ca. 83 min., b&w, comedy - Director: Willy Reiber. Cast: M. Andergast, W. Liebeneiner, J. Stoeckel, G. Alexander. Charming, musikalisches Lustspiel, Gesellschaftsmilieu - Donaudampfer. Der Film wurde 1935/36 in den Hunnia-Ateliers in Budapest hergestellt.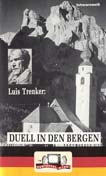 Duell in den Bergen #RP 20038
b/w, 1950, ca. 95 min. - Luis Trenker and Marianne Hold star in this suspenseful Alpine drama set in the breathtaking Dolomites. A border patrol officer is sent to a village to infiltrate a group of dangerous drug smugglers. A bitter battle erupts between the police and the villains. Action and Suspense! Discontinued. Out of print.
Durch Dick und Duenn #KR 505
1951, ca. 88 min., b&w, comedy - Director: Theo Lingen. Cast: Theo Lingen, Grethe Weiser, Fita Benkhoff. A typical middle class family, shady business at the jewelry store, some hanky panky going on and a beat up old car are the heart of this wonderful comedy.  Herr Mueller, Teilhaber eines Juwelierladens, macht eine Erbschaft. Die Familie ist begeistert. Die Erbschaft stellt sich als ein sehr altes Auto heraus. Mueller moechte das Vehikel sofort verkaufen aber erfaehrt das sein Onkel es sehr geliebt hat. Zweifelnd faehrt Mueller mit ihm heimwaerts und findet heraus das sich der Motor gratis mit Benzin fuellt, es seinen neuen Herrn vor boesen Strassenraeubern bewahrt und ihn schliesslich frohgemut nach Hause bring.
Der Untertan (The Emperor's subject) #CH 680
1951, East Germany, b&w, 90 min. - In Wilhelmine Germany, a bourgeois man becomes an industrialist and minor politician by groveling before those above him and trampling those underneath. The director made this highly-praised satire, based on the book of the same name by Heinrich Mann, to show the authoritarianism and chauvinism he believed led the Germans into Hitler's arms. Directed by Wolfgang Staudte; music by Horst Hans Sieber; featuring Werner Peters, Renate Fischer, and Sabine Thalbach.
E
Das Ekel  #EVD 1074
b/w, 1939, ca. 80 min. - A well-to-do wine merchant is a regular family tyrant. Nobody can do right for him. With Hans Moser, Josefine Dora, Herma Relin, Fritz Kampers, Kurt Meisel u.v.a.
Der Spediteur und Weingrosshaendler Karl Straeubler (HM) ist ein richtiger Familientyrann. Keiner kann es ihm rechtmachen, misstrauisch und eigensinnig ist er. Besonders erbost ihn die neue Strassenbahn, die bei seinem Haus in der Kurve quietscht. Es war ein grosser Lustspiel-Erfolg.
Einbrecher (Burglars) #CH 627
1930, German dialogue, b&w, ca. 93 min. - In this musical comedy, set in Paris, the wife of a doll-factory owner falls in love with a burglar. Directed by Hanns Schwarz; music by Friedrich Hollaender; featuring Lilian Harvey, Willy Fritsch, and Ralph Arthur Roberts. Discontinued. Out of print.
Eine Frau fuer 3 Tage  #EVD 1093
1944, b&w, ca. 80 min. - ein verwegenes, heiteres Spiel um die Liebe zweier junger Menschen. Featuring Hannelore Schroth, Carl Raddatz, Ursula Herzking, Charlotte Witthauer, Werner Scharf, Maria Zidek. Discontinued. Out of print.
The Sea Wolf #BBM 209
ca. 90 min., color - In einer nebeligen, dunklen Nacht kommt es in der Bucht von San Francisco zu einer Schiffskatastrophe. Der junge Aristrokrat Humphrey Van Weyden ist der einzige Ueberlebende dieses Ungluecks. Einsam und hoffnungslos treibt er, an eine Holzplanke geklammert, auf dem Meer. Da taucht ploetzlich wie aus dem Nichts ein Schiff auf - "Ghost". Ihr Kapitaen Wolf Larsen ist ein unmenschlicher Tyrann, der vor nichts zurueckschreckt und seine Mannschaft mit roher Gewalt beherrscht. Mit Christopher Reeve und Charles Bronson. Discontinued. Out of print.
Eine Nacht im Mai #EVD 1238
1938, b/w - Musikalisches Lustspiel. Marika Roekk, Victor Stall, Karl Schoenbock, Oscar Sima. Die junge Inge hat ihren Fuehrerschein verloren. Trotzdem faehrt sie los, baut prompt einen Unfall und flieht... Discontinued. Out of print.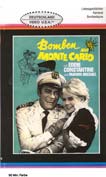 Eine Nacht in Monte Carlo  #KR 1189
color, 1959, ca. 88 min. - Comedy and Adventure, (also known as "Bomben auf Monte Carlo #2), Starring Marion Michael, Eddie Constantine, Gunter Philipp and Viktor de Kowa. During carnival time in Monte Carlo, penniless Eddie meets a rich princess who pretends to be a poor girl. Great entertainment. Fun and laughter!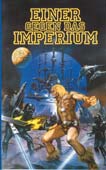 Einer gegen das Imperium  #JU 3225
color, ca. 80 min. - The adventures of a young stone age hunter who is looking for his people. Bloody fights with dinosaurs, a bit of romance and a clash with a futuristic Androit culture give you non stop action and excitement.  Yor ist ein Jaeger der Berge und hat in einem Kampf mit einem Saurier das Leben der schoenen Kalaa und ihres Beschuetzers Pag gerettet. Yor sucht nach seinem Volk. Mit Kalaa und Pag zieht er durch die Steinzeitwelt und trifft Roa die von seinem Volk ist und entbrennt in Liebe zu ihr. Roa wird jedoch bei einem Kampf getoetet. Yor zieht weiter mit Kalaa und Pag und findet in einer Hoehle einen magischen Spiegel. Dieser Spiegel gehoert zur Welt der Androiden. Yor beteiligt sich an dem Kampf gegen die Roboter. Am Ende ueberleben Yor und Kalaa.
Endstation (1935) #EVD 1248
84 min., Liebesromanze, b/w - Paul Hoerbiger, Maria Andergast, Hans Moser, Etta Klingenberg. Der selbstbewusste Strassenbahnschaffner Karl soll die Tochter des Zuckerbaeckers heiraten, verliebt sich aber in eine kleine Modistin. Verwicklungen und Missverstaendnisse in einer Romanze aus dem Wiener Kleinbuergermilieu; mit Humor und Gesang.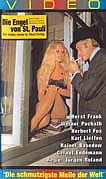 Die Engel von St. Pauli  #FD 2053
color, ca. 93 min. - The Reeperbahn in Hamburg is famous the world over. The tough guys and bad girls live by their own code. If someone goes against the laws of St. Pauli, they band together and "clean up" their district. A hot, hard St. Pauli thriller.
*No Longer Available*

Ein Herz kehrt heim  #FD 2055
b/w, 1956, ca. 81 min. - Maximilian Schell must decide between duty and love. Parents fight for their son. A woman stands between two men. Love, music and a career determine this drama of the heart. With Willy Birgel, Maria Hoist. Discontinued. Out of print.
El Cid #JUV 3298
1961, color, ca. 150 min. - Ein Ritter- und Heldenepos voll Dramatik und menschlicher Groesse. Die Lebens- und Ruhmestaten des spanischen Nationalhelden Rodrigo Diaz de Bivar, den die Spanier "El Campeador" (den Kaempfer) nannten. Die Mauren gaben ihm sogar den Beinamen "El Cid." Aufreibende Kaempfe mit unzaehligen Soldaten gehen dem Sieg des El Cid um die als uneinnehmbar geltende Festung voraus. Sein Triumph wird als der Groesste des spanischen Mittelalters gefeiert. Samuel Bronstons Verfilmung folgt dieser Groessenordnung. Mit Charlton Heston und Sophia Loren in den Hauptrollen inszenierte er ein Mammutwerk von Liebe und Tod, heroischer Groesse und unwandelbarer Treue. Kostbare Ruestungen, Gewaender und Waffen wurden originalgetreu angefertigt, historische Bauten als Kulissen gewaehlt um die Zeit des Mittelaters wieder aufleben zu lassen. Mit Charlton Heston und Sophia Loren. Discontinued. Out of print.
Der Engel mit dem Saitenspiel* #EVD 1205
1944, Love Story, ca. 90 min. - In einer Silvesternacht lernen sich auf einer einsamen Baude in den Bergen die Studentin Susanne Henricci und der Fabrikant Achim Strengholt kennen und lieben. Durch eine unglueckliche Verwechslung der Bahnhoefe verlieren sich beide aus den Augen. Mit Hertha Feiler, Hans Soehnker, Hans Nielsen, Susanne von Almassy, Otto Graf. Discontinued. Out of print.
Elf Tage, Elf Naechte  #JU 3227
ca. 80 min. - Adult, contains nudity. In the morning on the ferry to Manhattan, Michael is propositioned by Sarah and for the next 11 days and ni ghts before his wedding he experiences what millions of men dream about!
Morgens auf der Faehre nach Manhatten. Vor ihm steht ploetzlich eine atemberaubende, bildschoene junge Frau. Er traut seinen Augen nicht, als sie ihren schwarzen Mantel oeffnet - die Traumfrau steht splitternackt vor ihm! Ihr wunderschoener, sinnlicher Koerper und ihre provozierendes Laecheln sagen ihm: "Ich moechte Dich lieben - hier und jetzt, sofort." Millionen von Maennern auf der ganzen Welt traeumen ihr Leben lang von einem solchen, oder einem aehnlichen Erlebnis! Ausgerechnet Michael, dem gutaussehenden jungen Ingenieur aus New York, passiert dieses unglaubliche erotische Abenteuer elf Tage vor seiner Hochzeit! Die Gaeste sind laengst eingeladen. Die Hochzeitsfeier ist seit Wochen organisiert - und jetzt das! Ploetzlich ist nichts mehr wie es war. Alles laeuft anders als geplant. Sarah, so heisst die aufreizende Traumfrau, zieht Michael total in ihren Bann. In einem Rausch der Leidenschaft und der Gefuehle stuerzen sie sich aufeinander. Sie haben nur noch elf Naechte. Er ist ihr mit Haut und Haaren verfallen - und doch hat sie noch einige "Ueberraschungen" fuer ihn. Freigegeben ab 16 Jahren.
Der hoehere Befehl*   #CH 524
b/w, 1935, ca. 93 min. - In the early 1800's, a garrison commandant in Prussia must contend with a French spy and risk being accused of high treason to help an English envoy complete his secret mission against Napoleon. Directed by Gerhard Lamprecht. Featuring Lil Dagover and Karl Ludwig Diehl. Discontinued. Out of print.
Episode  #CH 675
b/w, Austria,1935, ca. 97 min. - An impoverished Viennese art student is suspected of loose living when a rich patron helps her. Paula Wessely received the best-actress award at the 1935 Venice Film Festival for her work in this film. Directed and written by Walter Reisch; music by Willy Schmidt-Gentner; featuring Paula Wessely, Karl Ludwig Diehl and Otto Tressler. 
Eric der Wikinger #BBM 578
color, ca. 89 min. - Auf Erik (Tim Robbins), der Groesseres in seinem Wikingerleben erreichen will als nur zu pluendern, wartet ein grosses Abenteuer. Um das gestohlene Sonnenlicht zurueckzuerobern, machen sich Erik und seine Mannen auf eine gefahrvolle Reise. Doch Halfdan (John Cleese) und seine duesteren Krieger setzen alles daran sie zu stoppen. Comichaftes Fantasy-Spektakel.
Es War die Erste Liebe   #KR 509
b/w, Liebes-Drama - A young seminarian goes on a last vacation before entering the priesthood. Against his will he falls in love with a beautiful young girl. How hard it is to struggle between love and desire and his vocation. Only after tragedy strikes does he make his decision. Peter Lauterbach, Zoegling eines Priesterseminars, wird von seinem Onkel, dem bekannten Klaviervirtuosen Prof. Lauterbach, zu einem Ferienaufenthalt eingeladen. Nur widerstrebend folgt Peter dieser Einladung. Er steht noch unter der Nachwirkung eines Ungluecksfalles, der seine Eltern aus dem Leben gerissen hat. Es sollen seine letzten Ferien sein ehe er die Priesterweihe empfaengt. Der Aufenthalt in der starken und herrlichen Natur, zwischen Heide, Wald und See, wird zur entscheidenden Bewaehrungsprobe fuer ihn. Hier erlebt er das erste Glueck der reinen Liebe mit der 17-jaehrigen Annika. Das Ergebnis dieser ersten Liebe bringt Glueck und Verstrickung. Regiseur: Fritz Stapenhorst. Darsteller: Marion Michael, Christian Wolff, Maria Holst
Alle Videofilme auf dieser Seite sind in deutscher Sprache ohne Untertitel.
Es war eine rauschende Ballnacht*  #CH 448
b/w, 1939, ca. 95 min. - Composer Peter Tschaikovsky is adored by a dancer and is himself in love with a married woman of high society who is secretly helping his career. Directed by Carl Froehlich; featuring Zarah Leander, Hans Stuwe, and Marika Roekk.
Ein blonder Traum#EVD 1225
1932, b/w, ca. 82 min. - Musical-Lustspiel. Willy Fritsch, Lilian Harvey, Willi Forst, Paul Hoerbiger. Zwei abgebrannte Fensterputzer machen der Artistin Jou-Jou (Lilian Harvey) schoene Augen... So genanntes Depressionsmusical nach einem Drehbuch von Billy Wilder, zum hundertsten Geburtstag von Willy Fritsch.
Ein Halleluja fuer 2 Schlitzohren #JU 3219
ca. 78 min. - Feng Lai, ein junger Kung Fu Kaempfer, holt sich beim "Drunken Master" den letzten Schliff: Durch haertestes Training werden seine Muskeln zu Stahl und seine Haende zu toedlichen Waffen. Feng Lai geht durch die Hoelle dieses Trainings, denn er hat nur ein Ziel: Rache! Er will Bill Chan, den grausamen Unterdruecker der Provinz, zum toedlichen Duell fordern. Doch dazu bedarf es nicht nur grosser Kraft, sondern auch die Tricks eines wahren Schlitzohres.
Einer spinnt immer #FD 3095
color, ca. 89 min. - A simple baker inherits a large amount of money and twenty-four hours later it's all gone. What happens then is hilarious to the point of eccentricity. Laugh yourself insane! Georg Thomalla spielt die Hauptrolle: Ein Baeckermeister und Familienvater in Pfaffenhofen erbt, ist 24 Stunden spaeter sein Geld wieder los, tut so, als habe er das Gedaechtnis verloren, landet in der Klapsmuehle in Wien, wird unfreiwillig Chef einer Faelscherbande, kassiert die ausgesetzte Belohnung und ist ploetzlich zum zweiten Mal ein reicher Mann. Selten so gelacht wie ueber diese urkomischen Geld- und Liebesabenteuer! Regie: Franz Antel. Discontinued. Out of print.
Eine Tat mit Vorbedacht #CH 547
B&w, ca 20 min.,German dialog, Kurzkrimi, 1938 - (a premeditate Crime. A man slaughters his neighbor's hen when it keeps coming onto his property. When a policeman comes o is home to inquire about the disappearance of one of the man's in-laws, he thinks the officer is looking for then hen killer. Directed by Alfred Stoeger; featuring Ludwig Mangred Lommel, Anneliese Wuertz and Hedi Lipperer. Discontinued. Out of print.
Remember all videos on this page are already
transferred to the VHS-USA-NTSC-system. 
All are in German language only. 
For rush Order just call 1-800-252-1957 or fax 317-547-1263.
Eine Frau fuer gewisse Stunden  #KR 507
1984, ca. 106 min., color, drama - Director: Wolfgang Mueller. Cast: Christiane Krueger, Heiner Lauterbach, W. Mueller. A call girl is witness of a crime committed by her boss. He is blackmailing her with his knowledge of her drug habits. Not until she meets Hinrich does her life change for the better. Liza Hofer (Christiane Krueger) hat es geschafft: sie faehrt ein schnelles Auto, besitzt teuren Schmuck und aht Geld auf der Bank. Aber der Preis dafuer ist hoch. Sie arbeitet als Callgirl in einem Saunaclub. Ihr Leben ist gefaehrlich hinter der glaenzenden Fassade. Der "Boss" des Clubs, Willi Ackermann (Manfred Lehmann), spielt und verliert. Er schlaegt ihre Kollegin Daisy nieder, als sie sich weigert, ihm Geld fuer seine Spielschulden zu leihen. Dabei faellt Daisy mit dem Kopf gegen die Bar und ist tot. Liza ist Augenzeugin, aber Willi kann sie mit ihrer Drogenabhaengigkeit erpressen. Ihr Leben veraendert sich, als sie Hinrich (Wolfgang Mueller), einen Studenten kennen und lieben lernt.... A krimi, who turns into a love story with spice and a happy ending. 
Eine Frau genuegt nicht #KR 508
1955, ca. 89 min., b&w, drama - Director: Ulrich Ehrfurth. Cast: Hilde Krahl, Hans Soehnker, Beppo Brem. Two women are fighting for the love of one man. One is his wife, the other his lover who is expecting his baby. Riveting divorce drama full of passion, anguish and even murder.
Ernst Voss moechte von seiner Frau Maria geschieden werden um Renate Reinhard, jung, huebsch, aeusserst anziehend und von ihm schwanger, zu heiraten. Maria kaempft gegen die Scheidung. Sie liebt ihren Mann. Renate ist unsicher ob sie Ernst Voss heiraten moechte. Vossberg weiss zum Schluss ueberhaupt nicht mehr wohin und zu wem er gehoert. Renate geht zu Maria Vossberg und erklaert ihr das Ernst am Ende sei und gibt ihn frei. Das Unbegreifliche geschieht. Waehrend der Uebergabe von Ernsts' Revolver loest sich ein Schuss und Renate bricht toedlich getroffen zusammen. Maria steht vor Gericht. Falls es Maria verurteilen sollte, wird ihr Mann dann erkennen das er diese Schuld mitverschuldet hat? 
Ein Mann vergisst die Liebe  #KR 506
1955, ca. 91 min., b&w, drama - Director: Volker von Coll. Cast: Willy Birgel, Maria Holst, Willi Forst. A well known lawyer needs to defend a playboy accused of murder. Then he finds out that his wife was somehow involved. Intriguing drama.  Die Rechtswissenschaft scheint fuer Dr. Kadenberg mehr eine Leidenschaft denn ein Broterwerb zu sein. Er merkt gar nicht wie sich seine Frau Brigitte und er allmaehlich auseinanderleben. Er nimmt auch keinerleih Anstoss daran, dass Brigitte immer oefter mit Alexander von Barender zusammen ist, der ihr charmant den Hof macht. Eines Nachts wird Alexanders Geldverleiher Stein ermordet. Nur wenige Stunden spaeter wird Barender verhaftet. Darauf bedacht, Brigitte nicht zu kompromitieren, vermag er kein Alibi zu erbringen. Dr. Kadenberg uebernimmt einen anderen Fall und findet langsam heraus das zwischen beiden Faellen eine Verbindung besteht.
Ein Mann will nach Deutschland*   #CH 521
b/w, 1939, ca. 96 min. - When World War I breaks out, a German engineer leaves his South American job to become a soldier, but then is imprisoned in an English internment camp in Jamaica. Directed by Paul Wegener; featuring Karl Ludwig Diehl, Siegried Schuerenberg, and Brigitte Horney. Discontinued. Out of print.
Emil und die Detektive #HF 491
b/w, 1931, ca. 75 min. - A boy visiting Berlin is robbed but recovers the money and captures the thief with the aid of some newfound friends. This internationally successful film is based on Erich Kaestner's best seller. One of the first "talkies" after the silent film era! A classic! Directed by Gerhard Lamprecht; featuring Fritz Rasp, Kathe Haack, and Rolf Wenkhaus. Discontinued. Out of print.
Die Entlassung (Schicksalswende)*  #CH 515
b/w, 1942, ca. 106 min., (also known as Schicksalswende) - In the late 1800's, German Chancellor Otto von Bismarck fights with an egotistical Emperor Wilhelm II about German foreign policy. This is the sequel to the same director's Bismarck. Directed by Wolfgang Liebeneiner. Featuring Emil Jannings and Werner Krauss.
Es gibt nur eine Liebe   #CH 541
b/w, 1933, German dialogue, ca. 89 min. - In this musical comedy, an operetta singer and a ballet master vacationing in a mountain hunting lodge are mistaken for bandits by a trader and his secretary. Directed by Johannes Meyer. Featuring Jenny Jugo, Louis Graveure, and Heinz Ruehmann.
Es leuchten die Sterne* (The Stars are Shining) #IH 421
b/w, 1938, ca. 81 min. - A secretary comes to Berlin and dreams of fame while working as a movie extra, but it is her girlfriend who finds happiness and misery as a movie star. The musical features a Busby Berkeley-style production number and showcases appearances by a variety of film, stage and sports celebrities of the time. Directed by Hans H. Zerlett; featuring La Jana, Vera Bergmann, and Ernst Fritz Fuerbringer. Discontinued. Out of print.
Ein Lied geht um die Welt (A Song Goes Round the World) #IH 505
1933, b/w, German dialogue, ca. 96 min. - In this musical comedy, an unprepossessing Italian tenor flees unrequited love to devote himself to his singing career. Directed by Richard Oswald, music by Ernst Neubach and Hans May; featuring Joseph Schmidt, Charlotte Ander, and Viktor de Kowa.
Ein Mann mit Grundsaetzen  #EVD 1104
1944, ca. 90 min. - Der tuechtige Chemiker Dr. Winhold ist ein Windhund, der keine Gelegenheit auslaesst. Sein Grundsatz ist: keine studierten Weiber! Natuerlich geraet er ohne es zu wissen an eine Kollegin die sich als Taenzerin ausgibt. Mit Elfie Mayerhofer, Hans Soehnker, Lola Muethel.
Eine niedliche Affaire  #R 24
USA, 1991, ca. 70 min. - Deutschsprachige Komoedie mit Rena von Utsch und Hildegard Wendt. Discontinued. Out of print.
Einmal der liebe Herrgott sein*   #CH 544
b/w, 1942, ca. 90 min. - In this whimsical comedy, a porter in a small Munich hotel who eagerly tries to help people usually only makes things worse. Directed by Hans H. Zerlett; featuring Irene von Meyendorff, Hans Moser and Lotte Lang. A movie you surely don't want to miss!
Engel im Abendkleid   #FD 2061
b/w, ca. 92 min. - After 15 years in America, a young man returns to Germany to claim his inheritance, which turns out to be huge debts and a fallen down old building. The only ray of sunshine is the very pretty young lady handling his uncle's affairs. An amusing film about a lot of money with Bruni Loebel, Rudolf Prack und Rudolf Platte.
Es lebe die Liebe #EVD 1105
1944, ca. 90 min. - Nach dem Roman "Das Raetsel Manuela" von Anna Elisabeth Weihrauch. Very entertaining Revuefilm. With Johannes Heesters, Lizzi Waldmueller, Will Dohm. Discontinued. Out of print.
Eskapade  #IH 504
b/w, 1936, ca. 90 min. - In this comic espionage story set in early 1900s Paris and Saint Petersburg, a French woman in love with a Pole rebelling against Russian rule free him from prison. Directed by Erich Waschneck; featuring Renate Mueller, Georg Alexander, and Walter Franck.
Es war mir ein Vergnuegen  #KR 510
1963, ca. 90 min., b&w, comedy - Director: Imo Moszkowicz. Cast: Axel v. Ambesser, Esther Ofarim, Mario Adorf. Nicole, a hot-blooded teenager, brings a lot of confusion in the life of the music director. Within 3 weeks she is 5 times persuaded that she found the man of her dreams: a musician, a count, an artist, a choreographer,... and last but not least the general music director. Being a gentle man of mature age and with conservative manners, he fells awfully in love with the girl and believes for some days that he is the man of her dreams... until Fredds appears, number 6 of the series. Will she find the man of her life.
Eva #EVD 1060
b/w, 1935, ca. 80 min. - Magda Schneider, Heinz Ruehmann, Hans Moser, Adele Sandrock, Music: Franz Léhar mit Melodien aus seiner Operette "Eva", die schon 1911 ihre Urauffuehrung hatte. Includes the song "Waer es auch nichts, als ein Traum von Glueck". Discontinued - Order now while supply lasts. Discontinued. Out of print.
Ewiger Rembrandt*  #HF 325
b/w, 1942, ca. 105 min. - The life and loves and changing fates of the great Dutch painter who experienced the heights of success, art, fame and love and the depths of poverty and loneliness.
ok 9/12
Alle Videofilme auf dieser Seite sind in deutscher Sprache ohne Untertitel.
For hundreds more exciting and stimulating German movies
of the last 60 years, click on the letters below.
Lange Zeit galten sie als "Illusionskino", altbacken, kitschig und einfaeltig: die Filme aus der Adenauer-Aera. Aber Mode und Musik haben die 50er und 60er Jahre bereits wiederentdeckt. Und weil der seitliche Abstand einen notstalgisch-liebevollen Blick zurueck in die goldene Zeit des Wirtschaftswunders erlaubt, stehen die leichten Komoedien, die traenenreichen Ehedramen und die bunten Heimat- und Kostuemschinken ploetzlich wieder hoch im Kurs. Papas Kino ist wieder in. Fuer die Jungen gibt es vieles zu entdecken. Und die Aelteren unter den Videofans duerfen in Erinnerungen schwalgen an die Zeit ihrer Jugend, als wenigstens im Film die Welt noch in Ordnung war. Jedenfalls zogen diese Filme die Zuschauer scharenweise ins Kino. Damals kannten auch deutsche Leinwandstars noch Glanz und Glamour.

30 Day Rental Rates
Rental charges for a 30 day period. Shipping time is included in this period.

1 Tape

$10.50

5 Tapes

$34.50

2 Tapes

$17.00

6 Tapes

$41.00

3 Tapes

$23.00

7 Tapes

$47.25

4 Tapes

$28.50

8 Tapes

$52.80
The shipping charges to you are included in our low, low rental fees above. You are responsible for paying the return shipping. We ship via UPS and most orders are processed and leave our store the same day they are received. We also include an order form on which to place your next order if you so desire. There is aboslutely no obligation to rent more videos. The shipping container is usually suitable for use to return your tapes to us. We even enclose a mailing label with our address and your return address which may be placed on the container when you return your tapes. What could be easier?
We also rent videos to schools.
Schools may use the rates listed above if order is secured with a charge card.
If invoicing is required, the charge is $25.00 per tape.
Alle unsere Videotapes, nicht nur 'Rental only' konnen Sie fuer 30 Tage leihen.
Anruf genuegt: 1-800-252-1957 EST.
How else may I place an order?
Click on the envelope below to send e-mail
to the German Language Video Center!

Not responsible for typographical errors.
Video run times are approximate.
Prices and availability subject to change without notice.
Send comments regarding contents of this page to
glvc@indy.net





Member VSDA since 1985.

Last modified: Friday, January 21, 2022 5:16 PM
German Language Video Center© 1997/2016
Entire Website copyrighted 1997, 1998, 1999, 2000, 2001, 2002, 2003, 2004, 2005. 2006, 2007, 2008, 2009, 2010, 2011, 2012, 2013, 2014, 2015, 2016
No reproduction or download allowed for commercial purposes without written permission.

GLVC 2016©.