The place where our customers send their friends!
Welcome to the Only American Video Tape Store for rare German Movies and Old ZDF volksmusik shows.
Please note: All video tapes are in the American NTSC VHS video format
and will play on all VCR's in North America. We are closing out all of our VHS inventory. This will be your last chance to obtain these beautiful ZDF music videos and hundreds of classic German movies and heimatfilme. Due to the limited demand in the USA, most of these movies will unfortunately never be available on DVD in America.
Once our videos are gone, they're gone!!!
We have drastically reduced the prices on over 2000 video titles closeout. Make sure to buy these classics while supply lasts.
On all VHS clouseout prices we will send you a new or previously viewed tape.
CLOSEOUT!!!!!
BUY NOW!!!
Any 10 videos for only $49.95
plus $19 s/h
while supplies last
Here are some of our extensive listings of beautiful and classic German
films from the last 70 years. Prices listed are the retail prices.
Remember all videos are in the American NTSC-System
and in German language only.
Please note: most of our old classic video titles starting with
Order # IH, HF, CH or EVD will be discontinued; and will be no longer
be available for sale in the US once our limited inventory is depleted.
We are not able to reorder any of those films.
Order now while they are still available.
A
24 Stunden aus dem Leben einer Frau (1931)#EVD 1252
Spielerdrama, b/w, German language - Henny Porter, Walter Rilla Alice. Eine Frau in reifen Jahren lernt im Casino den spielsuechtigen Thomas kennen. Um ihn vom Spiel abzubringen, gibt sie ihm Geld fuer die Heimfahrt in die Schweiz....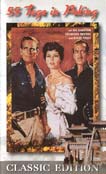 55 Tage in Peking #JUV 3299
1962, ca. 147 min., German language - Der Boxeraufstand in Peking 1900 ist der historische Hintergrund dieses aufwendigen Monumentalfilmes. Stadtteile Pekings wurden in Spanien nachgebaut und Charlton Heston steht als unueberwindlicher Krieger im Mittelpunkt des Geschehens. In Peking bricht im Fruehjar 1900 der "Boxer aufstand" los, jene Aktion fremden feindlicher chinesischer Geheimbuende, die sich insbesondere gegen die Europaeer richtet. Im Diplomaten viertel verschanzen sich einige hundert Angehoerige auslaendischer Gesandschaften und fuehren fuer fast zwei Monate einen heldenhaften Kampf gegen die fanatisch angreifenden "Boxer". Mit Ava Gardner, Charlton Heston, David Niven.
Please note: we are drastically reducing our video library. If there is a special movie you are interested in you may want to purchase or rent it now before the very last tape is sold and no longer available in USA.
Abenteuer im Grand Hotel EVD 1279
Komoedie, 1943 - Carola Hohn, Maria Andergast, Hans Moser
Akrobat Schoen #EVD 336
b/w, 1940, German language, 85 min. - Two young artists, Monika, a dancer and singer, and Charlie, an acrobat, have a hard time getting their career started. Includes "Morgen ist alles wieder gut" and "So wie Du vor mir stehst". Starring Karl Schoenboeck, Kaethe Dyckhoff and more.
Aennchen von Tharau #KR 503
1954, German language, ca. 96 min. - In einem mainfraenkischen Weinstaedtchen unweit von Wuerzburg schlagen sich etliche Orts vertriebene durchs Leben. Nur Anna Wittkuhn, die aus Ostpreussen gekommene Kellnerin hat es geschafft. Mit der Zeit hat sie sich eine solche Beliebtheit erworben, dass sie nur noch das "Aennchen von Tharau" heisst und mit diesem Lied sogar in aller Oeffentlichkeit besungen wird. Der reiche junge Weingutbesitzer Adrian Rotenbach moechte sie und ihren unehelichen Sohn, den zehnjaehrigen Utz, heiraten. Nur, Utz ist nicht ihr Sohn. Auf der Flucht wurde ihr von einer Sterbenden das Versprechen abgenommen fuer ihn zu sorgen. Von seinem Vater existiert nur noch ein Bild. Nun geschieht das Unwahrscheinliche, Ulrich Lessau kommt in die Stadt. Die Ereignisse ueberschlagen sich. Regisseur: Wolfgang Schleiff. Darsteller: Ilse Werner, Klaus-Ullrich Krause, Heinz Engelmann.
Achtung, Feind Hoert Mit! #IH 357
b/w, 1940, German language, 90 min. - In 1938, foreign agents attempt to disrupt a secret research being performed in a South German factory, but are foiled by the factory owner's son and his girlfriend. Directed by Arthur Maria Rabenalt; featuring Kirsten Heiberg, Rolf Weih, and Rene Deltgen.
Der Alte und der Junge Koenig #CH 626
b/w, German language, ca. 103 min. - In 18th century Prussia, the young Frederick the Great fights with and tries to escape from his domineering father, kind Frederick William the first. Directed by Hans Steinhoff with Emil Jannings. Out of Print.
Alles fuer die Firma#KR 501
1950, German language, ca. 86 min., b&w, comedy - Regisseur: Ferdinand Doerfler. Cast: Erhard Siedel, Lucie Englisch, Victor Staal. The owner of an almost bankrupt record production firm sends his secretary to negotiate a profitable business deal. The secretary not only handles the business deal, he also wins the heart of the owner's daughter. Enjoyable movie! Der Inhaber einer finanziell schlecht gehenden Schallplattenfabrik laesst sich bei Fusionsverhandlungen mit einer besser fundierten Konkurenzfirma von seinem Sekretaer vertreten, da er am Tage vorher seinem bis dahin unbekannten Geschaeftspartner bei einem Streit in einer Bar eine Ohrfeige gegeben hat. Der Sekretaer meistert nicht nur die komplizierte Situation, sondern gewinnt nach einem Wirbel toller Ereignisse auch das Herz der Tochter des Chefs.
Altes Herz wird wieder jung  #EVD 1101
1943, b/w, German language, ca. 90 min. - Ein Film voller Menschlichkeit und Herzenswaerme, woran der Regisseur Erich Engel hohen Anteil hat. Mit Emil Jannings, Viktor de Kowa, Maria Landrock, Paul Hubschmid. Sold out. Rental only.
Am Sonntag will mein Suesser mit mir segeln gehn  #CAN 553
German language, ca. 94 min. - Wie im Paradies verleben sie ihren Urlaub an der schoenen Kueste Dalmatiens: Albert angelt und Corinna langweilt sich... nur bis sie ihre Freundin Georgie und viele andere liebe Freunde einlaed. Hinter Ablerts Angelruecken braut sich eine Voelkerwanderung mittleren Ausmasses zusammen. Mit Vivi Bach, Harald Juhnke, Rex Gildo, Chris Howland, Adrian Hoven, Claus Biederstaedt. Limited supply. Rental only after supply sold!
Anders als du und ich #KR 502
1957, German language, ca. 90 min., b&w, drama - Director: Veit Harlan. Cast: Christian Wolf, Paula Wessely, Paul Dahlke. Dramatic account of one family's struggle to prevent their son's homosexuality. Can the love of a girl and the support of his parents save him? A Veit Harlan Film about a timely problem.
Anni - Eine Wiener Ballade (1948)#EVD 1267
German language, b/w, 85 min. 1900 verfuehrt Pianist Radofsky in Wien die Saengerin Anni. Zwanzig Jahre spatter trifft er sie mit Tochter wieder...
Allotria (Shenanigans) #CH 679
1936, German language, b&w, ca. 97 min. - In this elegant comedy, two friends-one who owns plantations in Java and one who drives a race car - pursue the same women. Directed by Willi Forst; music by Peter Kreuder; featuring Heinz Ruehmann, Adolf Wohlbrueck, Renate Mueller, and Jenny Jugo.  Out of Print.
Allotria in Zell am See  #CAN 560
German language, ca. 90 min. - Eine Notlandung bringt Mark Fuerberg mit seinem Sportflugzeug samt seinem uebernaechtigten Freund Pit Tanner nach Zell am See, wo die beiden Pechvoegel sogleich von der aufgeweckten Annamierl, einem Bauernmaedchen, als 'beruehmte Playboys' erkannt werden. Als die Notgelandeten im Grand-Hotel Zimmer nehmen, werden die eleganten Fremden zum zweiten Male identifiziert: von Frau van der Meeren, der ebenso ehrgeizigen wie gebieterischen Herrscherin ueber mehrere Boulevard-Zeitungen, deren Klatschspalten beruechtigt sind. Die Frau Generaldirektor wittert sofort die grosse Sensation, die sie allerdings ihrer reizenden Nichte Antje, angehende Journalistin aus Passion, gern vorenthalten will. So hetzt Frau van der Meeren ihren ziemlich einfaeltigen Privatsekretaer Christian auf die Spur der Playboys. Eine handfest-komisches Lustspiel, mit exakten Pointen, perfekt inszeniert. Mit Harald Juhnke, Hannelore Elsner, Beppo Brehm, Adrian Hoven und Evi Kent.
*No Longer Available*
Die alte Suende Order # EVD 1280
Musikalische Komoedie, 1939 - Mit Paul Hoerbiger, Maria Andergast, Inge Konradi, Susi Nicoletti
Anuschka #DT 302
German language, b/w, ca. 98 min. - At the turn of the century, Anuschka, orphaned and impoverished, comes to Vienna and becomes a maid. When she's accused of stealing from her employer she has to fight to clear her name. Masterfully directed by Helmut Kaeutner.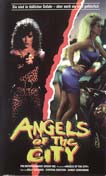 Angels of the City  #JUV 3243
German language, ca. 90 min. - Geblendet von der glaenzenden Fassade, geraten sie unbemerkt in die erbarmungslosen Klauen von Bill Hutton, Zuhaelter, Dealer und Boss einer Strassengang. Er versucht die beiden in die Welt des endlos scheinenden Sex- und Drogenrausches zu locken. Er ist gefaehrlich, denn er ist es gewoehnt, Frauen psychisch und physisch absolut zu beherrschen. An Catherine und Wendy beisst er sich die Zaehne aus. Sie erkennen die Gefahr und bekaempfen ihn mit gnadenloser Haerte.
Apartment Zauber  #CAN 559
German language, ca. 97 min. - Weil der junge Karl Fischer allzuviel Erfolg bei den huebschen Maedchen hat, ist Papa Waldemar der Meinung: "Der Junge muss fuer ein Jahr aus dem Haus und in die Stadt." Ein Hoerfehler macht aus Karl eine Karla und im Apartmenthaus ueberschlagen sich die Ereignisse. Turbulentes Lustspiel mit Rex Gildo, Heinz Erhardt, Gunnar Moeller, Helga Sommerfeld und Gitta Winter.
Der Apfel ist ab  #EVD 1107
German language, 1948, ca. 90 min. - Another romantic love story with a lot of music. Right after World War II. With Lobby Todd, Lettina Moissi, Joana Maria Gorvin, Arno Assmann, Helmut Kautner. Sold out. Rent.
April, April  #EVD 1083
German language, 1935, b/w, comedy - The owner of a noodle factory has lots of money but little sense. His wife Mathilde is a good match! A wonderful parody! With Carola Hoehn, Lina Carstens, Hubert von Meierick and many more.
Arzt aus Leidenschaft #CH 543
German language, b/w, 1936, ca. 76 min. - A doctor discovers a serum against blood poisoning in this poignant drama, whose lead actor was also a practicing physician. Directed by Hans H. Zerlett; featuring Albrecht Schoenals, Karin Hardt, and Hans Soehnker. Out of Print.
---
Alle Videofilme auf dieser Seite sind in deutscher Sprache ohne Untertitel. Remember all videos on this page are already in the VHS USA-NTSC system. 
All are in German language only. For rush Order just call
1-800-252-1957  or fax 317-547-1263.
Auf Wiedersehen, Franziska #EVD 1071
German language, b/w, 1941, ca. 90 min. - A reporter is always on the go. He travels all over the world and has little time for Franziska. When they marry he promises to stay home. But when war and rebellion breaks out in China, he's leaving again. A wonderful Helmut Kaetner film with Marianne Hoppe and Hans Soehnker. Michael ist Bildreporter und Wochenschaumann. Ueberall in der Welt wo etwas los ist, ist er dabei. Fuer seine Franziska, eine Kunstgewerblerin, hat er wenig Zeit. Bei jedem Abschied heisst es: "Auf Wiedersehen, Franziska." Dann erfaehrt Michael, dass sie ein Kind von ihm erwartet und sie heiraten. Er verspricht im Lande zu bleiben. Eine Zeitlang haelt er es zu Hause aus, aber die Kriegswirren in China ziehen ihn wieder mit seinem getreuen Buck hinaus... "Wir geh'n so leicht am grossen Glueck vorbei...", "Mei Leben und Dein Leben...", "Sing, Nachtigall, sing...", "Jungfrau..." Discontinued. Out of print.

Ausser Rand und Band am Wolfgangsee #FD 3040
color, ca. 90 min. - With Gunther Philipp, Roberto Blanco. Eva inherits the "Palast Hotel: at famous Lake Wolfgang and is devastated when she finds that it is mortgaged to the hilt and dilapidated almost beyond repair. With charm, great resourcefulness and the help of her friends, she succeeds in turning the rundown place into the upbeat "Schwarze Roessl" hotel. Discontinued. Out of print.
Die Affaere Roedern #HF 474
b/w, 1944, ca. 90 min. - Dietrich von Roedern, Frederick the Great's master fortress builder is the focus of this historical drama. Though jailed for treason against Prussia, he ends up fighting for that land in the Seven Years' war. Directed by Erich Waschneck; featuring Paul Hartmann, Annelies Reinhold, and Clementia Egies.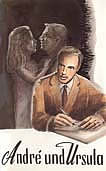 Andre und Ursula #FD 20012
b/w, ca. 82 min. - Andre Duval's French military unit is suffering heavy losses during the German invasion of France. A bullet-torn diary found on a dying soldier proves fateful in uniting the two lovers.
Andreas Schlueter #HF 481
b/w, 1942, ca. 111 min. - In the early 18th Century this Prussian sculptor, master builder, and city planner builds a new Berlin modeled after ancient Rome and free of French artistic influence, but is opposed by conservative contemporaries, including his king. Directed by Herbert Maisch; featuring Heinrich George, Mila Kopp, and Olga Tschechowa. Discontinued. Out of print.

Please note: we are drastically reducing our video library. If there is a special movie you are interested in you may want to purchase or rent it now before the very last tape is sold and no longer available in USA. We cannot longer re-order these films.

Aufruhr in Damaskus  #HF 470
b/w, 1939, ca. 98 min. - In 1918, a lieutenant gets food and munitions to German defenders of a desert fort besieged by Arabs, and later helps them effect a daring escape. Directed by Gustav Ucicky; featuring Joachim Gottschalk, Brigitte Horney, and Hans Nielsen.
B
Baby  #CH 574
b/w, 1932, ca. 82 min. - This comedy takes place in a girl's boarding school and the world of theater. Dir. Karl Lamac, Music by Leo Leux; featuring Anny Ondra, Adolf Wohlbrueck and Albert Pauling. Discontinued. Out of print.
Barcarole  #DT 309
b/w, 1935, ca. 90 min. - During Carnival time, a womanizer makes a bet that he can seduce the wife of a rich Mexican in just one night. It comes to a duel and a tragic end. This film is acclaimed for its superior acting. With Gustav Froehlich and Willy Birgel.
Bel Ami  #CH 575
b/w, 1939, ca. 94 min. - In this satire based on Guy De Maupassant's novel, a ladies' man romances his way into power in journalism and politics in late-nineteenth century Paris. Willi Forst, Olga Tschechowa and Ilse Werner. Discontinued. Out of print.
Bergkristall #FD 2008
b/w, 1949, ca. 82 min. - In a classic love triangle, the local game warden and a repentant poacher are both in love with beautiful Sanna. A dramatic encounter of the two men leaves one dead and the other a suspected murderer. With the ever-silent mountains being the only witnesses, the case remains unsolved for may years - until the glacier gives up its well-kept secret. Don't miss this drama of love and passion! Der Jaeger-Steffl und Franz, der Wildschuetz, lieben beide die schoene Sanna. Deren Herz aber gehoert dem Franz. Steffl, der ihn auf frischer Tat beim Wildern ertappt, schiesst ihn nieder und muss nun fliehen; dabei stuerzt er toedlich ab. Da von ihm jede Spur fehlt, bezichtigen die aufgebrachten Dorfbewohner den nur leicht verletzten Franz des Mordes. Viele Jahre spaeter finden die Kinder von Sanna und Franz die Leiche des Jaeger-Steffl im ewigen Eis. Sie weist keinerlei Schusswunden auf. Die Unschuld ihres Vaters ist erwiesen. Ein grossartiger Film nach dem bekannten Roman von Adalbert Stifter.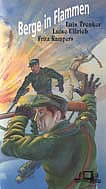 Berge in Flammen  #FD 20037
b/w, ca. 94 min. - Luis Trenker, Luise Ullrich, Fritz Kampers, u.v.a. Blazing Mountains - Tirolean fighters in merciless battles against Italian troops during World War I. It is a glorious story about love for country, family and freedom. Filmed in the breathtaking Dolomite Alps.
Schauplatz dieser packenden und hervorragend gefilmten Handlung sind die gewaltig-schoenen Dolomiten waehrend des Ersten Weltkrieges. Erbarmungslos bekaempfen sich Kaiserjaeger und italienische Gebirgstruppen bei eisig-klirrenden Temperaturen bis zu minus 22 Grad. Vor diesem Hintergrund entfaltet sich das tragische Schicksal des stolzen, heimtverbundenen Freiheitskaempfer und Tiroler Bergfuehrers Toni Innerkofler. Die atemberaubende Schoenheit der Dolomiten, die spannende Handlung und nicht zuletzt die meisterliche Darstellung von Kameradschaft und Ritterlichkeit im Berg machen diesen hervorragenden Trenker-Klassiker zu einem zeitlosen Filmdokument. Discontinued. Out of print.
Der Berg Ruft #RP 2006
b/w, 1937, ca. 95 min. - This is a remake of a 1928 silent film featuring Luis Trenker called Kampf ums Matterhorn (Battle for the Matterhorn). Luis Trenker and Heidemarie Hatheyer star in this pulsating action-drama about an Italian and an Englishman who both want to be the first to climb the Matterhorn. Tonio, who grew up in these mountains, first saves his rival's life and later - when he is falsely accused - his honor. this is a tale of integrity, of tried-and-true friendship between two men, and the mountains that looms over their lives. A rugged, suspenseful story. Der Film spielt in der Zeit vor der Erstbesteigung des Matterhorns. Tonio Carrel ist von der Idee besessen, als Erster auf dem Gipfel zu stehen, aber er muss nicht nur gegen den Berg kaempfen, sondern auch gegen die Engstirnigkeit und Intrigen der Leute seines Dorfes. Dann tritt als sein Rivale der Englaender Edward Whymper auf, der ebenfalls als erster hinauf will. Als er abstuerzt, rettet Carrel ihm das Leben. Einige Jahre spaeter treten die beiden einen wahren Wettlauf an, um den Berg zu erorbern. Der Englaender kommt Carrel um einige Stunden zuvor. Beim Abstieg aber verungluecken drei von Whympers Leuten toedlich, und er selber wird verdaechtigt, das Seil gekappt zu haben, um nicht mitzustuerzen. Wieder tritt Carrel als Retter auf. Diesmal rettet er die Ehre seines Rivalen, indem er unter Lebensgefahr das gerissene Seil, den Beweis von Whympers Unschuld, vom Berg holt. Charakterfestigkeit, Maennerfreundschaft und der unerbittliche Berg beherrschen die Szene. Directed by Luis Trenker; featuring Luis Trenker, Heidemarie Hatheyer, and Herbert Dirmoser. Discontinued. Out of print.
**No Longer Available**
Berlin-Alexanderplatz  #HF 462
b/w, 1931, ca. 88 min. - Based on Alfred Doeblin's novel, this early sound film tells of a former cement and transport worker who is released from jail. He tries to lead a decent life but falls in with a gang of criminals in Berlin in the 20's. Directed by Phil Jutzi; featuring Heinrich George, With Maria Bard and Margarete Schlegel.
Berlin ist eine Suende wert or (Playgirl) #KR 532
1965, ca. 88 min. - A beautiful model meets many men but in Berlin she finds the special one who just might be the one to settle down. Modern fast paced drama about the jet-set. Alexandra, Mitte Zwanzig, hochbezahltes Fotomodell der Spitzenklasse, ist eines jener Jet-Set-Maedchen die nur in sich selbst verliebt sind. Sie bleibt nie lange in einer Stadt, nie lange in einem Hotel, nie lange bei einem Mann. "Freunde fliegen mir zu wie einem Strassenkoeter die Floehe:, sagt sie scherzhaft, und "es gibt keine unglueckliche Liebe, es gibt nur die falsche Liebe." Kaum in Berlin angekommen, da bemuehen sich bereits zahlreiche Maenner um ihre Gunst. In Bert Laner, dem Mitarbeiter des Industriellen Steigenwald, begegnet Alexandra jedoch einem Menschen bei dem sie - nach einigen Ausbruchsversuchen - vielleicht bleiben wird? Regie: Willi Tremper. Darsteller: Eva Renzi, Harald Leipnitz, Paul Hubschmid.
Besuch am Abend (Visit in the Evening)  #CH 535
b/w, 1934, ca. 80 min. - In this comedy, an awkward bureaucrat falls in love with a music-hall singer when he moves into a new home. Directed by Georg Jacoby. Featuring Liane Haid, Paul Hoerbiger and Harald Paulsen. Discontinued. Out of print.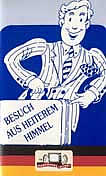 Besuch aus Heiterem Himmel  #FD 20031
color, 1958, ca. 94 min. - What does a rich American industrialist do when he bets he can present a real ghost? Ghosts start appearing and the fun begins. Comedy with Johannes Heesters, Elma Karlowe and Oscar Sima.

Der Bettelstudent (The Beggar Student)#IH 446
1936, b&w, ca. 95 min. - In this adaptation of Carl Millocker's operetta, an 18th Century Saxon governor deceives a Polish baroness in occupied Krakow by sending her a royal suitor who is actually an indigent student in disguise. Directed by Georg Jacoby; featuring Marika Roekk, Johannes Heesters, and Carola Hoehn. Discontinued. Out of print.
Bismarck #IH 348
b/w, 1940, ca. 118 min. - Biography. Paul Hartmann plays the 19th Century German statesman Otto von Bismarck-Schoenhausen as he first becomes Premier of Prussia and then overcomes domestic and foreign opponents to create the second German empire in 1971. Directed by Wolfgang Liebeneiner; co-starring Friedrich Kayssler and Maria Koopenhoefer. Order # IH 348 Out of print. For rental only. Der Bettelstudent (The Beggar Student) 1936, b&w, ca. 95 min. - In this adaptation of Carl Millocker's operetta, an 18th Century Saxon governor deceives a Polish baroness in occupied Krakow by sending her a royal suitor who is actually an indigent student in disguise. Directed by Georg Jacoby; featuring Marika Roekk, Johannes Heesters, and Carola Hoehn.  Discontinued. Out of print.
Das Bildnis des Dorian Gray#R 253
ca. 75 min. - Die erregende Liebesgeschichte eines wilden, hemmungslosen Lebens. Eine grandiose Verfilmung von Oscar Wilde's beruehmtem Roman eines jungen Mannes, der fuer Jugend und Schoenheit seine Seele verpfaendet, um nach einem kurzen Leben des hemmungslosen Genusses und der Ausschweifungen ein schrecklichens Ende zu finden. Mit der Starbesetzung Helmut Berger, Marie Liljedahl, Herbert Lom. Discontinued. Out of print.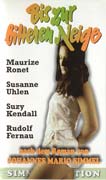 Bis zur bitteren Neige  #JUV 3340
1975, ca. 100 min. - Der ehemalige Hollywood Star Jordan hat eine Millionaerin geheiratet und sich dami in Abhaengigkeit von ihr begeben. Er sucht Zuflucht im Alkohol und in einem Verhaeltnis mit seiner Stieftochter Shirley, was nicht ohne Folgen bleibt. Shirley wird schwanger. Jordan beschliesst sein Leben zu aendern und nimmt ein obskures Filmangebot an. Als seine Frau mit der Stieftochter am Drehort erscheint steigert sich die Situation des inzwischen unter Halluzinationen lebenden, aufgeputschten und labilen Jordan zum Drama.

Der Blaufuchs  #CH 629
b/w, 1938, ca. 96 min. - In this musical comedy set in Budapest, the bored wife of an absent minded professor resists her attraction to her husband's pilot friend. With Zarah Leander, Willy Birgel and Paul Hoerbiger. Discontinued. Out of print.
Das Blaue Licht #IH 516
B/w, ca. 69 min - Leni Riefenstahl, Matthias Wiemann
Der Bockerer #R 022
ca. 106 min. - color - Eine tragisch-komische Geschichte aus einer Zeit, in der es nichts zu lachen gab. Mit Humor und Witz gegen die braune Flut. Karl Bockerer ist Metzger in einer Wiener Vorstadt. Seine Welt sind sein Geschaeft und seine woechentliche Kartenpartie mit zwei Freunden. Dann marschieren die deutschen Truppen ein und seine Familie ist begeistert vom Nationalsozialismus. Bockerer versteht weder die Rassengesetze noch die ploetzliche Abreise seines juedischen Kartenspielpartners. Erst als sein Freund Hermann nach Dachau verschleppt wird geht im ein Licht auf. Er leistet Widerstand auf seine - echt wienerische - Weise. Seine Wohnung wird Zufluchtsort fuer Verfolgte. Seine Waffe ist der Humor. Mit Gustav Knuth, Hans Holt, Karl Merkatz, Ida Krottendorf, Alfred Boehm, und Georg Schuchter. Discontinued. Out of print.
Bomben auf Monte Carlo #1 - Musical  featuring Hans Albers #HF 419
b/w, 1931, ca. 100 min. - In this popular, lavish musical, the queen of a tiny Balkan state and an adventurous captain in the navy fall in love. When they lose a fortune gambling at Monte Carlo, the captain threatens to shell the casino from his ship. Directed by Hans Schwarz; featuring Hans Albers and Anna Sten.
Der Brandner Kasper EVD 1400
1949, b/w, ca. 100 min. - Der Jaeger Kasper Brandner feiert seinen 70. Geburtstag. Die Lebenslust blitzt dem Alten wie eh und je aus den Augen. Deshalb kann er es ueberhaupt nicht gebrauchen das ausgerechnet an diesem Ehrentag der leibhaftige Tod zu Besuch erscheint. Doch der durchtriebene Jaeger schenkt dem Sensenmann so einen maechtigen Rausch ein, das der sich glatt auf ein paar weitere Jahre Lebenszeit fuer den Kasper herunterhandeln laesst. Mit Paul Hoerbiger, Viktor Staat, Ursula Linden, Carl Wery.
**No Longer Available**
Der Brave Suender  (The Well-Behaved Sinner)#CH 678
1931, b/w, ca. 91 min. - In this comedy, written by Fritz Kortner and Alfred Polgar, a very proper head cashier and his young friend unwillingly commit fraud when they plunge into Vienna's night life. Max Pallenberg's lead performance displays the verbal and improvisional skills he was so well known for in German theater. Directed by Firtz Kortner; music by Nikolaus Brodszky and Artur Guttmann; featuring Heinz Ruehmann, Max Pallenberg and Dolly Haas. Discontinued. Out of print.
Die Bruecke DVD only #BB 90 DVD
(both English sub-titled and English dubbed versions) b/w, 1959, ca. 102 min. - In 1945, seven German schoolboys defend an insignificant bridge from an American attack. This is the film you have been waiting for.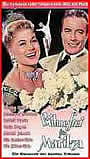 Buehne frei fuer Marika  #FD 2050
1958, color, ca. 95 min. - The gossip columns are buzzing about Marika. She gets hired to perform in a big show, but somebody is out to get her. Die Farbrevue voller Temperament, Witz und Musik. Starring Marika Roekk, Johannes Heesters und Rudolf Platte. Discontinued. Out of print.
Please inquire about purchasing a video tape that is listed for "rental"
from our extensive video library.
C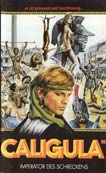 Caligula  #JU 3231
ca. 74 min., adult - Under the tyranny of Kaiser Caligula, there are uncontrolled games of lust throughout the Roman empire. Adult, contains nudity.
Unter der Schreckensherrschaft des jungen Kaisers Caligula regieren ungezuegelte Lust, Leichtsinn, und Willkuer das Roemische Reich. Caligula ergoetzt sich an den Kaempfen in der Arena, wo maechtige Loewen wehrlose Menschen toeten. Gladiatorenkaempfe bis zum Tod, Hinrichtungen und Schlammkaempfe sind sein Zeitvertreib. Adult, contains nudity.
Condottieri  #HF 461
b/w, 1937, ca. 101 min. - Luis Trenker co-wrote, directed, and stars in this story of 16th century aristocrat Giovanni Lombardo, who fought Cesare Borgia and local rulers to unify Italy, where much of the film was shot. Directed by Luis Trenker; featuring Luis Trenker, Ethel Maggi, and Carla Sneva. A classic! Discontinued. Out of print.
Dr. Crippen an Bord  #HF 479
b/w, 1942, ca. 86 min. - In this film adaptation of an actual case from turn-of-the-century England, a doctor in love with his secretary murders his wife, but is finally trapped by the police. Directed by Erich Engels; featuring Rudolf Fernau, Rene Deltgen, and Anja Elkhoff.
Remember! These movies are in German language only!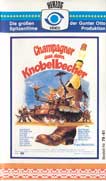 Champagner aus dem Knobelbecher  #HH 7961
color, ca. 97 min. - Bavarian sex comedy. Two German foot soldiers are trapped in France in 1944 behind "enemy" lines. They dress and pose as "GIs", steal a tank and try to escape. A really funny comedy full of surprises. Die beiden deutschen Landser Lang und Breitner fuehren in der Normandie ein Leben wie Gott in Frankreich. Ihr "suesses Gefreitenleben" findet ein jaehres Ende, als sie 1944 der Einzug der Amerikaner in ihr Bauerndorf ueberrascht. Es bleibt ihnen nichts anderes ueberig, als in GI-Uniformen das Weite zu suchen, wobei sie einen Ami-Panzer zum "Rueckzug" uebernehmen. Als sie dazu noch aus der Luft mit amerikanischen Versorgungsguetern gesegnet und von der franzoesischen Bevoelkerung als "Befreier" gefeiert werden, fuehlen Sie sich wieder wie die Made im Speck. Die verrueckten Typen wie Peter Steiner, Franz Muxeneder und Erich Kleiber, gestalten dieses turbulente Lustspiel zu einem herrlichen Filmspass. NOTE: Contains some nudity. Fuer Erwachsene. Inquire for some other bavarian sex comedies with Peter Steiner!!! Lederhosen videos.
Cordula Order # EVD 1272
Melodrama, 1950 - mit Paula Wessely, Attila Hoerbiger, Jane Tilden, Alma Seidler
Crimewave#BBM 057
color, ca. 82 min. - Auf Vic Ajax wartet der elektrische Stuhl. Er, der beharrlich seine Unschuld beteuert, laesst seine letzten Tage auf freiem Fuss noch einmal Revue passieren. Angefangen hat alles, als er sich in die huebsche Nancy verliebte. Diese schwaermt aber nur fuer den ueberheblichen und arroganten Renaldo (Bruce Campbell). Unterdessen morden sich zwei irre Killer durch das naechtliche Detroit. Als Nancy in die Faenge der beiden geraet, verwandelt sich der unscheinbare Vic in einen unerschrockenen Lebensretter.
Die Czardasfuerstin  #CH 568
b/w, 1934, ca. 96 min. - A prince falls in love with a singer who is adored by men in Budapest high society. Dir. Georg Jacoby with music by Emmerich Kálmán; featuring Marta Eggerth, Hans Soehnker and Paul Hoerbiger. Discontinued. Out of print.
ok 9/12
Alle Videofilme auf dieser Seite sind in deutscher Sprache ohne Untertitel.
For hundreds more exciting and stimulating German movies,
click on the letters below.
30 Day Rental Rates
Rental charges for a 30 day period. Shipping time is included in this period.

1 Tape

$10.50

5 Tapes

$34.50

2 Tapes

$17.00

6 Tapes

$41.00

3 Tapes

$23.00

7 Tapes

$47.25

4 Tapes

$28.50

8 Tapes

$52.80
The shipping charges to you are included in our low, low rental fees above. You are responsible for paying the return shipping. We ship via UPS and most orders are processed and leave our store the same day they are received. We also include an order form on which to place your next order if you so desire. There is aboslutely no obligation to rent more videos. The shipping container is usually suitable for use to return your tapes to us. We even enclose a mailing label with our address and your return address which may be placed on the container when you return your tapes. What could be easier?

We also rent videos to schools.
Schools may use the rates listed above if order is secured with a charge card.
If invoicing is required, the charge is $25.00 per tape.

Alle unsere Videotapes, nicht nur 'Rental only' koennen Sie fuer 30 Tage leihen.
Anruf genuegt: 1-800-252-1957 EST.

How else may I place an order?

Click on the envelope below to send e-mail
to the German Language Video Center!

Not responsible for typographical errors.
Video run times are approximate.
Prices and availability subject to change without notice.
Send comments regarding contents of this page to
glvc@indy.net





Member VSDA since 1985.

Last modified: Friday, January 21, 2022 4:29 PM
German Language Video Center© 1997/2016
Entire Website copyrighted 1997, 1998, 1999, 2000, 2001, 2002, 2003, 2004, 2005. 2006, 2007, 2008, 2009, 2010, 2011, 2012, 2013, 2014, 2015, 2016
No reproduction or download allowed for commercial purposes without written permission.

GLVC 2016©.