The place where our customers send their friends!
Welcome to the Only American Video Tape Store for rare German Movies and Old ZDF volksmusik shows.
Please note: All video tapes are in the American NTSC VHS video format
and will play on all VCR's in North America. We are closing out all of our VHS inventory. This will be your last chance to obtain these beautiful ZDF music videos and hundreds of classic German movies and heimatfilme. Due to the limited demand in the USA, most of these movies will unfortunately never be available on DVD in America.
Once our videos are gone, they're gone!!!
We have drastically reduced the prices on over 2000 video titles closeout. Make sure to buy these classics while supply lasts.
On all VHS clouseout prices we will send you a new or previously viewed tape.
CLOSEOUT!!!!!
BUY NOW!!!
Any 10 videos for only $49.95
plus $19 s/h
while supplies last
German Heimat Video Descriptions - Wir haben nur noch wenige dieser schoenen deutschen Heimatfilme auf Lager. Dies ist Ihre letzte Chance diese herrlichen Filme zu geniessen.
Bestellen Sie noch heute!
G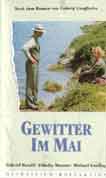 Gewitter im Mai, TA 743
color, 1973, ca. 90 in. - Drama based on Ludwig Ganghofer's novel. Bavaria at the turn of the century. Back home on vacation, the sailor Leopold falls in love with his childhood friend Regina. She's engaged to the blacksmith, Domini. Regina has to decide between the two. Finally she makes her choice. Watch the surprise ending.
Der Roman von Ludwig Ganghofer beschreibt eine tragisch endende Liebesgeschichte um die Jahrhundertwende. Waehrend seines Urlaubs in den oberbayerischen Bergen verliebt sich Leopold (Gabriel Barylli) Hals ueber Kopf in seine Jugendfreundin Regina. Diese hat sich aber dem tuechtigen Dorfschmied Domini versprochen. Aus der ehemaligen Freundschaft zwischen Leopold und Domini wird feindliche Rivalitaet.
---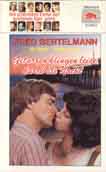 Gitarren klingen leise durch die Nacht, TA 562
color, ca. 84 min. - Fred Wiskott is equally successful as a singer as with the ladies. His fiancé, Ninon, is already used to it. But when a young girl tries to commit suicide, Ninon "again" separates from Fred "forever". Ein Wiederseh'n with Fred Bertelmann, Vivi Bach and Walter Gross. Great music, touching romance and that wonderful "sixties feeling"!
Fred Wiskott (Fred Bertelmann) ist als Saenger ebenso erfolgreich wie als Frauenheld. Ninon, seine Verlobte is so einiges gewoehnt. Als ein junges Maedchen einen Selbstmordversuch begeht, trennt Ninon sich wieder einmal 'endgueltig' von Fred.
---
Glocken der Heimat "Waldwinter", TP 117
ca. 96 min. - Winter 1944. Der Krieg tobt schon in Schlesien, aber die Kirche Wang im Riesengebirge ist noch ein Bild des Friedens. Die jungen Maenner sind an der Front. Baron Malte beschliesst, mit der kleinen verbliebenen Gemeinde in die Sicherheit des Bayrischen Waldes, in sein Jagdschloss zu ziehen. Durch die verbrecherischen Manipulationen des Verwalters steht das Gut von Baron Malte kurz vor dem Ruin. Mit allen Mitteln versucht der Baron, die eigene und auch die Existenz der ihm anvertrauten Menschen zu retten. Die Dramatik der nun folgenden Ereignisse und die Schicksale der Menschen um Baron Malte, seine Pflegetochter Marianne, die lustige Wirtstochter Inge und nicht zuletzt sein Enkel Martin schlagen den Betrachter in ihren Bann. Mit Claus Holm, Sabine Bethmann, Rudolf Forster, Helene Thimig. Regie: Wolfgang Liebeneiner.
**No Longer Available**
---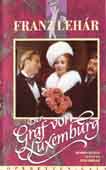 Der Graf von Luxemburg, TA 886
color, 1972, 94 min. - Musical, A beautiful color production of Franz Lehar's famous operetta. Charming melodies and brilliant performances by Eberhard Waechter, Lilian Sukis and Erich Kunz. A beautiful addition to your operetta collection.
Der Graf von Luxemburg" von Franz Lehar ist eine Operette, die sich besonders durch die reizvolle, charmant-verliebte Thematik auszeichnet. Die buehnenwirksamen Szenen und die vielen lustigen, zaertlichen Stimmungen dieses pariserisch getoenten Libretto geben Eberhard Waechter (Graf Luxemburg) und Lilian Sukis (Angele Didier) die Moeglichkeit, ihr brillantes Koennen in einzigartiger Weise unter Beweis zu stellen. Darsteller: Eberhard Waechter, Lilian Sukis, Erich Kunz, Peter Froehlich, Helga Papouschek. **
---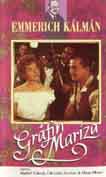 Graefin Mariza, TA 1958
color, 1958, 103 min. - Countess Mariza is visiting her estate. To avoid her amorous neighbor she pretends to be a simple gypsy girl and falls in love with the manager. Set in the beautiful Hungarian countryside, this fast paced, happy movie is based on Kálmáns famous operetta, with all its gypsy music and hit songs. With Rudolf Schock, Alice and Ellen Kessler, Hans Moser and Gunther Philipp. This is the original movie you have been asking for!! TA 1958 Sold Out.
*No Longer Available*
---
Graefin Mariza
English subtitels, ca. 158 min. - Seefestspiele Moerbisch, Intendant Harald Serafin. Graefin Mariza: Dagmar Schellenberger, Graf Tassilo: Nikolai Schukoff; Fuerst Mortiz: Harald Serafin; Fuerstin Bozena: Mirjana Irosch, Festival Orchester Moerbisch, Chor und Ballett der Seefestspiele Moerbisch, Kinderchor des Gymnasiums Eisenstadt. Musikalische Einlage von Emmerich Kalman: "Lieber Himmelvater aus "Die Faschingsfete", "Ouvertuere" und "Ein Cocktail fuer Mary" aus "Die Herzogin von Chicago" und "Grand Palotas de la Reine" aus "Der Teufelsreiter".
Order # 011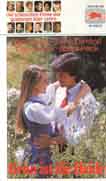 Gruen ist die Heide #1, TA 544
color, 85 min. - This original 1956 German Kino-hit stars Sonja Ziemann, Otto Gebuehr and Rudolf Prack. In the beautiful Lueneburger Heide someone is hunting without permission. The forester is suspecting everyone in the village. Helga is worried about her father and begs him to give up hunting. On a stormy night there's a confrontation.
Lueder Luedersen verfaellt in der Lueneburger Heide einer alten Leidenschaft: der Jagd. Foerster Rainer ist dem Wilddieb hart auf den Fersen. Jeder im Dorf geraet in Verdacht. Helga, Luedersens Tochter, hat Angst um ihren Vater und bittet ihn, die Jagd aufzugeben. In einer stuermischen Nacht kommt es zu einer Konfrontation. This is a completely different movie than "Gruen ist die Heide #2" listed below.
---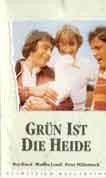 Gruen ist die Heide #2, with Roy Black TA 476
color, This film was a big hit in the German Kinos Theater. Three friends are on vacation in the "Heide" and meet three lovely girls. Of course all sorts of romantic things happen. Add a few songs of Herman Loens and it all makes a classic Heimatfilm starring Heidi Kabel, Henry Vahl and the unforgettable Roy Black. A must for all Roy Black fans!!
Drei Freunde beschliessen in der Heide naturverbundenen Urlaub zu machen um sich vom Alltagsstress zu erholen. Ausser der schoenen Natur, lernen sie auch noch drei huebsche Maedchen kennen. Nach einigen Verwirrungen und lustigen Abenteuern stehen drei Brautpaare vor dem Altar. Eine lustige Komoedie.
---
Gruss und Kuss vom Tegernsee, TA 452
color, ca. 103 min. - Lissy works her way through college by doing odd jobs. This time she's hired to act as a millionaire's daughter and travel to Lake Tegernsee. All goes well until the real daughter's boyfriend comes to visit. A wonderful comedy of errors, with beautiful music, the lovely scenery of the Tegernsee and a heartwarming happy ending. With Elma Karlowa, Monika Dahlberg and Harald Juhnke.
Lissy, eine Musikstudentin die sich mit Nebenjobs ihren Lebensunterhalt verdient, soll diesmal in die Rolle einer Millionaerstochter schluepfen und an deren Stelle an den Tegernsee reisen. Die ganze Komoedie droht aufzufliegen, als Pats Freund am Tegernsee auftaucht um sie zu besuchen. EIene herrliche Verwechslungskomoedie mit bekannten Melodien und einem herzergreifenden Happy-End.
---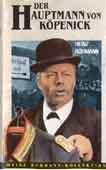 Der Hauptmann von Koepenick TA 270
color, ca. 88 min. - After a few years in jail, Wilhelm Voigt is released. His efforts to get a work permit are frustrated at every end. It's a vicious cycle... no work without a permit, no work and go back to jail...! One day he discovers a Hauptmann's uniform in a thrift shop. In imperial Prussia, a uniform makes the man. Voigt gets himself a guard troop and the keys to the city treasury. Heinz Ruehmann in his most unforgettable role.
In jungen Jahren ist Wilhelm Voigt auf die schiefe Bahn geraten und landet hinter Gittern. Nach seiner Entlassung beschliesst er, endlich ein ehrliches Leben zu fuehren. Doch Wilhelm Voigt hat keinen Pass. Seine staendigen Versuche, sich Papiere zu beschaffen, bringen ihn immer wieder in Schwierigkeiten. Zufaellig stoebert er eines Tages in einem Troedlerladen und findet dort eine alte Hauptmannsuniform. Er gibt einer Garde den Befehl ihm nach Koepenick auf's Rathaus zu folgen. Dort verhaftet er den Buergermeister und den Stadtkaemmerer, um sich in Ruhe einen Pass zu beschaffen. Doch auch hier hat er keinen Erfolg. Kurzerhand beschlagnahmt er die Stadtkasse und flieht... "Der Hauptmann von Koepenick" wird zum Tagesgespraech. Man sucht den Uebeltaeter, doch der Schuster stellt sich freiwillig... Im Zweikampf mit den Behoerden ist er ein alter Mann geworden - aber der Held seiner Zeit. Darsteller: Heinz Ruehmann, Hannelore Schroth, Martin Held. Drehbuch: Helmut Kaeutner, Carl Zuckmayer.
*No Longer Available*
---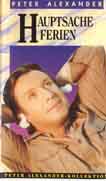 Hauptsache Ferien, TA 424
color, 1972, 99 min. - Vacation! For high school teacher, Dr. Markus and his daughter, Gaby. That means summer, sun, and camping! Corinna, Gaby's classmate, has to repeat the year! Her rich Daddy is to secretly bribe Dr. Markus and make him the winner of a contest and the owner of one of his model homes. Fun movie with music, starring Peter Alexander, Theo Lingen, Christiane Hoerbiger, Martin Held, Marietta Schupp, Balduin Baas, Regina Claus, Hans Quest, Regie: Peter Weck..
Am letzten Schultag haben Lehrer und Schueler nur einen Gedanken: Endlich Ferien! Corinna, die Tochter eines Fertighaus-Fabrikanten hat trotz aller Bestechungsversuche ihres Vaters die Versetzung nicht geschaft. Mit einer kleinen List wollen die Klassenkameraden den groessten Traum von Corinnas Lehrer, Dr. Markus, erfuellen. Ein kurzer Dreh am Rad des Gluecks und schon hat er im Preisausschreiben ein Fertighaus gewonnen. Alles scheint in bester Ordnung, doch ploetzlich fliegt der Schwindel auf. TA 424 Sold Out.
*No Longer Available*
---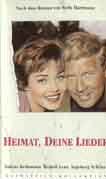 Heimat deine Lieder, TA 472
color, 1959, 85 min. - Set in the beautiful heather landscape, this heart warming story tells of a woman caring for nine refugee children. All they lack is a husband and father. Fate steps in "by accident" and a happy future begins. Enjoy some of the most beautiful German folk songs. Starring Sabine Bethmann, Rudolf Lenz and Peter Vogel.
Erleben Sie eine Geschichte mit traumhaften Bildern aus der Heide und den schoensten deutschen Volksliedern. Eva Weigand kuemmert sich ruehrend wie eine Mutter um ihre neun Fluechtlingskinder. Zu allem Glueck fehlt nur noch ein Vater und Ehemann. Das Schicksal hilft mit einem Unfall nach, bei dem Eva den Richtigen kennenlernt. Gemeinsam sorgen sie dafuer das die Kinder eine glueckliche Zukunft ahben.
---
Heimatmelodie, TP 115
color, 85 min. - Vico Torriani works as a waiter in his father's hotel. When famous bandleader Mantovani hears him sing, he offers him a singing engagement immediately. His father tries everything in his power to prevent this, but in vain. Wonderful music with Mantovani. With Rudolf Vogel.
---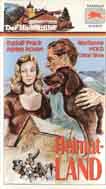 Heimatland, TA 457
Germany, 1955, color, ca. 84 min. - From the classic Heimatfilm collection! Hans Bachinger returns to his home after many years. He falls in love with beautiful Helga, who is also courted by Thomas Heimburg, a hunter. After Hans is convicted of murder, Helga and Thomas are married. Hans escapes from prison and begins the fight for Helga. Dramatic Heimatfilm with Rudolf Prack, Adrian Hoven, Marianne Hold, Oskar Sima. Directed by Franz Antel.
Hans Bachinger, nach laengerer Abwesenheit in die Heimat zurueckgekehrt, kaempft mit dem ansaessigen Jaeger, Thomas Heimberg, um die Gunst von Helga. Nachdem Hans wegen Totschlags verurteilt wird, heiratet Helga Thomas. Hans gelingt die Flucht aus dem Gefaengnis und wird von seinem Hund Krambambuli un Thomas aufgespuert. Der Kampf beginnt.
---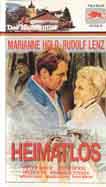 Heimatlos, TA 455
color, ca. 95 min. - In a quiet, lovely village, Barbara Kirchner and the saw mill owner, Franz Leitner, are engaged to be married. On a short vacation trip to Munich, Barbara makes the casual acquaintance of a young man, Conny Fuerst. Franz has followed her to Munich and when he sees Barbara and Conny together he misunderstands the situation and out of jealousy, breaks off the engagement, leaving Barbara homeless in the big city. After a time, Franz changes his mind and takes Barbara back. Great Heimatfilm with Marianne Hold, Rudolf Lenz, Peter Weck and many others! Listen for the outstanding hit song "Heimatlos" sung by Freddy Quinn.
Ein stilles vertraeumtes Dorf... Barbara Kirchner ist mit dem Saegewerkbesitzer Franz Leitner verlobt. Beide wollen heiraten. Doch eine kurze Urlaubsreise nach Muenchen wird zu ihrem Schicksal. Franz faehrt, vor Eifersucht gequaelt, nach Muenchen. Nachdem er Barbara mit dem jungen Conny Fuerst sieht, den Barbara kurz zuvor kennenlernte, loest er die Verlobung. Barbara wird dadurch gezwungen, heimatlos in der Grosstadt zu leben.
*No Longer Available*
---
Heintje - Einmal wird die Sonne wieder scheinen, TA 609
color, 1969, ca. 88 min. - Melodrama, Little Heintje is acting a detective after his father was innocently thrown into jail. But what would a movie with one of Germany's biggest childhood stars be, singing without a happy ending. Starring Heintje and Paul Dahlke.
Der Halbwaise Heintje lebt ohne Mutter. Sein Vater wird - zu unrecht - der Unterschlagung beschuldigt und muss in Untersuchenshaft. Eine Anwaeltin findet heraus, dass das Sorgerecht fuer Heintje auf den steinreichen Grossvater uebergeht. Der alte Griesgram hat eigentlich nie etwas von seinem Scwiegersohn und dessen Sproessling wissen wollen.
---
Herrliche Zeiten im Spessart, TA 417
color, ca. 100 min. - The future looks wonderful for the lovely heiress of the castle in the Spessart Mountains. She's all set to marry an American service man when he gets his orders to return home. What can she do to get closer to her sweetheart? She calls on all the ghosts in her haunted castle to her aid and between yesterday and tomorrow takes a fantastic, rollicking tour through the centuries before her sweetheart comes back to her. One-hundred minutes of fun with Liselotte Pulver, Harald Leipnitz, Willy Millowitsch, Hubert von Meyerinck, Vivi Bach and many others in this wonderful Kurt Hoffman film.
Herrliche Zeiten scheinen der entzueckenden Nachfahrin der Schlossherrin vom Spukschloss bevorzustehen. Ab geht's zur Hochzeit mit einem Spezialisten der US-Army, wenn's , ja wenn es keine Befehle gaebe. Die Gespenster versuchen der Schlossherrin zu helfen.
---
Hoch klingt der Radetzky Marsch, TA 1021
color, ca. 100 min. - A young officer bets his friends a case of champagne he can present a new conquest by the next day. Well... romance, song and music, and a lovely chambermaid. A humorous Heimatfilm with Boy Gobert, Walter Reyer and Johanna Matz. Geza von Bolvary directs. A true Classic!
Wien zur Biedermeierzeit. Carl schliesst mit zwei Offizieren eine Wette ab: Bis zum naechsten Tag muss er ein neues Liebesabenteuer vorweisen koennen oder zehn Flaschen Sekt springen lassen. Vergeblich versucht Carl nun das huebsche Stubenmaedel Franzi fuer sich zu gewinnen. Obwohl dies scheitert, prahlt er in seinem Stammlokal mit seiner Eroberung. Als Stephan, der sich in Franzi verliebt hat, aber ebenfalls nicht erhoert wurde, von Carls angeblichen Erfolg erfaehrt, schreibt er einen Schlager ueber die unmoralischen Stubenmaedel von Wien. Das Lied wird zur Sensation, doch fuer Stephan wird es fast unmoeglich, Franzis Herz zu gewinnen.
---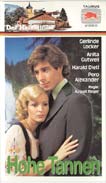 Hohe Tannen, TA 484
color, ca. 89 min. - A modern composer, Theo Weigland, is planning to spend a quiet vacation in the mountains to get some real rest and new ideas for his music. On the way there he bangs into a cole cart which is pushed by a beautiful girl. Theo falls in love instantly, but is still a long way to a happy ending. Gerlinde Locker, Pero Alexander, Anita Gutwell and Wolf Albach-Retty star in this charming movie.
Der Schlagerkomponist Theo faehrt in ein stilles Tal, um sich dort zu erholen und neue Ideen fuer seine Schlager zu holen. Auf dem Weg dorthin stoesst er mit einem Koehlerkarren zusammen, der von einem schoenen Maedchen gelenkt wird. Theo verliebt sich sofort in sie. Bis zum Happy-End ist es allerdings noch ein weiter Weg.
ok 8/13
Fuer hunderte weitere herrliche Heimatfilme
bitte unten weiter klicken.
For other Heimat video descriptions click on:
Viel Spass beim schnuppern. Wir hoffen das Sie die Filme die Sie schon seit Jahren mal wieder sehen wollten in unserem Angebot wiederfinden. Alle unsere Filme sind zum kaufen oder auch fuer wenig Geld fuer 30 Tage zum verleihen.
How else may I place an order?
Click on the envelope below to send e-mail
to the German Language Video Center!

Not responsible for typographical errors.
Video run times are approximate.
Prices and availability subject to change without notice.
Send comments regarding contents of this page to
glvc@indy.net





Member VSDA since 1985.

Last modified: Wednesday, July 20, 2022 4:42 PM
German Language Video Center© 1997/2016
Entire Website copyrighted 1997, 1998, 1999, 2000, 2001, 2002, 2003, 2004, 2005. 2006, 2007, 2008, 2009, 2010, 2011, 2012, 2013, 2014, 2015, 2016
No reproduction or download allowed for commercial purposes without written permission.

GLVC 2016©.