The place where our customers send their friends!
Welcome to the Only American Video Tape Store for rare German Movies and Old ZDF volksmusik shows.
Please note: All video tapes are in the American NTSC VHS video format
and will play on all VCR's in North America. We are closing out all of our VHS inventory. This will be your last chance to obtain these beautiful ZDF music videos and hundreds of classic German movies and heimatfilme. Due to the limited demand in the USA, most of these movies will unfortunately never be available on DVD in America.
Once our videos are gone, they're gone!!!
We have drastically reduced the prices on over 2000 video titles closeout. Make sure to buy these classics while supply lasts.
On all VHS clouseout prices we will send you a new or previously viewed tape.
CLOSEOUT!!!!!
BUY NOW!!!
Any 10 videos for only $49.95
plus $19 s/h
while supplies last
German Heimat Video Descriptions - Wir haben nur noch wenige dieser schoenen deutschen Heimatfilme auf Lager. Dies ist Ihre letzte Chance diese herrlichen Filme zu geniessen.
Bestellen Sie noch heute!
D
Die Deutschmeister, TA 917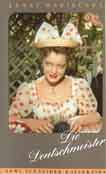 color, ca. 103 min. - Pretty Stanzi (Romy Schneider) is going to Vienna to visit her aunt. On the way, she meets Baron Zorndorf who falls head over heels in love with her. The next day, he calls on her aunt to ask for Stanzi's hand. By mistake, he calls on Duchess Burgstetten, who can't figure out why the handsome baron is interested in her niece Nanette. An Ernst Marischka film starring Romy and Madga Schneider and Hans Moser. Beautiful costumes. Fun and enjoyment for the entire family! The movie classic you have been asking for. *No Longer Available*
---
Dort in der Wachau, TA 454
ca. 94 min., Komoedie, color - Ein herrliches Verwirrspiel um Liebeleien und denkbare Vaterschaften. Das schoene Flusschiff, die 'Johann Strauss', ist Mittelpunkt einer turbulenten Liebes- und Verwechselungskomoedie. Ein Donaudampfshifffahrtsgesellschafts- Kapitaen steht im Ruf ein Don Juan zu sein. Elisabeth glaubt, die Tochter von Kapitaen Heider zu sein. Sie ist ueber diesen Umstand aber gar nicht gluecklich, da sie sich in Peter, Heiders Sohn, verliebt hat und meint, ihn nie heiraten zu koennen. Zum Schluss kommt es doch noch in der schoenen Wachauer Dorfkirche zur Hochzeit von vier gluecklichen Paaren. Mit Wolf Albach-Retty, Gerlinda Locker, Lotte Ledl, Fritz Muliar und Boy Gobert.
---
Dort oben wo die Alpen gluehn, TA 381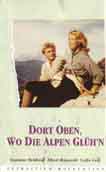 color, ca. 96 min. - Only once has the dangerous mountain "Gottesfinger" been conquered. Mountain guide Loisl did it to win the heart of the wealthy farm woman Anna. Then comes a young, pretty, world famous mountain climber who picks Loisl to be her guide. Anna burns with jealousy... Heimatfilm with breathtaking nature and mountain scenes. This film you surely won't want to miss.
Der Bergfuehrer Loisl gewinnt nicht nur das Wettklettern in einer besonders schwierigen Wand, sondern auch die Gunst der schoenen Berghofbaeuerin Anna. Der unterlegene Jakob kann das nicht verkraften. Als Loisl mit der bekannten Bergsteigerin Andrea Baureiss unterwegs ist, schuert Jakob Annas Misstrauen. Anna ist blind vor Eifersucht und verlangt von Loisl einen Treuebeweis: Er soll ihr das Edelweiss vom "Gottesfinger" holen, einen Berg wo bisher jeder abgestuertzt ist. Mit Ingemar Zeisberg, Albert Rueprecht, Lotte Ledl, Erik Frey, Gerlinda Locker, Peter Gruber. Regie: Otto Meyer.
*No Longer Available*
---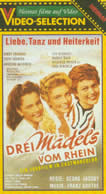 Drei Maedels vom Rhein, KR 3012
color, 1955, 88 min. - The old, comfortable inn "Zur Linde" is threatened by a big, luxury hotel, the "Palasthotel". The owner of the inn, Therese Huebner, tries in vain to get bank credit; the bank is the creditor for the "Palasthotel" and intends to purchase the little inn. Therese is about to sell the inn. But then the annual wine festival takes place. Watch the story unfold now. With Gardy Granass, Angelika Meissner, Topsy Kueppers, Margit Saad and Fita Benkhoff.
Verzweifelt versucht Therese Huebner ihr Wirtshaus "Zur Linde" durch einen Bankkredit zu retten, doch der Bankdirektor setzt auf das neueroeffnete luxurioese "Palasthotel" und verweigert ihr seine Unterstuetzung. Die Konkurrenz zwischen Alt und Neu wird fuer die Lindenwirtin zur Existenzfrage. Besonders dann, als sogar Thereses Toechter von der Faszination des Modernen ergriffen werden. Als sie aufgeben will tritt eine entscheidende Wende ein: Jack, der in Tochter Sabine verliebt ist, spielt Schicksal...
---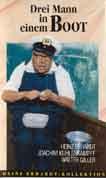 Drei Mann in einem Boot, TA 887
color, 1961, 93 min. - Two men in the advertising business are on vacation. To get away from the pursuit of a young widow, they buy a boat and cruise around lake Bodensee for a while. Soon an art dealer joins them, who wants to get some peace and quiet from his wife. An adventurous and fun trip begins down the Rhine river. With Hans-Joachim Kulenkampff, Heinz Erhardt and Walter Giller.
Die Werbefachleute Harry Berg und Jo Sommer machen Urlaub am Bodensee. Da taucht Fee auf, eine kaprizioese junge Witwe, die Harry reichlich strapaziert hat. Um Fee zu entrinnen, kaufen Harry und Jo ein Boot, mit dem sie einige Zeit auf dem Bodensee verbringen wollen. Als Smutje stoesst noch der Kunsthaendler Georg Nolte zu ihnen, Georg sucht Abwechslung von seiner Familie. Fee und Frau Nolte nehmen in einem gecharterten Boot die Verfolgung der Ausreisser auf. Es beginnt eine abenteuerliche Reise. TA 887 Sold Out. *No Longer Available*
---
E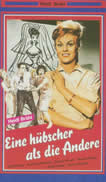 Eine huebscher als die andere, KR 1130
color, 1961, 90 min. - The son of a wealthy industrialist enjoys his life as #1 playboy and his various romances with many pretty women. One day he meets an artist (Heidi Bruehl) who is totally different. She lets him know she doesn't care for playboys. To impress her he pretends to be a car salesman and borrows his friend's simple apartment. Cute comedy of errors with all your favorites: Heidi Bruehl, Peter Vogel, Senta Berger, Gustav Knuth, Rudolf Platte.
Er begegnet in Gabi Fabian einer Kuenstlerin, die ihm zu verstehen gibt, das sie von der vornehmen Gesellschaft und speziell von Playboy Pit Seeberg nichts haelt. Damit Gabi ihm seinen normalen Lebenswandel auch glaubt, laesst er sich durch seine Beziehungen kurzfristig in einer Autofirma als Verkaeufer einstellen, wodurch ihre Freundschaft ihren Lauf nimmt. Eine lustige Verwechslungskommoedie.
---
Einmal noch die Heimat sehen, TA 470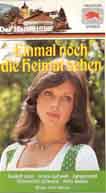 color, ca. 94 min. - A forester becomes victim to an error in the justice system and has to flee his homeland. He goes to Africa and experiences excitement and adventure. But homesickness starts to get to him and he can't stay away any longer. On Christmas day he returns home to his mountains and his beloved wife. Rudolf Linz, Anita Gutwell, Juergen Holl and Fritz Mullar star in this heartwarming Heimatfilm.
Ein Foerster faellt einem Justizirrtum zum Opfer und muss fliehen. Er geht nach Afrika und erlebt dort viele Abenteuer. Bald kann er dem Heimweh nicht mehr wiederstehen. Er kehrt an Weihnachten in seine geliebte Heimat und zu seiner Frau zurueck.
*No Longer Available*

---
El Hakim, TA 1180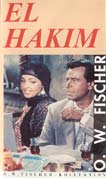 color, ca. 106 min. - The life story of an Egyptian physician, his struggle against poverty, ignorance and corruption and his relationship with different women. Big movie theater hit of the late 50s in Germany! Excellent drama starring O. W. Fischer, Nadja Tiller, Michael Ande, and Robert Graf.
Nach dem Romanbestseller von John Knittel entstand diese Biographie ueber den Werdegang eines Jungen aus aermlichen Basar-Verhaeltnissen, der dank Begabung und Glueck zu einem beruehmten aegyptischen Arzt aufsteigt. Seine bewegte Laufbahn fuehrt ihn ueber Kairo und kleine Doerfer am Nil zu hohem Ruhm nach London und Paris, schliesslich aber - todkrank- wieder zurueck in seine Heimat. Ein attraktiv gestaltetes Melodram ueber einen Arzt mit uneingeschraenkter Menschenliebe, seinen Kampf gegen Armut, Unwissenheit und Koruption und seine Begegnungen mit den verschiedenen Frauen.
---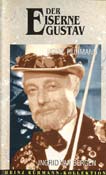 Der Eiserne Gustav , TA 1079
color, 1958, 98 min. - A wonderful Heinz Ruehmann film about one of the last horse and carriage drivers in Berlin. Broke and totally in debt, they try to have him committed. He takes his horse and carriage and flees to Paris. Funny and sad, a bittersweet movie that will warm your heart.
Im Berlin der 20er Jahre ist Gustav Hartmann (Heinz Ruehmann) einer der letzten Droschkenkutscher, die mehr und mehr durch die motorisierten Taxis verdraengt werden. Als die Familie bemerkt, dass er ihr Leben auf Pump finanziert, denkt sie daran, ihn entmuendigen zu lassen. Daraufhin flieht er und begibt sich mit Pferd und Wagen auf den Weg nach Paris, um dort seinen Geburtstag zu feiern. Auf seiner Reise durchs Land wird er ueberall von der Bevoelkerung stuermisch gefeiert... Darsteller: Heinz Ruehmann, Lucie Mannheim, Ernst Schroeder, Karin Baal, Ingrid van Bergen. Regie: Georg Hurdalek.
*No Longer Available*
---
Und ewig singen die Waelder TA 436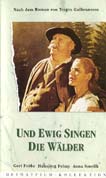 color, ca. 104 min. - In the majestic mountains of Norway around the turn of the century a wealthy farmer's favorite son is killed in a duel. Thus starts the feud between neighboring families. The second son can't prevent tragedy and his father's death, but tries to carry on working the family estate. Touching film, based on Gulbranssen's world famous novel, starring Hans-Joerg Felmy, Joachim Hansen, Mai-Britt Nilsson.
Als der Lieblingssohn des Grossbauern Dag im Zweikampf faellt, beginnt eine verbitterte Feindschaft zwischen dem Bauern und dem benachbarten Adelssitz. Selbst sein juengerer Sohn kann die Katastrophe nicht abwenden, die den adeligen Nachbarn um Kind und Besitz und den rachsuechtigen Dag um einen gluecklichen Lebensabend bringt. Die erfolgreiche Verfilmung Gulbranssens Roman wird durch "Das Erbe von Bjoerndal" fortgesetzt.
---
Das Erbe von Bjoerndal,, Part II TA 437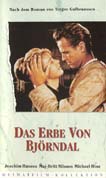 color, ca. 96 min. - The sequel to the great success "Und ewig singen die Waelder" tells about the life and marriage of the young Norwegian farmer until his tragic end. A movie that will touch your heart. With Ellen Schwiers, Brigitte Horney and Joachim Hansen.
Nach dem Tod seines Vaters bewirtschaften Dag und seine Frau Adelheid das grosse Besitztum Bjoerndal im Norden. Als Dag die gescheiterte Gunvor, eine junge Frau aus der Stadt, in Dienst nimmt, droht die Ehe zu zerbrechen. Adelheids Vater, ein grosspuriger Major a. D. hat ein Verhaeltnis mit Gunvor. Da Adelheid annimt, ihr Mann, der aus falscher Ruecksicht schweigt, habe ein Verhaeltnis mit Gunvor, ergeben sich tragische Verwicklungen.
Buy both films above at the same time!
Order # TA 3436SET

$46.50
---
F
Faust, TA 1015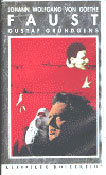 color, 1960, 124 min. - Faust, driven to unlock nature's secrets, makes a pact with Mephistopheles who pledges to fulfill Faust's every wish until Faust is totally satisfied. The Price? Faust's soul! The world famous Gruendgens success version costarring Will Quadflieg and Gustaf Gruendgens. Goethe's greatest masterpiece.
Faust ist ein nachdenklicher Zweifler. Er versucht, die Geheimnisse der Welt und ihre Zusammenhaenge vollstaendig zu verstehen. Mephistopheles wettet mit Gott. Er will Faust vom rechten Weg abbringen. Die beiden schliessen einen Pakt. Mephistopheles verwirklicht Faust alle geistigen und sinnlichen Wuensche, solange bis Faust die absolute Erfuellung erlebt. Dafuer gehoert Fausts Seele dem Teufel. Goethes "Faust I" in der filmischen Aufbereitung der beruehmten Gustaf Gruendgens Inszenierung fuer das Deutsche Schauspielhaus in Hamburg.
---
Ferien vom Ich, TA 563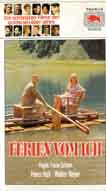 color, ca 86 min. - Vacation... time to relax and think health! Dr. Schuhmacher, a ship's doctor and Mr. Stevenson, a stressed out millionaire open a hotel and health facility, the guests include a skinny model, a new-rich matron and Stevenson himself. Enjoy the fitness training "Sixties Style". Beautiful landscape and entertainment you will enjoy!
Urlaub! Ferien! Diese Worte elektrisieren Dr. Schumacher (Hans Holt), Schiffsarzt und Mr. Stevenson (Walter Reyer), gehetzter Millionaer, haben den Trend erkannt und eroeffnen ein Erholungshotel. Die Gaeste: Ein aetherisches Mannequin, eine Frau "Neureich" und Stevenson selbst. Eine Mischung, die viel Aufregung verspricht.
---
Die Feuerzangenbowle, TA 15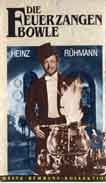 b/w, ca. 94 min. - Heinz Ruehmann stars in this wonderful comedy based on Heinrich Spoerls famous novel. Hans Pfeiffer, a young and already famous novelist from Berlin, was educated by a private tutor and has no idea about the pranks and fun of going to a real school. Then a wonderful idea is born over a "Feuerzangenbowle". He pretends to be eighteen again, moves to a small town to finish high school where he meets all sorts of oddball professors and small town characters, falls in love with the principal's daughter and gets to experience what he had missed. Also staring: Karin Himboldt, Hilde Sessak. Regie: Helmut Weiss.
Heinz Ruehmann in dem Klassiker des deutschen Lustspielfilms. - "Wie Heissen Sie?" - "Pfeiffer". - "Mit wieviel F's?" - "Mit dreien: Eins vor dem Ei, zwei nach dem Ei." - Der erfolgreiche Schriftsteller Dr. Pfeiffer stellt bei einer abendlichen Feuerzangenbowle mit Freunden fest, dass er die "eigentliche" Schule nie kennengelernt hat, da er durch einen Privatlehrer erzogen worden ist. Darauf beschliesst er, noch einmal die Schulbank zu druecken, wobei er mit seinen Streichen nicht nur die Schule, sondern sein ganzes Heimatstaedtchen auf den Kopf stellt. Out of print.
---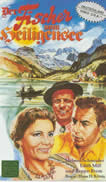 Der Fischer vom Heiligensee KR 931
color, ca. 83 min., 1955 - They grew up together; the young baroness and the son of a fisherman. When he becomes overseer on the baron's estate, affection turns into true love. Helmut Schneider, Lil Dagover and Beppo Brem star in this classic Heimatfilm you surely don't want to miss. Own and watch over and over again!
---
Die Fischerin vom Bodensee TA 1098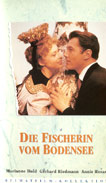 color, 90 min. - A poor girl from the fishing village and her grandfather fight against the competition of a big fishing company. They are forced to sell their fishing rights. Eventually, the girl and the heir of the big company fall in love and in the end love conquers all. Traditional Heimatfilm, with Marianne Hold and Gerhard Riedman.
Das unehelich geborene Fischermaedchen Maria kaempft gemeinsam mit ihrem Grossvater gegen die uebermaessige Konkurrenz des reichen Fischzuechters Bruckberger. Der Sohn der Bruckbergers, Hans, verliebt sich in Maria.Sie kann seine Liebe jedoch nicht erwidern, da ihr Grossvater durch die Macht der Bruckbergers gezwungen ist, die Fischrechte der Familie fuer einen Spottpreis zu verkaufen. Zu guter Letzt besiegt die Liebe alle Hindernisse und Maria findet durch Hans sogar ihren Vater. TA 1098 Sold Out.
*No Longer Available*
---
Die Fledermaus,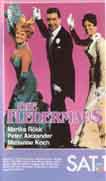 color, 1961, 90 min. - A musical film based on the Johann Strauss operetta, starring Peter Alexander, Marika Roekk, Hans Moser and Willy Millowitsch. All of Vienna is amused by another scandal. A chambermaid as a Duchess? A false Marquis? And the police department is totally confused? A wonderful, fun movie. Peter Alexander at his best.
Walzermetropole Wien: Prinz Orlofsky laedt ein zum Ball. Unter den Gaesten: Ein prominenter Strafgefangener - sein Stubenmaedchen, als Graefin verkleidet - eine beruehmte russische Taenzerin, angeblich die Zwillingsschwester seiner Ehefrau, tatsaechlich seine untreue Gemahlin. Geladen sind auch der Gefaengnisdirektor und der Gefaengniswaerter - etwa, um ihren prominenten Haeftling abzufuehren? Eine amuesante Verfilmung der Johann Strauss-Operette.
**No Longer Available**
---
Der Foerster vom Silberwald, TA 292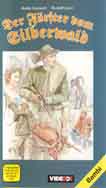 color, ca. 87 min. - From the classic Heimatfilm collection! Romantic and dramatic love story of the forester Hubert and artist Liesl from Vienna. Set in the beautiful Alps. Jealousy and intrigue threaten to destroy everything the forester holds dear. Exceptional animal and nature photography make this movie a classic among Heimatfilms. Starring Anita Gutwell, Rudolf Lenz, Karl Ehrmann and many more!
Die romantische Liebesromanze zwischen dem Foerster Huber und der Wiener Kuenstlerin Liesl wird umrahmt von herrlichen Tier- und Landschaftsaufnahmen, die mit zum Schoensten gehoeren was der Heimatfilm aufzuweisen hat. Doch Eifersucht und Intrigen zerstoeren diese Idylle und drohen dem Foerster alles zu nehmen was er liebt - seine Arbeit und seine Liesl. Die alpenlaendische Tierwelt in einmaliger Schoenheit zu zeigen, war das Bestreben vieler spaeterer Heimatfilme, doch wurde es so ueberzeugend nie mehr erreicht.
---
Die Foersterbuben, TA 742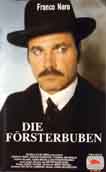 color, ca. 90 min. - A blizzard sweeps through the Austrian Alps when seventeen year old high school student Elias and a stranger get off the train at a tiny station. Forester Rufmann comes to pick up his son and the stranger follows them to the village. Nobody could possible guess what fateful and dramatic events are about to take place. Starring Franco Nero! A drama based on Peter Rosegger's famous novel.
---
Foersterliesl, TA 358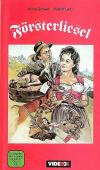 color, ca. 84 min. - Liesl and Tony love each other, but their romance has to endure many problems. Two young men are fighting for lovely Liesl's hand and handsome Tony has to resist a charming and insisting city lady. Jealousy threatens to destroy their happiness and Liesl's love for her animals almost costs her her life. A romantic love story set in the beautiful "Silberwald".
Die Foerstertochter Liesl hat sich in den jungen Tony verliebt und auch er fuehlt sich zu ihr hingezogen Diese Liebesromanze muss jedoch harte Proben bestehen. Die huebsche Liesel wird gleich von zwei Freiern aufs Heftigste begehrt und der fesche Tony muss den Liebesbezeugungen einer raffinierten Dame aus der Stadt wiederstehen. Jagdleidenschaft, Wilddiebereien und Eifersucht bedrohen das Glueck der Liebenden. Mit Anita Gutwell, Rudolf Lenz, Eva-Maria Meineke, Rudolf Carl, Lotte Ledl, Erik Frey, Walter Stumvoll, Fritz Muliar. Regio: Herbert Fredersdorf.
---
Freddy unter fremden SternenTA 575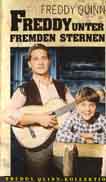 color, ca. 94 min. - Freddy has inherited property in Canada. With a great sense of adventure and high hopes he sets out for the new world. Along the way he meets Stefan, a stowaway who has no papers but wants to make his fortune. There are pretty girls, there is music.. - so what if Freddy's big inheritance turns out to be a falling down log cabin in the Canadian wilderness? And why are so many people so interested in this "worthless" property? Freddy Quinn, Vera Tschechova, Gustav Knuth and many others star in this happy movie.
Abenteuerlust - und eine echte Chance locken Freddy nach Kanada. Mit von der Partie: der elfjaehrige Waisenjunge Stefan, der als blinder Passagier, ohne Einwanderungspapiere sein Glueck versuchen will. Freddys Erbschaft stellt sich als verfallenes Blockhaus in der kanadischen Wildnis heraus. Erstaunlich viele Leute zeigen jedoch ein reges Interesse an dem verwilderten Land.
---
Freddy und der Millionaer, TA 576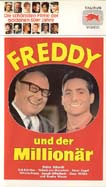 color, ca. 92 min. - Freddy Quinn plays Fritz Meyer who dreams of being a millionaire. Then on a vacation trip to Italy he meets a real millionaire, gets involved with strange business dealings, misunderstandings, the millionaire's kooky sister and his spoiled daughter. He gets the chance at life-style and his sweetheart. Enjoy Freddy singing "So ist nun einmal das Leben", See Grit Boettcher, Vitorria Prada, Hubert von Meyerinck. Peter Vaughan and the wonderful Heinz Erhardt and Grete Weiser.
Meyer alias Freddy traeumt: Millionaer, Direktor zu sein und mit Fraeulein Schmidt in Urlaub zu fahren. Waehrend einer Italienreise geraet er tatsaechlich in das "Suesse Leben". Zwischen Falschspielern, Halsabschneidern, Playboys und lockeren Maedchen fuehlt Meyer sich femd - er beschliesst zurueckzukehren woher er kam.
ok 11/12
---
Fuer hunderte weitere herrliche Heimatfilme
bitte unten weiter klicken.
For other Heimat video descriptions click on:
Viel Spass beim schnuppern. Wir hoffen das Sie die Filme die Sie schon seit Jahren mal wieder sehen wollten in unserem Angebot wiederfinden. Alle unsere Filme sind zum kaufen oder auch fuer wenig Geld fuer 30 Tage zum verleihen.
How else may I place an order?
Click on the envelope below to send e-mail
to the German Language Video Center!

Not responsible for typographical errors.
Video run times are approximate.
Prices and availability subject to change without notice.
Send comments regarding contents of this page to
glvc@indy.net





Member VSDA since 1985.

Last modified: Friday, October 21, 2016 2:18 PM
German Language Video Center© 1997/2016
Entire Website copyrighted 1997, 1998, 1999, 2000, 2001, 2002, 2003, 2004, 2005. 2006, 2007, 2008, 2009, 2010, 2011, 2012, 2013, 2014, 2015, 2016
No reproduction or download allowed for commercial purposes without written permission.

GLVC 2016©.