The place where our customers send their friends!
Welcome to the Only American Video Tape Store for rare German Movies and Old ZDF volksmusik shows.
Please note: All video tapes are in the American NTSC VHS video format
and will play on all VCR's in North America. We are closing out all of our VHS inventory. This will be your last chance to obtain these beautiful ZDF music videos and hundreds of classic German movies and heimatfilme. Due to the limited demand in the USA, most of these movies will unfortunately never be available on DVD in America.
Once our videos are gone, they're gone!!!
We have drastically reduced the prices on over 2000 video titles closeout. Make sure to buy these classics while supply lasts.
On all VHS clouseout prices we will send you a new or previously viewed tape.
CLOSEOUT!!!!!
BUY NOW!!!
Any 10 videos for only $49.95
plus $19 s/h
while supplies last
Alle Videos auf dieser Seite sind in deutscher Sprache ohne Untertitel,
in Farbe und schon auf das amerikanische NTSC-System in VHS umgespielt.
German Heimat Video Descriptions - Wir haben nur noch wenige dieser schoenen deutschen Heimatfilme auf Lager. Dies ist Ihre letzte Chance diese herrlichen Filme zu geniessen.
Bestellen Sie noch heute!!
A
Die Abenteuer des Grafen Bobby TA 951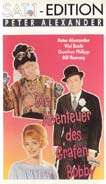 color, ca. 92 min. - Graefin Ratzenberg hat ein lukratives Angebot bekommen. Ein Angebot, das ihrem "leeren" Geldbeutel gut taete. Sie soll eine Amerikanerin als Anstandsdame auf ihrer Reise durch Europa begleiten. Doch leider wird die Graefin krank. Graf Bobby schluepft in ihre Rolle und ihre Roecke. Er bedauert schnell das Verwechslungsspiel, denn sein Schuetzling ist ein bezauberndes, junges Maedchen... Eine spritzige Verwechslungskomoedie mit viel Musik... Mit: Peter Alexander, Vivi Bach, Gunther Philipp, Bill Ramsey, Oskar Sima, Boy Gobert. Regie: Geza von Cziffra.
Countess Retzeburg is supposed to accompany a wealthy American young lady on a European trip but she becomes ill and Count Bobby jumps in to take her place. He soon regrets the game for the young American lady is very pretty... You've been waiting for a Peter Alexander movie and here it is with lots of music and romance with Vivi Bach, Gunther Philipp and Oskar Sima.
*No Longer Available*
---
Am Brunnen vor dem Tore, TA 451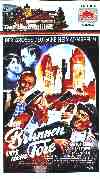 1952, color, ca. 88 min. - From the Classic Heimatfilm collection! In the romantic little town of Dinkelsbuehl, Inge, the young owner of the guest house "Am Brunnen vor dem Tore", has fallen in love with an English ex-pilot. One of the earlier Heimatfilms with Sonja Ziemann, Willy Fritsch, Fritz Koesling, Heli Finkenzeller, Hans Stuewe and Paul Klinger. Regie: Hans Wolff. A romantic love story you'll surely want to won to enjoy time and time again!
Vor der herrlichen Kulisse des mittelalterlichen Staedtchens Dinkelsbuehl erleben wir die Geschichte des vornehmen Adeligen, der zum Verbrecher wird, viele Aufregungen verursacht durch drei Landstreicher, Rivallitaeten mehrerer Bewerber um die Gunst einer Frau. Die ganze Handlung wird umrahmt von den schoensten deutschen Volksliedern.
*No Longer Available*
---
Der Arzt von Stalingrad , TA 862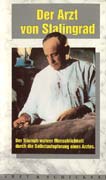 b/w, 1958, 102 min. - During the terrible postwar years in a Russian prison camp a doctor tries to help his fellow prisoners under the most primitive circumstances. An all-star cast including O. E. Hasse, Eva Bartok, Hannes Messemer, Mario Adorf, Walter Reyer, Vera Tschechova., Leonard Steckel, Michael ande, Siegfied Lowitz, Regie: Geza v. Radvanyi. Highly Acclaimed Movie!!
Diesen Film schrieb das Leben. Er bezeugt, dass Menschlichkeit die Kraft haben kann, ueber das Unmenschliche zu siegen... Ueberragend die Persoenlickeit des Stabsarztes Dr. Boehler (O.E. Hasse) im Kriegsgefangenenlager 5110/47 bei Stalingrad. In den zermuerbenden Jahren des Lagerlebens hinter Stacheldraht muss er mit den primitivsten Mitteln versuchen, seinen mitgefangenen Kameraden zu helfen. Ein aufruettelnder Film in Star-Besetzung nach dem Besteller-Roman von Heinz G. Konsalik.
---
Auf der Reeperbahn Nachts um halb Eins, TA 1176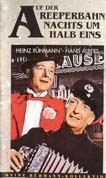 color, 1954, 107 min. - This famous movie classic is one of the most popular German films. After many years Hannes (Hans Albers) returns to Hamburg to retire. His old friend Pitter (Heinz Ruehmann) has financial problems with his Hippodrome ride on the Reeperbahn. Hannes decides to help his old friend. Lots of drama and Seamen songs make this film so enjoyable.
Dieser beruehmte Filmklasiker zaehlt zweifellos zu den populaersten Werken des deutschen Films. Nach vielen Jahren kehrt Hannes Wedderkamp (Hans Albers) aus dem Ausland zurueck, um sich in seiner Heimatstadt Hamburg zur Ruhe zu setzen. Sein alter Freund Pitter Breuer (Heinz Ruehmann) hat mit seinem Hippodrom auf der Reeperbahn grosse finanzielle Probleme. Sofort beschliesst Hannes, als rettender Engel einzugreifen. Es ist nicht nur die Freundschaft zu Pitter, die ihn dazu bewegt, sondern mehr noch die Erinnerung an Pitters verstorbene Frau, die Hannes einmal heiraten wollte. Darsteller: Hans Albers, Heinz Ruehmann, Fita Benkhoff, Erwin Strahl, Gustav Knuth, Sybill Werden u.a. Regie: Wolfgang Liebeneiner.
*No Longer Available*
---
B
Die Beine von Dolores, TA 931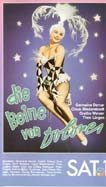 color, ca. 104 min. - She's young, beautiful and has great legs. Dolores is the star of the exclusive "Pigalle". Her parents think she works as a night nurse at a private clinic. Wonderful comedy with Grete Weiser, Germaine Damar, Claus Biederstaedt and Theo Lingen. Laughs are guaranteed!
---
Der Bettelstudent, TA 925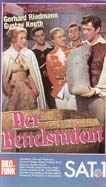 color, ca. 93 min. - In Poland, country gentry and students revolt against the government of Krakow. Beautiful movie, full of intrigue, humor and romance with lovely scenery and music. "Ja, ich hab Sie ja nur auf die Schulter gekuesst". Movie is based on the famous operetta with Gerhard Riedmann, Waltraut Haas, Elma Karlowa, Gunther Philipp, Gustav Knuth and Ellen and Alice Kessler. One of our most requested films.
Polen zur Zeit August des Starken: Landadel und Studenten lehnen sich gegen das Regiment von Oberst Ollendorf, seinem Statthalter in Krakau, auf. Eine Reihe von abenteuerlichen Verwicklungen nimmt ihren Lauf: Eine junge Taenzerin verkleidet sich als Offizier und dient sich Ollendorf an. Zwei Studenten landen auf der Flucht vor den Soldaten im Gefaengnis. Ollendorf will einem von ihnen, dem Bettelstudenten, die Freiheit wiedergeben, wenn er die schoene Laura heitatet. Sie hatte Ollendorf auf einem Fest schmaehlich abgewiesen. Der Tag der Hochzeit: Die junge Taenzerin in Offiziersuniform hat alles geschickt eingefaedelt. Aufstaendischer Landadel und Studenten stuermen den Sitz von Ollendorf und der Bettelstudent wird sein Nachfolger.
---
C
Die Christel von der Post, TA 380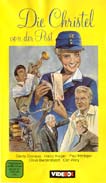 color, ca. 101 min. - On the occasion of a postal anniversary, grand festivities are planned and young, pretty mail lady Christel is supposed to play the part of Christel von der Post, the famous operetta. Hardy Krueger, Paul Hoerbiger, Claus Biederstaedt and many others star in this colorful musical.
Die junge Christel traegt im malerischen Rothenburg ob der Tauber die Post aus. Horst, ihr Verlobter, arbeitet bei der Kriminalpolizei. Doch Solotrompeter Mecky droht die Liebe der beiden zu zerstoeren. Beim grossen Postfest kommt es zu allerlei Verwirrungen und Turbulenzen. Am Schluss erkennt Christel, dass ihre Liebe nur Horst gehoeren kann. Eine ruehrende Liebesgeschichte mit viel Schwung und Musik!
*No Longer Available*
---
Die Csardasfuerstin, TA 924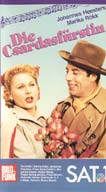 color, ca. 90 min. - Wherever famous revue star Sylva (Marika Roekk) presents a show, men lose their heads over the beautiful duchess. A plantation owner in Buenos Aires, a wealthy merchant in Sicily, the Austrian Edwin (Johannes Heesters) falls for the sexy duchess. Sylva loves them and leaves them. Edwin, however, doesn't give up and thinks of ways to win the heart of the "Csardasfuerstin". A tale of love and music presented in a beautiful setting.
*No Longer Available*
For Credit card orders just call 1-800-252-1957 ( 8 a.m. to 7 p.m.)
Remember! All the videos on this page are in the USA / NTSC-System
in VHS and in German language without English subtitles.
For Rush-Orders just call 1-800-252-1957.
Charleys Tante - With Heinz Ruehmann, TA 261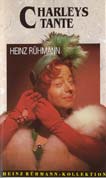 1955, color, ca. 86 min. - With Heinz Ruehmann A merchant from South America falls in love with a very pretty young woman. To impress her he tries to help his nephew - and becomes Charleys "Aunt". Hilarious - side splitting comedy with Heinz Ruehmann, Hertha Feiler, Walter Giller, Claus Biederstaedt, Paul Hoerbiger.
Der Handelsattache Dr. Bernburg hat sich in die huebsche Carlotta verliebt. Bevor er ihr jedoch weiter den Hof machen kann, muss er zunaechst seinen Bruder Ralf besuchen. Ralf und sein Freund Charley erwarten fuer diesen Abend Besuch von zwei Schwedinnen. Um den ploetzlich auftauchenden Vater der beiden Maedchen zu beruhigen, verkleidet sich Dr. Bernburg als Charleys Tante. Als die echte Tante, naemlich Carlotta auftaucht, bleiben Verwechselungen und Komplikationen nicht aus.
---
Note: Practically the same script and action as "Charleys Tante" with Peter Alexander. Because of the great success of the 1955 version, the second version was made 8 years later with different actors.
Charleys Tante - With Peter Alexander TA 1055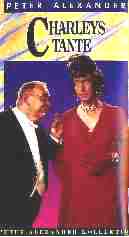 1963, color, ca. 81 min. - One of the most successful versions of this classic farce. A commercial attaché meets Charley - an attractive young lady whose wealthy father owns plantations. She's pursued by older men who are after her millions. Our attache protects her by passing himself off as her "aunt". One hilarious event follows the other. With Peter Alexander, Peter Vogel and Maria Sebaldt.
Um seinem Freund aus der Patsche zu helfen, verwandelt sich Dr. Otto Wilder (Peter Alexander) in eine hoechst attraktive Dame. Mit rauschenden Roecken und toupierten Haaren verkoerpert er Charleys Tante. Peter Alexander brilliert in seiner Glanzrolle als "Tante" - ein koestlicher Verkleidungsulk der Spitzenklasse.
---
Das Dreimaederlhaus , TA 549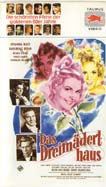 Germany, 1958, color, ca. 98 min. - Franz Schubert is a very talented, but also very lonely, composer. To cheer him up, his friend Schober introduces him to pretty Hannerl. Schubert falls head over heels in love with her. Hannerl loves Schubert's music but her heart belongs to Schober. An Ernst Marischka film, full of music, romance and happiness. See Johanna Matz, Karlheinz Boehm, Rudolf Schock and many others in this heartwarming movie.
Franz Schubert ist ein ebenso begabter, wie einsamer Komponist. Um ihn aus seiner duesteren Stimmung zu reissen, stellt sein Freund Schober ihm Hannerl vor. Schubert verliebt sich Hals ueber Kopf in sie. Hannerls Herz schlaegt fuer Schuberts Musik, doch fuer einen anderen Mann - Schober.

---
Das haben die Maedchen gern, TA 547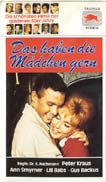 color, ca. 87 min. - Darsteller: Peter Kraus, Ann Smyrner, Lilli Babs, Peter Vogel, Gus Backus, Regie: Dr. K. Nachmann. Inhalt: Peter Monk hat es zu bunt getrieben, jedenfalls findet das sein Vater, der ihm den monatlichen Wechsel sperrt. Was nun? Peter nimmt eine Wette an: Ohne einen Pfennig Geld will er von Monte Carlo nach Kaernten reisen. "Unverheirateter Millionaerssohn trampt inkognito nach Kaernten", diese Nachricht bringt die Maedchen eines Internates auf die Beine. Die Jagd auf Peter beginnt.
---
Das Heilige Erbe, TA 486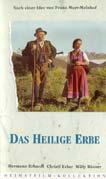 1956, ca. 102 min., color - A passionate hunter has dedicated his life to his beloved forest. He surprises a poacher who falls to his death while trying to escape. The land owner accuses him of murder. Can his daughter help clear his name? Experience breathtaking mountain scenery in this dramatic Heimatfilm. Das Schicksal eines zu Unrecht strafversetzten Jaegers wurde vor dem Hintergrund gedankenloser Naturzerstoerung inszeniert. Erleben Sie ausgezeichnete Naturaufnahmen der Jahreszeiten aus dem Reitinggebiet noerdlich von Leoben und dem Neusiedlersee. Der Jaeger Sonnleitner (Hermann Erhardt) hat sein ganzes Leben fuer sein Revier gesorgt. Als in seinem Revier Fallen gefunden werden, setzt der Jagdherr ihn ab. Nun bleibt ihm nur noch eines, er uebergibt sein geliebtes Revier seiner Tochter Evi, die das Jagdhandwerk von ihm gelernt hat. Hermann Erhardt, Christl Erber, Willy Roesner, Olga von Togni, Georg Groeller.
---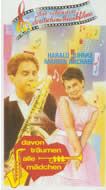 Davon traeumen alle Maedchen ,
color, 1961, 91 min. - Starring Marion Michael, Harald Juhnke, Hubert von Meyerinck. Holiday season is over but five girls are glad to be back at their college. They are happy to see five young musicians again, who call themselves "Musik-Lords". As life (and love) go, every one of the girls fell in love with one of the members of the band.
Eigentlich gibt es ja Schoeneres im Leben eines jungen Maedchens als das Ende der Ferien. Aber diesmal koennen fuenf Teenies den Schulbeginn und die Rueckkehr ins Internat kaum erwarten. Schliesslich sind da die fuenf Musiker die nebenan in der 'Alten Muehle' Musik machen. Aufregung und unvorhergesehene Ereignisse sorgen fuer reichhaltige Abwechslung.
ok 10/11

Remember! All the videos on this page are in the USA NTSC/VHS format and in German language without English subtitles. To order just call 1-800-252-1957 .
Fuer hunderte weitere herrliche Heimatfilme
bitte unten weiter klicken.
For other great German Heimat video descriptions click on:
Viel Spass beim schnuppern. Wir hoffen das Sie die Filme die Sie schon seit
Jahren mal wieder sehen wollten in unserem Angebot wiederfinden.
Alle unsere Filme sind zum kaufen oder auch fuer wenig
Geld fuer 30 Tage zum verleihen.
How else may I place an order?
Click on the envelope below to send e-mail
to the German Language Video Center!

Not responsible for typographical errors.
Video run times are approximate.
Prices and availability subject to change without notice.
Send comments regarding contents of this page to
glvc@indy.net





Member VSDA since 1985.

Last modified: Wednesday, July 20, 2022 4:41 PM
German Language Video Center© 1997/2016
Entire Website copyrighted 1997, 1998, 1999, 2000, 2001, 2002, 2003, 2004, 2005. 2006, 2007, 2008, 2009, 2010, 2011, 2012, 2013, 2014, 2015, 2016
No reproduction or download allowed for commercial purposes without written permission.

GLVC 2016©.