The place where our customers send their friends!
Welcome to the Only American Video Tape Store for rare German Movies and Old ZDF volksmusik shows.
Please note: All video tapes are in the American NTSC VHS video format
and will play on all VCR's in North America. We are closing out all of our VHS inventory. This will be your last chance to obtain these beautiful ZDF music videos and hundreds of classic German movies and heimatfilme. Due to the limited demand in the USA, most of these movies will unfortunately never be available on DVD in America.
Once our videos are gone, they're gone!!!
We have drastically reduced the prices on over 2000 video titles closeout. Make sure to buy these classics while supply lasts.
On all VHS clouseout prices we will send you a new or previously viewed tape.
CLOSEOUT!!!!!
BUY NOW!!!
Any 10 videos for only $49.95
plus $19 s/h
while supplies last
All films in this Web Page are German Films Dubbed In
English Language and Other English Language Videos.
Although there are some films not made in Germany,
they may be of special interest to viewers of German culture.
Happy Video Suprise Box
Order a Grab Bag of at least 10 assorted VHS videos of our wonderful Dubbed Films
Only $49.95 plus $18 shipping
The Never-ending Story WH 11399
1984, 94 min - A doorway to a magical world... and imagination is the key. The Howling Forest... The Ivory Tower... She Swamps of Sadness... The Mirror Gate... The Sea of Possibilities... now you can journey there, too, through this film. When young Bastian (Barret Oliver) borrowed the mysterious, ornately-bound book, he never dreamed turning a page would draw him into a shimmering fantasy world of racing snails, hang-glider bat, philosophical mountain-tortoises, soaring luck dragons, puckish elves and a slab-faced, walking quarry known as the Rock Biter. In English language.
The Night Porter EB 1502
1973, 117 min. - The place is Vienna in 1957. Dirk Bogarde plays Max, a former concentration camp officer, who has managed to escape detection and imprisonment in the post war period. While lining under the anonymous cloak of night hall porter in a Vienna hotel, he encounters Lucia, his former concentration camp victim teenage mistress and torture toy. The two are haunted by their memories and join together again. Their passion ignites the fury of a group of former SS officers who will stop at nothing to eliminate all potential witnesses to the crimes of their past. Rated R. With Dirk Bogarde, Charlotte Rampling, Philippe Leroy and Gabriele Ferzetti. In English language.
Night Train To Munich DT 2009
1940 - British, 93 min., b&w - Rex Harrison and Margaret Lockwood. Drama during the war time. A captivating film!!! In English language.
Neurosia FA 351
1995, ca. 87 min. - After gay Filmmaker Rosa von Praunheim is Murdered on stage hosting a tribute to himself, and intrepid tabloid reporter is assigned to find the motive - and the body. Her search into Rosa's life carries her from Germany to New York, from angry ex-lovers to dark sex clubs, where she soon discovers everyone wanted to kill Rosa. Directed by Rosa von Praunheim. Starring Desiree Nick, Rosa von Praunheim. In English language.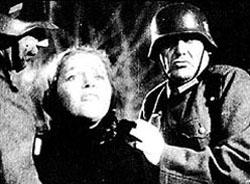 No Greater Love IH 290
USSR, 1942, b&w, 74 minutes, dubbed in English. The World War II story of a Russian woman who turns her villagers into partisans for revenge against the Germans, who have killed her husband and infant son. Directed by Frederic Ermler and starring Vera Maretskaya. In English language.
The Ogre KIN 555
117 min. 1996, Dubbed in English language. From Volker Schloendorff, the esteemed director of The Tin Drum, comes The Ogre, a startling view on fascism and its peculiar appeal. With his extraordinary eye for haunting imagery and his deep understanding of the horrors of Nazism, Schloendorff creates the epic odyssey of a childlike man inserted into a world of evil he can't comprehend. Featuring a stunning performance by John Malkovich, The Ogre is a grotesque fairy tale about Hitler's Germany in which a naïve mechanic comes to symbolize the seductive appeal of the Nazi regime. In English language.
Olympiad - The East Germans PA 126637
ca. 50 min., color and b/w - The East Germans with Waldemar Cierpinski, Kornelia Ender, Karin Janz. Their rise has been called a "sports miracle." They won only seven medals in the 1956 Summer Olympics. But they captured 90 in 1976, then 126 in 1980. They are The East Germans, athletes like Kornelia Ender, Roland Matthes and Waldemar Cierpinski who benefit from a system of coaching and training unlike any other. Using competition footage and personal interviews. The East Germans captures the glory of Olympic triumph... and the dramatic human stories behind it. In English language. To purchase this classic video inquire.
Olympiad - The fastest men in the world R 12649
ca. 46 min., color and b/w - The fastest men in the world with Carl Lewis, Valery Borzov, Bob Hayes, Jim Hines. They undertook a lifetime of training for just ten seconds of Olympic glory. This captivating history of the Olympic men's 100-meters features Harold Abrahams and Eric Liddel of Chariots of Five renown, Jesse Owens, "Bullet" Bob Hayes, Valeriy Borzov, Carl Lewis and many others. Using rare competition footage and personal recollections of the athletes, captures the glory of Olympic triumph... and the dramatic human stories behind it. In English language.
The Pedestrian EM 1381
1974, 97 min. - Maximilian Schell. A powerful industrialist, is involved in a car accident in which his elder son is killed. Because he drove on a red light, his license is suspended, and he becomes a pedestrian. The editor of a popular newspaper covering the story probes deep into Geise's past uncovering incriminating circumstantial evidence possibly linking him to WW II atrocities during the German occupation of Greece. Although there is no clear evidence, the paper and TV report it anyway. The case becomes very political. Is he guilty?...who is guilty? Will the pedestrian ever be the same again? Academy Award. In English language.
The Phoney American WN 901
1961, ca. 74 min. - William Bendix, Christina Kaufmann, Ron Randall. Amusing comedy-drama about a German orphan, raised by an air force pilot, pretending to be American in order to join the military. One of Bendix's last roles as a blustery but good hearted sergeant. In English language.
Private Popsicle (Eis am Stiel) MV 600228
ca. 90 min., Dubbed in English - They're in the Army now, but is the Army really ready for a three-year stint of this zany threesome? Private Popsicle continues the madcap adventures - and sexual misadventures - of Bobby, Huey, and Benji, Europe's enormously popular Lemon Popsicle team. Strict discipline is simply not part of our boys' vocabulary, and they'll stop at nothing to get their play - from impersonating officers to impersonating women! Hearing that the women's barracks are off-limits to privates, they dress up as officers and order a midnight shower drill - until a very large female sergeant - major helps them clean up their own act. Pranks and laughs for one and all! Sexsationally funny! Some nudity and adult situations. In English language.
Of Pure Blood WB 640
ca. 93 min. - A New York casting agent who left Germany as a child after World War II returns to her homeland under sad circumstances: to resolve her son's murder - and to locate an infant granddaughter she didn't know she had. But others have designs on the helpless child, all linked to Hitler's infamous human-breeding program called "Lebensborn". Called "a chilling tale of modern Nazis" by USA Today, the video stars Lee Remick as Alicia Brown, whose fateful journey unravels a fabric of terrifying secrets. Patrick McGoohan co-stars as a family friend, a kindly professor whose wartime history hides another agenda. In English language.
On Thin Ice VFN 3601
1961, color, ca. 90 min. - Tony Sailor, Ina Bauer. Beautiful ice rink instructor discovers her pupil is really a champion. In English language.
Otto Lilienthal - Die Geschichte des ersten Fliegers OT 202
Es war der erste Mensch, der sich in die Luefte erhob. Im Sommer 1891 machte der Ingenieur Otto Lilienthal seinen ersten 15 Meter weiten Gleitflug. 100 Jahre danach beschreibt dieser Film in Spielszenen und anhand von Original-Dokumenten Lilienthals bewegtes Leben und Forschen, zum Teil gedreht an historischen Schauplaetzen. Mit einem Stab von ausgewaehlten Ingenieuren, Historikern und den weltbesten Drachenfliegern untersuchte das Filmteam erstmals die Flugeigenschaften eines Lilienthal-Gleiters mit modernen wissenschaftlichen Methoden.
He was the first human being who took to the sky. In the summer of 1881, engineer Otto Lilienthal undertook his first 50 foot long glider flight. 100 years later, this film makes use of dramatic scenes and original documentary material to tell the story of Otto Lilienthals thrilling life and scientific work, much of it shot on the original historical location. With a team of hand-picked engineers, historians and the finest hang glider aces in the world, our film crew studies the flight characteristic Otto Lilienthals glider in the light of modern scientific methods. In English language.
The Phantom of Soho VFN 3729
1967, ca. 92 min. - Dieter Borsche, Barbara Rutting, Hans Soehnker. Detective investigates murders of prominent businessmen and gets mixed up with his superior's fiancée. In English language.
Querelle VH 10466
1982 - Directed by Rainer Werner Fassbinder and based on the novel by Jean Genet, "Querelle de Brest." Starring Brad Davis and Franco Nero. Brad Davis (Midnight Express) is a French sailor who goes ashore in the Port of Brest, hungry to satisfy his sexual nature. Striking cinematography highlights this adaptation of Jean Genet's novel. Fassbinder vividly explores an unforgettable nightmare of a man's violence and passion! This haunting drama is enhanced by the brilliant performances of Franco Nero (Die Hard 2) and Jeanne Moreau (La Femme Nikita). Rated R. Adults only. Warning: this feature contains explicit nudity and homosexuality. In English language.
The Red Baron Video TN 2215
60 min., documentary - The compelling story of the legendary Manfred von Richthofen. This outstanding video includes actual W.W.I footage, dogfights and crashes. Also interviews surrounding his death. AS feats of the new flying machines became glorified in World War I, young men (most between 19 and 22) left the swashbuckling cavalry to seek romance, action, adventure and opportunities for glorious achievement in the air service. Manfred Von Richthofen became his country's Ace of Aces - a nemesis of Allied fliers and, to the military of all nations, the greatest aerial tactician of W.W.I. This video portrait contains personal interviews with the last surviving pilots who flew with and against him, his early flying days under the instruction of the great Oswald Boecke, and his daring leadership of Jasta II Squadron (known as the "Flying Circus" for their red, yellow and blue planes). To the Red Baron death was the only measuring stick. The video includes W.W.I air footage, dogfights, crashes, and the Red Baron's last flight and the controversy surrounding his death. In English language.
Rosalie Goes Shopping FA 516
ca. 96 min. - the creators of "Bagdad Cafe" are at it again, this time with a hilarious satire of 'the American Way.' German-born Rosalie (Marianne Saegebrecht) gives her doting husband (Brad Davis) and loving children a life of gourmet meals and every modern convenience. Look for a standout performance by Alex Winter as Schatzi, one of Rosalie's seven children. Juggling 37 credit cards and countless mortgage and installment payments, Rosalie blithely alters checks, lies to bill collectors and pilfers her own son's savings to keep afloat. Daily she admits her sins to the incredulous local Pries (Judge Reinhold) then goes back to her games of fraud. After she buys a computer for her oldest daughter's birthday, Rosalie's wheeling and dealing takes on international implications. Setting up a bogus corporation of her own, Rosalie borrows ever-larger amounts of money, taking the concept of consumerism to its absurd extreme. In English language.
Leni Riefenstahl, The Wonderful Horrible Life of KV 510
Germany 1993, color & B/W, Part 1: 96 min., Part 2: 92 min. - A spellbinding account of the woman best known as Hitler's movie maker and recently hailed by The New York Times as "one of the greatest woman filmmakers ever." In this remarkable documentary, Leni Riefenstahl addresses her past for the first time on camera. While she never actually joined the Nazi Party, as the creator of the single most effective propaganda film ever made, TRIUMPH OF THE WILL, Riefenstahl has spent much of her life trying to live down her association with the Third Reich. Her personal relationship with Hitler is still in question. Feisty and charismatic at 91, Riefenstahl revisits the landmarks of her turbulent life - from her beginnings as a daredevil actress in German "mountain films" to her direction of such stunning narratives as THE BLUE LIGHT and TIEFLAND, to her infamous, brilliant documentaries TRIUMPH OF THE WILL and OLYMPIA, to her anthropological photographs and home movies of the now extinct Nuba tribes in Africa. The film brings the story of Riefenstahl right up to her current passion scuba diving (at 91!) and shooting films of exotic aquatic life. Altogether, a riveting story that leaves the viewer in total awe of its controversial subject. In English language.
Salon Kitty R 047
Germany/Italy, 1980, color, ca. 120 min. - Starring Helmut Berger and Ingrid Thulin. From the maker of "Caligula" comes another shocking story of sex and corruption. Helmut Berger, a power mad SS officer, sets out to control the lives of beautiful women, top ranking Nazis and their families, through espionage, blackmail and the threat of death. But can he master "Salon Kitty," Berlin's SS den of pleasure? A house where wild sexuality can seduce men into revealing their most intimate secrets and desires. Rated X. In English language.
Salmonberries FA 844
ca. 94 min. - 1991, - political thriller - K. D. Lang in her feature film debut. A foundling, 20 years old, in search of father and mother, in search of self, finds for the first time, a person for whose love is worth fighting: Roswitha, a librarian from East Berlin, cast away at the end of the world. Kotzebue is the name of the little town in Northwest Alaska, where the story of these two people takes place, an Eskimo trading post between snowy heavens and polar sea, discovered by the son of the German comedy writer August von Kotzebue. And Kotzebue is the name of the foundling too, who looks like a young man, but is in fact a woman. Following some inner compassion, she pursues a path to Roswitha's heart finally declaring her love in a hotel room in Berlin.
In English language.
The Serpent's Egg R 9918
ca. 119 min. - World renowned film making genius, Igmar Bergman combines the considerable talents of Liv Ullmann, David Carradine and James Whitmore, and creates a powerful and frightening drama about survival in the dawn of pre-Nazi Germany. November 3, 1923. Berlin, Germany. A pack of cigarettes cost 4 billion marks and the people are barely surviving on the fringes of life. Abel Rosenberg (Carradine), his brother Max and sister-in-law Manuela (Ullmann), come to Berlin to work as an American trapeze act. But after Abel finds his brother dead, an apparent suicide, he and Manuela are trapped inside Berlin and are forced to find other work. Manuela's friend, Dr. Vergerus, convinces them to take an apartment in the St. Ana's clinic. Abel works in the mysterious clinic archives and Manuela does the clinic laundry. After a few days, Abel discovers that the clinic and Dr. Vergerus are not what they appear to be... there is a demonic scheme locked inside the maze of corridors and rooms. Abel and Manuela must escape before they become the next human guinea pigs. Watch as The Serpent's Egg hatches into a nightmare of real-life terror! In English language.
All films in this Web Page are German Films Dubbed In
English Language and Other English Language Videos.
Although some films are not made in Germany,
they may be of special interest to viewers of German culture.
Sink the Bismarck BB 12
b/w, ca. 97 min. - A powerful and frightening drama about survival in the dawn of pre-Nazi Germany. Heroism and hard choices are the order of the day as the English Navy desperately tries to destroy the most powerful battleship in the world - the Bismarck. In the spring of 1941, England remains the only undefeated nation in Europe and stands alone against Nazi Germany. The biggest threat to shipping is Germany's floating fortress, the Bismarck, which is faster and has more fire power than anything Britain can throw against it. With Liv Ullmann, David Carradine and James Whitmore. In English language.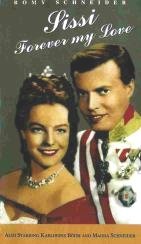 Sissi - Forever my Love BD 232
color, ca. 145 min., English language - Domineering Archduchess Sophia decides to choose Helene, her sister's daughter, as a suitable wife for her own son Franz Josef, the young Emperor of Austria. He accepts the decision with resignation but - meanwhile - meets the other niece, Sissi. Franz Josef falls in love with Sissi, not knowing who she is. When Franz Josef's engagement to her sister Helene is to be announced, Sissi tries to stay away from the reception but is pressured into going by her mother. That night, to everyone's amazement, Franz Josef announces his engagement to Sissi. The Archduchess bows to his will rather than lose her son's affections. After the wedding, Sissi breaks away from many traditions. The then becomes ill with tuberculosis. After recovering in the Mediterranean, the young couple undertake a crucial state visit to Italy where Sissi's charm and wisdom save the day for her grateful husband. Actors: Romy Schneider, Karlheinz Boehm, Vilma Degischer, Magda Schneider, Gustav Knuth, Josef Meinrad, Uta Frans. Written and directed by Ernst Marischka. In English language.
Please note: (The three (3) tape set of Sissi films does NOT exist dubbed in English - only this single tape condensed version. Also, it is NOT available subtitled in English)
ISBN # 192880200-1
This version is now available as part of the Sissi Collection DVD Box set
Sisters R 26002
ca. 92 min. - A ghoulishly clever horror film from Brian De Palma, the critically acclaimed director of Carrie, The Fury and Dressed to Kill, has echoes of Psycho - but adds a genuinely frightening original demise. Two sisters, joined at birth as Siamese twins, are separated in late adolescence. One is lovely, gentle, kind... the other is quite mad. And you never know which one you're holding in your arms. Margot Kidder does a magnificent job in the dual role of Danielle and her murderous sister Dominique. Jennifer Salt plays Grace Collier, the local reporter who witnesses a bloodbath of violence in Danielle's apartment - and can't get anyone to believe her. And Charles Durning is cast as a comic private detective who won't give up the scent. In English language.
The Spy in Black OL 315
1939, 77 min. - With Conrad Veidt and Valerie Hobson. A well-made British war drama about a German submarine officer who smuggles himself into England to learn the sailing date of the British fleet. The New York Times said, "The most exciting spy melodrama since the advent of the 2nd World War." In English language.
Steppenwolf PC 2
105 min. - Philosophical discourse of Nobel Prize winner Hermann Hesse's novel about one man's desperate struggle to find peace within himself. Torn between the bourgeois respectability he has achieved and the bestial antisocial impulses (his other self, the wolf) he borders on the brink of schizophrenia.
Harry Haller is a suicidal, lonely writer precariously balanced on the brink of madness. Into his despairing world comes the seductive and enigmatic Hermine who promises to revitalize Harry, but only if he slavishly follows her every wish - even her demand that Harry must eventually fall in love with he... and then kill her! Thus begins Harry's journey into a nightmarish realm of "The Magic Theater," a carnival of the senses where Hermine initiates Harry to all the pleasures of the mind and body. In English language. Directed by Fred Haines. Starring Max von Sydow, Dominique Sanda.
The Star of Africa (Der Stern von Afrika) BB 908E
ca. 105 min. - Witness the dashing exploits of the Star of Africa, the Eagle of the Desert: Hans-Joachim Marseille, a Luftwaffe Ace with 158 confirmed kills. Marseille, born into a wealthy family, quickly gained a reputation for being a fearless flyer, thanks to tricks performed while at the Luftwaffe's flight school. Brazen and uncompromising, he repeatedly ran into conflict with the German "Iron Code" of discipline. During WWII Marseille gained glory as an attack-loving "Flying Devil." His ability to turn inside an opponent and his mastery of deflection shooting made him one of Germany's best Aces. This was proved on September 1, 1942 when Marseille shot down 17 aircraft in a single day. Marseille won the Knight's Cross with Oak Leaves, Swords and Diamonds as well as the Italian Gold Medal for Bravery, which was awarded only to three men in WWII. Starring Joachim Hansen and Marianne Koch, directed by Alfred Weidemann. DVD includes both English dubbed and subtitled versions.
The Story of Lili Marlene VFN 2426
1951, b&w, 75 min. - Very interesting British made movie! In English language.
OK 5/12
To continue browsing through descriptions
of other English language videos click on the links below.
All films in this Web Page Category are German Films Dubbed In
English Language and Other English Language Videos.
Although some films are not made in Germany,
they may be of special interest to viewers of German culture.
How else may I place an order?
Click on the envelope below to send e-mail
to the German Language Video Center!

Not responsible for typographical errors.
Video run times are approximate.
Prices and availability subject to change without notice.
Send comments regarding contents of this page to
glvc@indy.net





Member VSDA since 1985.

Last modified: Wednesday, April 13, 2022 3:50 PM
German Language Video Center© 1997/2016
Entire Website copyrighted 1997, 1998, 1999, 2000, 2001, 2002, 2003, 2004, 2005. 2006, 2007, 2008, 2009, 2010, 2011, 2012, 2013, 2014, 2015, 2016
No reproduction or download allowed for commercial purposes without written permission.

GLVC 2016©.