The place where our customers send their friends!
Welcome to the Only American Video Tape Store for rare German Movies and Old ZDF volksmusik shows.
Please note: All video tapes are in the American NTSC VHS video format
and will play on all VCR's in North America. We are closing out all of our VHS inventory. This will be your last chance to obtain these beautiful ZDF music videos and hundreds of classic German movies and heimatfilme. Due to the limited demand in the USA, most of these movies will unfortunately never be available on DVD in America.
Once our videos are gone, they're gone!!!
We have drastically reduced the prices on over 2000 video titles closeout. Make sure to buy these classics while supply lasts.
On all VHS clouseout prices we will send you a new or previously viewed tape.
CLOSEOUT!!!!!
BUY NOW!!!
Any 10 videos for only $49.95
plus $19 s/h
while supplies last
All films in this Web Page are German Films Dubbed In
English Language and Other English Language Videos.
Although there are some films not made in Germany,
they may be of special interest to viewers of German culture.

Happy Video Suprise Box
Order a Grab Bag of at least 10 assorted VHS videos of our wonderful Dubbed Films
Only $49.95 plus $18 shipping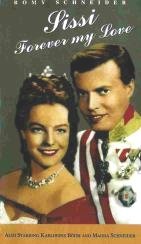 Sissi - Forever my Love - Very Limited Supply left - Please order now!BD 232
color, ca. 145 min., English language - Domineering Archduchess Sophia decides to choose Helene, her sister's daughter, as a suitable wife for her own son Franz Josef, the young Emperor of Austria. He accepts the decision with resignation but - meanwhile - meets the other niece, Sissi. Franz Josef falls in love with Sissi, not knowing who she is. When Franz Josef's engagement to her sister Helene is to be announced, Sissi tries to stay away from the reception but is pressured into going by her mother. That night, to everyone's amazement, Franz Josef announces his engagement to Sissi. The Archduchess bows to his will rather than lose her son's affections. After the wedding, Sissi breaks away from many traditions. The then becomes ill with tuberculosis. After recovering in the Mediterranean, the young couple undertake a crucial state visit to Italy where Sissi's charm and wisdom save the day for her grateful husband. Actors: Romy Schneider, Karlheinz Boehm, Vilma Degischer, Magda Schneider, Gustav Knuth, Josef Meinrad, Uta Frans. Written and directed by Ernst Marischka. In English language.
Please note: (The three (3) tape set of Sissi films does NOT exist dubbed in English - only this single tape condensed version. Also, it is NOT available subtitled in English)
**No Longer Available**
All Quiet on the Western FrontMC 55018
1930, in English with some German, 130 min., b&w - Erich Maria Remarque anti-war novel has lost little of its original impact. Years after its release it was still being banned in countries mobilizing for war. The plot follows a group of young German recruits in World War I through their passage from idealism to disillusionment. In English, some German. In English language.
Amadeus TV 2997
ca. 158 min. - Starring F. Murray Abraham, Tom Hulce, Elizabeth Berridge u.v.a. Winner of Eight Academy Awards, including Best Picture, "Amadeus" is the long-awaited film version of Peter Shaffer's London and Broadway stage hit centered around Wolfgang Amadeus Mozart's life and music. Directed by Milos Forman and produced by Saul Zaentz, the team that swept the 1976 Academy Awards with "One flew Over the Cuckoo's Nest", "Amadeus" was adapted for the screen by its author Peter Shaffer. In the leading roles: F. Murray Abraham (Academy Award - Best Actor) is the jealousy-ridden 18th Century composer; Tom Hulce plays Wolfgang Amadeus Mozart, the hapless victim of his venom. The incredible music of Mozart is heard throughout the film. In English language.

And So To Bed OL 1719
ca. 94 min. - (1963-Germany, Austria). With Lilli Palmer, Hildegard Knef, Peter van Eyck. Here is a smart, sexy fable about a man, woman and seduction, with its characters each a link in a sexual roundtable. The fireworks start when a pair of decadent boys attempt to hire a high-priced call girl to seduce their sweet-faced, virginal schoolmate. She spurns their offer, but takes a liking to the lad - and offers him his sexual awakening. Now experienced, he makes love to his professor's wife. The teacher in turn gets drunk one evening while on a business trip and ends up with a pretty secretary. In English language.
Are you Being Served? #3 German Week BBC 8461
1975/76, color, ca. 89 min. - A hilarious comedy! More laughter than anyone bargains for! In English language.
Attack and Retreat BB 389
1965, b/w, ca. 140 min. - Starring Peter Falk and Arthur Kennedy in an explosive chronicle of the Italian-Russian front during WW2. The story follows an Italian squad through the battle for Stalingrad and their terrible defeat and retreat through the disastrous winter that followed. This defeat, more than anything else in the war, meant the end of the Third Reich and the Italian fascist regime. Attack and Retreat, along with the original 1958 German version of Stalingrad, provided may of the images and scenes that were used later in the two modern classics The Winter War and Stalingrad (1991). In English language.
Auf Wiedersehen Pet CV 98506
ca. 101 min. - Perhaps the funniest comedy series of the 80's. Dennis (Tim Healy), Neville (Kevin Whately), Oz (Jimmy Nail), Wayne (Gary Holton), bomber (Pat Roach), Barry (Timothy Spall), and Moxey (Christopher Fairbanks) move to a building site in Duesseldorf, West Germany, only to experience hostility from the locals. they all have their problems, too - Dennis is going through a divorce, Neville is missing his wife Brenda, Oz has left his wife without telling her, Wayne is worried where his next bird is coming from, bomber keeps blowing his funds on women, Barry is driving everyone mad with his incredibly monotonous voice and Moxey's only saving grace is that he owns a dartboard and is an expert at picking locks. In English language.
Auntie R 7656
1980, color, ca. 85 min. A lusty comedy guaranteed to tickle your funny bone. Contains nudity. In English language.
Bandits D 3891
ca. 110 min. - An exciting, fast-paced, rock and roll road movie following the exploits of an all-female band on the run. Four women behind bars with nothing in common except their love for rock music form a jailhouse band as part of their rehabilitation. On the night of their first gig at a police banquet, the women overpower a sadistic guard and escape into the night. An agent, who had originally rejected their demo, launches their tape onto the public and overnight, they become media sensation. As the rebels become more successful than their wildest dreams, the police step up their hot pursuit. But it's hard to keep a low profile when your music and videos are everywhere.
Beethoven Lives UpstairsWN 915
USA-1990, 51 min., - Digitally mastered VHS HiFi Stereo, - The arrival of an eccentric boarder turns a young boy's home upside-down. Ludwig Van Beethoven has moved in upstairs! At first the boy resents their new tenant, but slowly ten-year-old Christoph comes to understand the genius of the man, the torment of his deafness and the beauty of his music. Richly set in 19th century Vienna, Beethoven Lives Upstairs is based in part on historical fact and features more than twenty-fife beautifully-performed excerpts of Beethoven's best-loved works. The video is pure family entertainment that captures a special friendship between a great composer and a young boy. Directed by David Devine. Starring Neil Munro, Illya Woloshyn, Fiona Reid, Paul Soles, Albert Schultz, Sheila McCarthy. In English language.
Berlin Express IN 6195
Filmed amid the actual bombed out ruins of Frankfurt and Berlin after World War II, this taut political thriller recounts the dangerous attempts to unify Germany. Merle Oberon, Robert Ryan and Robert Coote star in this thrilling tale of espionage. American, French, British and German officers mount a desperate search through the war torn country to find a diplomat before he is murdered. A thriller tale of espionage. In English language.
Berlin Affair MV 800762
ca. 97 min., Rated R - A beautiful Japanese woman weaves a web of seduction and deceit in this searing, provocative tale of sensual obsession. Liliana Cavani, the acclaimed director of the controversial film, The Night Porter, once again explores the dark, dangerous regions of forbidden love. The time is 1938 in pre-war Germany where Adolf Hitler is seducing an entire country and the rise of the Nazi party is in full force. In the city of Berlin, Mitsuko (Mio Takaki), the entrancing daughter of the Japanese Ambassador to Germany, begins her own series of devastating conquests. Louise (Gudrun Landgrebe), the wife of a German diplomat, meets Mitsuko in an art class and is immediately drawn to her extraordinary beauty. An affair begins, but unknown to Louise, Mitsuko is simultaneously courting others - including Louise's husband. A haunting drama will captivate you. Directed by Liliana Cavani. Starring Gudrun Landgrebe, Kevin McNally, Mio Takaki. In English language.
Remember! All videos on this page are in English language only,
in the USA-NTSC-VHS system.
For rush order just call 1-800-252-1957 or fax 317-547-1263.
Birgitt Haas must be Killed PH 1004
1983, color, In this world of cold wars and nuclear confrontations, spying is growth industry. "Hangar" is a new service, whose purpose is to carry out missions which are too sensitive to entrust to the police, the Intelligence Service or some other counter espionage agency. The mission is to eliminate a German terrorist by the name of Birgitt Haas. The murder must be disguised as a crime of love. What has to be done is to find a potential lover for Birgitt Haas, send him to Munich, introduce him to her and encourage them to fall in love. Once the lover's back is turned, on of "Hangar's" men would kill Birgitt Haas, leaving behind a number of irrefutable clues. Thus, the lover/pigeon is the perfect suspect murderer... almost. The question is: can there ever be a cold-blooded "crime of passion". In English language.
The Blue Angel SL 507
1929, ca. 95 min., b&w - The rare original English language version. In 1929 von Sternberg directed this first German talking film. Since dubbing was a technical impossibility at that time he shot two versions, each separate and distant from the other, one English and one German. The English version has not been seen since released in USA in 1930. There are a number of visual and plot variations which will surprise and delight those familiar with the other version. Marlene Dietrich stars in this rare original English language version. In English language.
The Blue Max BAC 18
1966, ca. 155 min. - The talents of international stars James Mason, George Peppard and Ursula Andress highlight this stirring war drama set in the skies above Germany during the closing days of WW I. Bruno Stachel (Peppard) is a peasant promoted into the elite German air force. And suddenly he finds himself battling both the enemy in the sky and the prejudices of his higher-born fellow flyers. Determined to win the coveted "Blue Max", his country's most prestigious air medal, he'll fly straight into the smoking allied guns, bed the gorgeous wife of the head of the Air Ministry, even betray a comrade. Until he learns the enormous, unexpected price one must sometimes pay for being proclaimed a hero. Never has the sky been so vast, the clouds so vibrant, the dog-fights so real, as in this gritty drama that was highly praised for its uncompromising story, amazing combat realism and spectacular flying sequences. In English language.
Black Roses (aka Flaming Hearts) FA 964
1936, ca. 79 min. - Set in 1900's Russia, Harvey (a ballerina) must sleep with the Tsarist governor in Order to save the life of her true love. Dennis Hoey also stars. mastered from the only known nitrate print. Produced in Germany in 1935, and then remade in Germany and Great Britain in 1936. In English language.
The Boat (Das Boot) RC 60139
Germany 1982, 110 min. - The gripping tale of a German U-boat as it prowls the North Atlantic. The life-and-death struggles of U-96, one of the famed "gray wolves" that hounded the British Navy in the North Atlantic. From the endless hours of claustrophobic terror beneath the sea to the sudden exhilaration of confrontation with the enemy. DAS BOOT delivers an amazingly-realistic portrait of Germany's elite U-boat crewmen as it hammers away at the tragic waste of war. Starring Wolfgang Peterson. In English language.
The Bunker R 170
ca. 87 min., color - Anthony Hopkins stars as Adolf Hitler in the last weeks in his life, struggling to maintain order as he loses control of his country, his people and finally his own mind. It is January 1945 when Adolf Hitler descends into a bunker beneath the Chancellery in Berlin. With the Russians advancing on one front and the British and Americans on another, he must rely on the few men and women loyal to the Nazi cause - his chief architect Albert Speer, Borman, Goebbels and Eva Braun. In English language.
Crimes of Dr. Mabuse JJ 844
1933, ca. 90 min.- In English language.
Christiane F., die Kinder vom Bahnhof Zoo ME 709
1984, ca. 130 in. - This is the shocking story of an alienated teenage girl who falls into the degrading drug and prostitution scene of Berlin's Zoo Station. Christiane reaches out for acceptance and finds it at a seedy disco where teenage junkies peddle their bodies for the price of a fix. Soon Christiane is experimenting with drugs, and eventually must turn to prostitution to support her habit. She is 14 years old. Starring Natja Brunkhorst. Directed by Ulrich Edel. Adult subjects. In English language.
Commercials from Around the World CO 1578
ca. 60 min. - Laugh your #!@* off in several languages at the best and funniest television commercials from around the globe! Bask in an international glow of creativity as the brightest minds in advertising from around the world compete to fracture our funny bone ( and maybe sell you a product of two). Award-winning TV commercials from England, Australia, France, Japan, and other countries view for the title for cleverest promotion. And don't worry about being subliminally sold to: You can't even buy most of the products advertised in this country! In English language.
The Curse of the Yellow Snake OL 266
1963, ca. 98 min. - The yellow snake, a priceless artifact of ancient China carries with it a vicious curse: whoever possesses it on the Day of the Dragon will win any war he begins. In the modern era, that could mean the destruction of the world! The first-rate Edgar Wallace mystery-suspense yarn has more twists, turns and venomous surprises than the deadliest cobra. The film's daredevil hero follows the snake's winding path from Hong Kong to London, where he comes up against the Fighting Hand, an absolutely fanatical organization dedicated to building China into a force that will rule the world. The Fighting Hand is run by none other than the hero's half-brother. The two engage in a series of battles for possession of the yellow snake and for the affections of a beautiful woman. With Joachim Berger, Werner Peters. In English language.
Cross of Iron BB 58
English language. color, rated R, ca. 128 min. - Cross of Iron is the only war film directed by master filmmaker Sam Peckinpah. Set in 1943, this explosive epic centers on Corporal Steiner (James Coburn), an accomplished but war-weary combat veteran leading a group of German soldiers on the Russian front. Steiner's authority comes under attack when Captain Stransky (Maximilian Schell) takes over the command of his troops. A Prussian aristocrat, Stransky has one goal in mind: to win the coveted Iron Cross, Germany's highest medal, at any cost. The two military aces soon face off in an intense and deadly battle of wills. In English language.
*No Longer Available*
Despair WA 28007
1979, 119 min. - Directed by Fassbinder with Dirk Bogarde and Andrea Ferreol. Set in dreary 1930 Berlin where an unbalanced Russian emigrant's personal life and chocolate business have both grown bitter. Although his delightfully sensuous and loving wife is a constant source of amusement, something is very wrong in Hermann's world. Then it happens: his psyche splits in two. He becomes two Hermanns as his double surname suggests. This dissociation from reality leads Hermann down a hypnotic and humorous path towards lunacy and eventually to his own poignant and neurotic doom. In order for the dislocated Hermann to break out for his stifling existence he hatches an ill-conceived plot to stage what would appear to be his own murder and then collect on an insurance policy. However, he chooses a poor carnival worker as his double in the murder plot and, in his demented state, is not aware that the carnival worker looks nothing like him at all. Fassbinder's magnificent talent overwhelms the senses with a courageous search for truth and a special honesty which exposes the frailties of human nature. Not rated. In English language.
Devil in Silk VFN 1477
1956, 102 min. - Great performances by Lily Palmer and Curd Juergens. Big hit in Germany! In English language.
The Devil's General BB 920 DVD
English dubbed, b&w, ca. 92 min. - A terrific suspense thriller loosely based on the life of Ernst Udet, the highest scoring German ace (62 confirmed kills) to survive the First World War. Udet was awarded the Pour le Merite, the coveted "Blue Max" and was made Inspector-General of the Luftwaffe under Hermann Goering. He killed himself in November 1941 in horror over the decadence and incompetence of the Nazi military leadership. General Harras (Udet) is played by the brilliant actor Curt Juergens. Curiously, Juergens was steadily improving in his craft during WWII, when Dr. Goebbels had him deported to a concentration camp for political unreliable in Hungary. Marianne Koch and Bum Krueger also star. DVD has both English dubbed and German with English subtitles versions

The Diary of Anne Frank BB 636
1959, b/w, 2 cassettes, ca. 170 min, With Shelley Winters, Millie Perkins, this classic is based on the real diary of a 13 year old girl who chronicled the lives of two Jewish families hiding from the Nazis.
A motion picture masterpiece enriching, exciting and unforgettable. ...Los Angeles Examiner. In English language.
Dr. Mabuse vs. Scotland Yard OL 222
1926, 90 min. - The fiendish Dr. Mabuse is back. Planning to become a ruler of Britain, Mabuse organizes an army of robot people, including some of Scotland Yard's finest men. He even kidnaps her Majesty Princess Diana (!) and forces her to instruct her countrymen to surrender to the new order. This superior crime-mystery drama features highly suspenseful sequences and a climactic showdown between the forces of good and evil. With Sabine Bethman and Peter van Eyck. In English language.
Dr. Mabuse - King of Crime JJ 866
1922 - In English language.
Dorian Gray RP 1091
1970, 92 min. - Helmut Berger stars as the title character in this Oscar Wilde story of a hedonist who stays young while his portrait ages. In this haunting, contemporary version Dorian Gray is the handsome young man whose narcissistic desire for eternal youth leads to a macabre\re tragedy. When a friend paints his portrait, Dorian is overwhelmed by his own beauty. He vows he would sell his soul to the devil if his portrait could age while he remain forever young. As he sinks into a life of depravity and sexual excesses, Dorian is horrified to discover that his wish has been granted. With every new sin, the portrait becomes more grotesque and distorted - though Doorman stays young and beautiful. Adult subjects. Rated R. In English language.
The Dybbuk OL 320
Poland 1939, 108 min., b&w - The original Yiddish-Polish film based on Sholom Anski's classic play about possession and exorcism. An extremely rare film! In English language.
Enemy of Women - Dr. Joseph Goebbels OL 316
U.S.A. 1944, 80 min., b&w - The life (and loves) of madman Propaganda Minister Dr. Joseph Goebbels during World War II in this exploitive video. In English language.
An Evening with Marlene Dietrich MP 1523
ca. 50 min., NR - The legendary Marlene Dietrich captured in this unique stage performance, filmed in 1972 at the new London Theatre, England. Including songs from her famous film "The blue Angel". I get a kick out of you; You're the cream in my coffee; See what the boys in the back room will have; The laziest girl in town; When the old was young; I wish you love; White Grass; Boomerang Baby; La vie en rose; Lola; Lily Marlene; Where have all the flowers gone; Honeysuckle rose; Falling in love again. In English language.
**No Longer Available**
Ewiger Walzer HR 989
98 min. - Starring Bernhard Wicki, Hilde Krahl, Gerd Froebe, and Claus Biederstaedt. A fascinating biography of Johann Strauss, the so-called Waltz King. This German-made work is set off by its stylish decor, elaborate sets, haunting music and excellent performances. Lots of music and dancing. Enjoy!!! In English language.
Fatherland WWB 780
ca. 106 min. - 1964 Berlin. Fiction Movie. The whole city prepares for the Fuehrer's 75th birthday celebration. You read that right. Two decades earlier, Hitler's forces turned back the D-Day invasion and won the war. Now the victorious chancellor plans to meet U.S. President Joseph Kennedy Sr. and sign a treaty that will thaw the long Cold War that followed - and bury forever World War II's most horrific secret. Rutger Hauer and Miranda Richardson race against time through the super-state of "Germania" in Fatherland, the taut thriller from Robert Harris' best seller that rewrites history into a nerve-jangling what if? For decades, the world has believed the Reich's claim that six-million Jews were resettled "in the east." Now a German policeman and an American journalist have uncovered the truth about the Nazi death camps. Hitler's reign will be destroyed if the world finds out. And that's something the Gestapo can never allow. In English language.
Fear BA 3003
1954, b&w - Fear is the sixth, and last film that Rossellini made with Bergman. The critical derision with which all of their films together were greeted ended in a series widely recognized today as one of cinema's artistic peaks. Fear, however, from a story by Stefan Zweig, is the most problematic of the group. Filmed in Munich, it was shot twice, first in English, then in German, then released in two versions. Angst, the German version, has slightly different montage, an opera ("La Boheme") instead of a piano concert, and lacks some scenes included in Fear, but makes more extensive use of direct sound. To confuse matters further, Paura, the Italian dubbing of Fear, was withdrawn by its Italian distributor and re-released (without Rossellini's participation) with a voice-over commentary, a new ending in which Irene leaves her husband, and a new title, Non Credo Piu In Amore -- "I don't believe in love anymore." In English language.
Fire on the Mountain BB 920
Color, ca. 72 min. - True story of the U.S. Army's 10th Mountain Division. The goal was to defeat the Nazis who were entrenched high in the snowy mountains of Italy. A thrilling courageous story. In English language.
Female Misbehavior FA 558
1992, ca. 80 min. - Monika Treut's kinky exploration of non-conformist women and her explorations of the sexual fringe takes us where few filmmakers visit. In English language.
Four in a Jeep in Vienna 1949 VFN 2509
1951, Swiss, 83 min., b&w - Story of four different Allied MPs assigned to keep peace in postwar Vienna. A great movie that describes the pleasures and problems of the years after the war and the conflicts between the locals and the occupying forces. In English language. This is a great movie after the second world war with all four allied to work together.
For Your Love Only PA 121
1980, 90 min. - Directed by Wolfgang Peterson. A poetic and rugged love story about a German teacher whose young student falls in love with him. A movie in a world where sex, violence and romance meet head on. A beautiful and sensitive girl finds herself in a bizarre triangle of murder, passion and humiliation. Starring Nastassia Kinski, Klaus Schwarzkopf, Christian Quadflieg, Judy Winter. In English language.
For the First Time (Der Saenger von Capri, Mario Lanza) R 205
English language, ca. 97 min., NR - the brilliance of one of the world's most beloved tenors and the exciting world of opera highlight this delightful romantic adventure set in the most beautiful cities of Europe. Tonio Costa (Mario Lanza), the temperamental darling of the opera world, is forever missing performances because of impromptu street concerts and endless parties. But Tonio's carefree ways change when he falls in love with Christa, a beautiful deaf girl. Christa refuses to marry him until she can hear his sublime voice. So they embark upon a whirlwind concert tour of Europe where Christa consults with face whatever the future holds. Lush, exotic locations, fabulous operatic performances, and the magic of Mario Lanza give this sparkling love story the look and sound of enchantment. Same as 'Der Saenger von Capri. In English language.
From the Life of the Marionettes R 032
ca. 105 min. - A man at the edge of sanity, a cold and devious psychiatrist, a world-weary police inspector, a compulsive homosexual, a hysterical mother, an unfaithful wife - slowly, like disembodied puppets, these characters all play a part in a violent and sleazy murder of a sex-club prostitute in "From the Life of the Marionettes". In English language.
OK 5/12
To continue browsing through descriptions
of other English language videos click on the links below.
Remember! All videos on this page are in English language only,
in the USA-NTSC-VHS system.
For rush order just call 1-800-252-1957 or fax 317-547-1263.
How else may I place an order?
Click on the envelope below to send e-mail
to the German Language Video Center!

Not responsible for typographical errors.
Video run times are approximate.
Prices and availability subject to change without notice.
Send comments regarding contents of this page to
glvc@indy.net





Member VSDA since 1985.

Last modified: Wednesday, April 13, 2022 3:46 PM
German Language Video Center© 1997/2016
Entire Website copyrighted 1997, 1998, 1999, 2000, 2001, 2002, 2003, 2004, 2005. 2006, 2007, 2008, 2009, 2010, 2011, 2012, 2013, 2014, 2015, 2016
No reproduction or download allowed for commercial purposes without written permission.

GLVC 2016©.